2019-2020
Our School Council this year consists of 15 members. We also have a University group adding 5 friends. There are 4 veteran School Council members, Lillie, Emily, Holly T and Holly, and 11 new members, Zac, Ellianna, Chloe, Amelia L, Amelia P, Mia, Faith, Evie, Skye, Amalie and Taylor. The friends are Jorge, Shaye, Jackson, Maddison and Leila.
Fundraising February
This year we support environmental charities. The choices are: Wasteaid, Woodland Trust and Rainforest Alliance. The children will decide which two they would like to support after hearing about them in our first School Council assembly.
Our first project
Mrs Griffin asked us to produce some posters to promote environmental awareness around the school.
Our New School Council - September 2018
On Wednesday 19th September all the children from Year One to Year Six voted in the School Council Election. Children had to select the candidate they wanted to represent them on the School Council.
The votes were counted and our School Council members are: Alfie, Holly T., Emily, Lillie, Holly M., Holly L. and Alexander from Year Five. With Annie and Keira from Year Six taking on the role of School Council Chairs.
A huge thank you to all the children who stood in the election. You did really well and should be very proud of your achievements.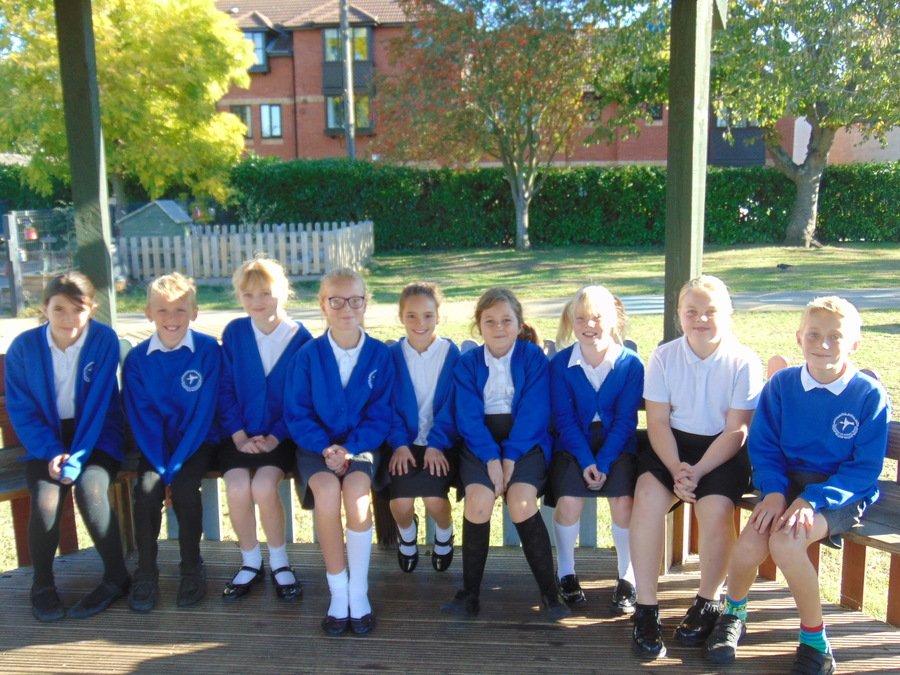 School Council Election - September 2018
It's that time of year again! We have listened to the manifestos and now we have time to talk to the candidates before voting on election day next week.
Rota Kids Picnic - July 2018
To celebrate, and as a reward for our hard work this year, David Reed and some of the other members of Towcester Rotary Club treated us to a picnic with some of the other Rota Kids and School Councils from Schools in our area. We all reviewed the year together, discussing fund raising ideas and sharing information about our role in our School Council.
Presenting to the School Governors - March 2018
Annually, the School Council members present to the School Governors at the start of a Governor's meeting. This year, we produced a presentation to explore what it is like to be a child at Towcester Primary School. We interviewed children from across the school and produced a video to show governors what can happen in a day...
As a result of our presentation, we have been invited to share the videos with parents at parent's evenings. We are looking forward to greeting parents and explaining our roles as School Councillors.
Film Club for Year 5 and 6
We organised and held our first film club on Thursday 8th February. Children enjoyed watching the film and had a great time. Thank you to everyone who attended the event.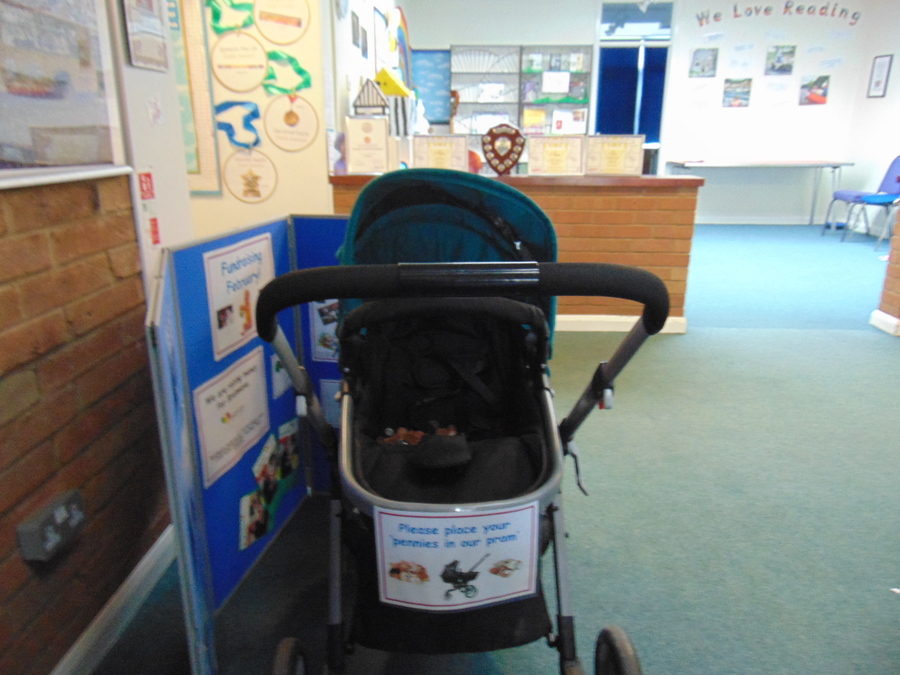 School Council Update
We have been busy preparing for Fundraising February which launched on the first day of February.
In our last meeting, the children in school wanted to support a charity that supports babies and small children. We researched different charities and then voted on these. We decided to fund raise for the Brainwave Charity as we believed in their mission and supported the idea of 'supporting all children to reach their full potential'.
The first part of our fundraising is underway - the pram is in the front entrance and over the month of February pennies will be collected in this. We have also organised three film nights over the month to raise money.
We would like to thank all the parents and children for their support with our fundraising.
School Council Meeting - 6th December
Today we were presented with our Rota Kids caps by David from Towcester Rotary. We voted on the age group of people we want to support on our next fundraising campaign and the school voted for 'babies'. We are now researching three charities to present to the school.
We checked how our new recycling bins are being used and reminded children how to use these.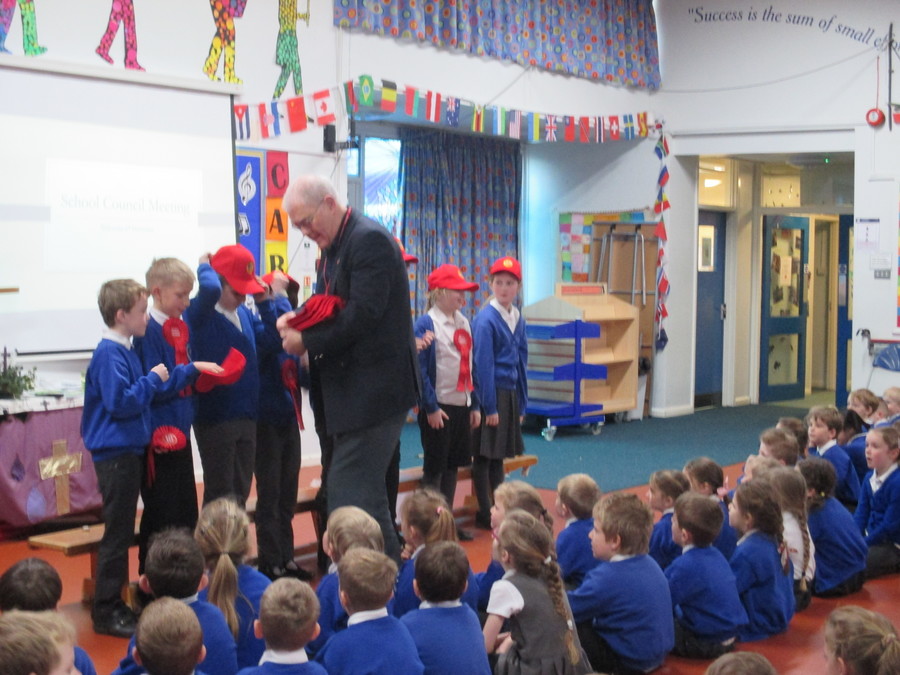 Important Announcement ... We raised £2667.55 for the Alzheimer's Society from the Memory Walk. Thank you for all your support. We have handed out a small prize to all the chldren to say 'thank you'!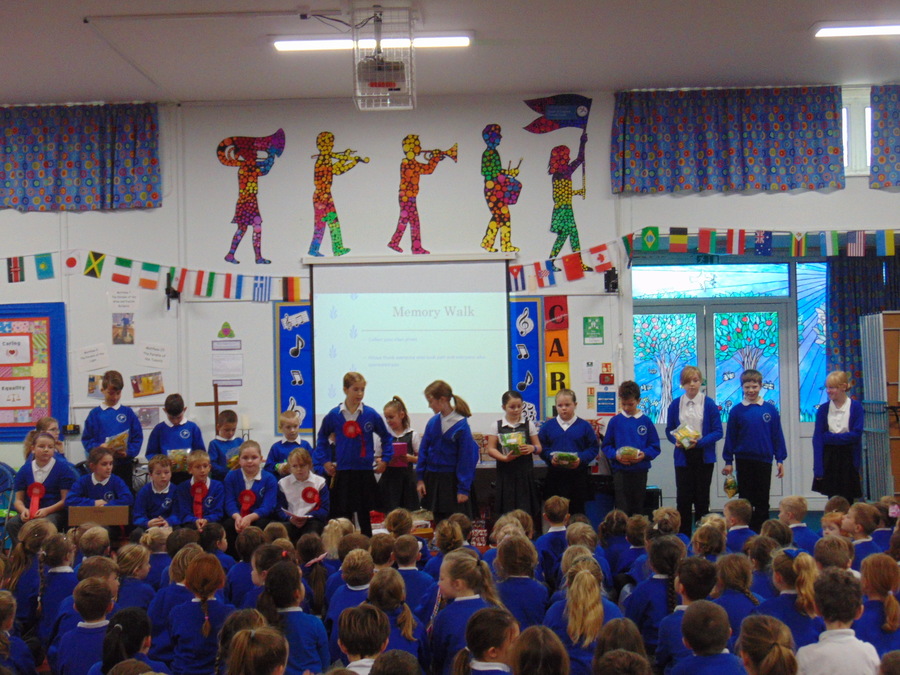 Wednesday 15th November - School Council Meeting
Today we held our School Council Meeting for the month of November.
We celebrated our fundraising success from the Memory Walk, updated everyone on the new pledges and explained how to use the new recycling bins in school.
Tuesday 3rd October - Our First School Council Meeting
On Tuesday we held our first meeting with the whole school. Our new members introduced themselves and explained which class they will represent. Each member reviewed their election pledge and explained how they will meet this over the year.
Remember to bring in your sponsorship money for the Memory Walk and good luck earning your online safety badge!
Towcester Primary School New School Council Launched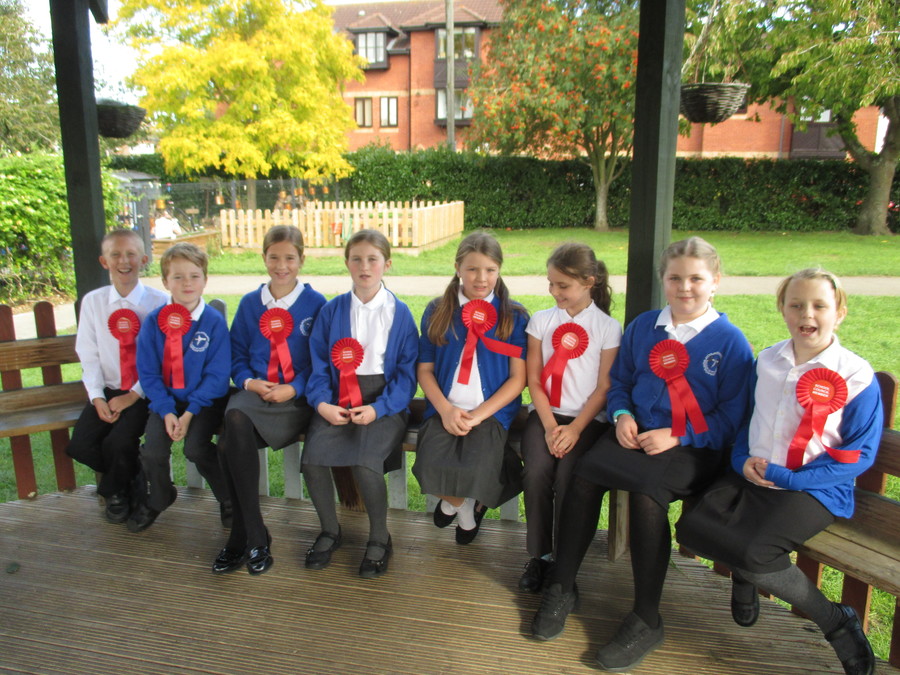 School Council Election - Wednesday 20th September 2017
Today all the children from Year 1 to Year 6 visited the polling station in our school hall. The children voted for the two candidates they wanted to represent them on the school council.
The children discussed the rules in a polling station and different elections. All children were handed a voting slip, they voted in secret and placed their votes in the ballot box.
Votes are now being counted, and we look forward to revealing our new School Council very soon.
September
Welcome to a new school year. We are looking forward to introducing the new school council soon.
Tuesday 12th September - The Elections Begins!
Perspective candidates introduced themselves to the school and delivered their manifesto in our School Council session.
Campaigning begins now! All the children will head to our polling station next week to vote for their chosen candidates.
July update!
This month we have been very busy completing different school activities and planning future events.
As you know, we selected Alzheimer's as our National charity for this year. In September, we plan to organise a memory walk in Towcester and we would like to invite grandparents to join us, to share their memories of when they were young. Afterwards we will return to school for refreshments to celebrate our success! A letter will be sent out nearer the time.
Our School Council is part of the Rota Kids group in Towcester. In July, we are hosting a picnic at school to meet other children in Rota Kids groups. We are looking forward to sharing ideas with the others, taking part in different activities together and then enjoying the food!
Thursday 22nd June - Whole School Meeting
Today we explained our plans for our Alzheimer's fundraising in September. We were joined by the Mayor of Towcester who has selected Alzheimer's as her chosen charity this year and a member of the Alzheimer's fundraising team. We have been discussing our event in September and we look forward to giving you more details soon.
Wednesday 3rd May - Whole School Meeting
Today we updated everyone on how much we have raised for Water Aid and thanked the whole school community for their help and support. We talked about road safety and lead a discussion on what situations are safe and which are unsafe.
We are currently planning an event to support our national charity - Alzheimer's society. We will update everyone with details soon.
Our Presentation to Governors - Wednesday 8th March
We met with the Governors on Wednesday, we led an activity on our new school values and explained the different things we had done this year and the impact of these.
The governors questioned us about the school and our roles as School Councillors.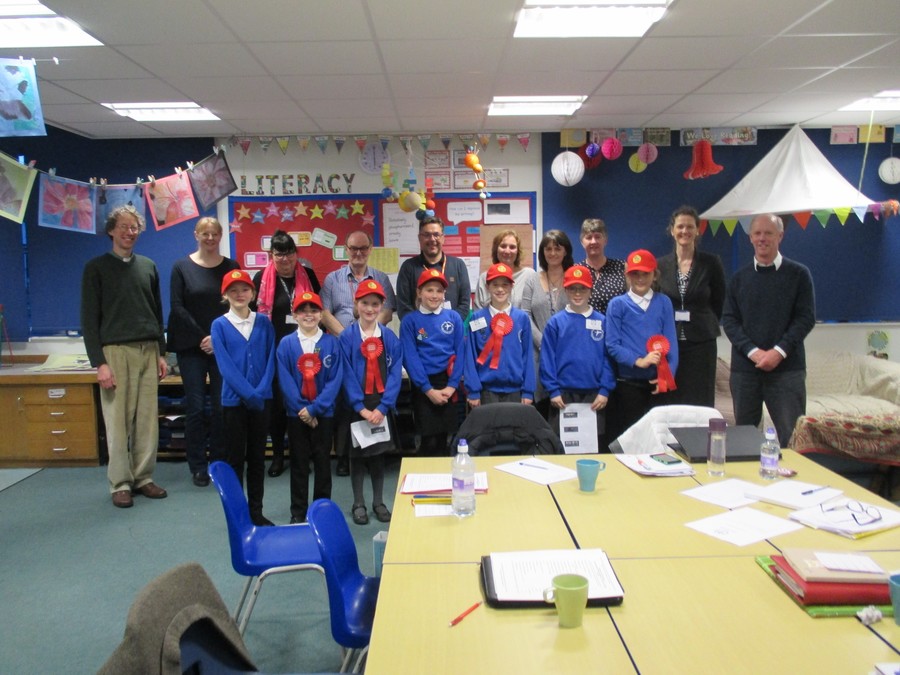 School Council Assembly - Monday 6th March
We were really pleased when David Reed came to our assembly today to present the school with a £150 cheque. This money was donated to the school for the litter posters we asked children to design in February. As a thank you we presented the children who created the posters with a small prize.
We ended the assembly with a review of on-line safety. We led a quiz and reminded children of the key rules to stay safe on-line.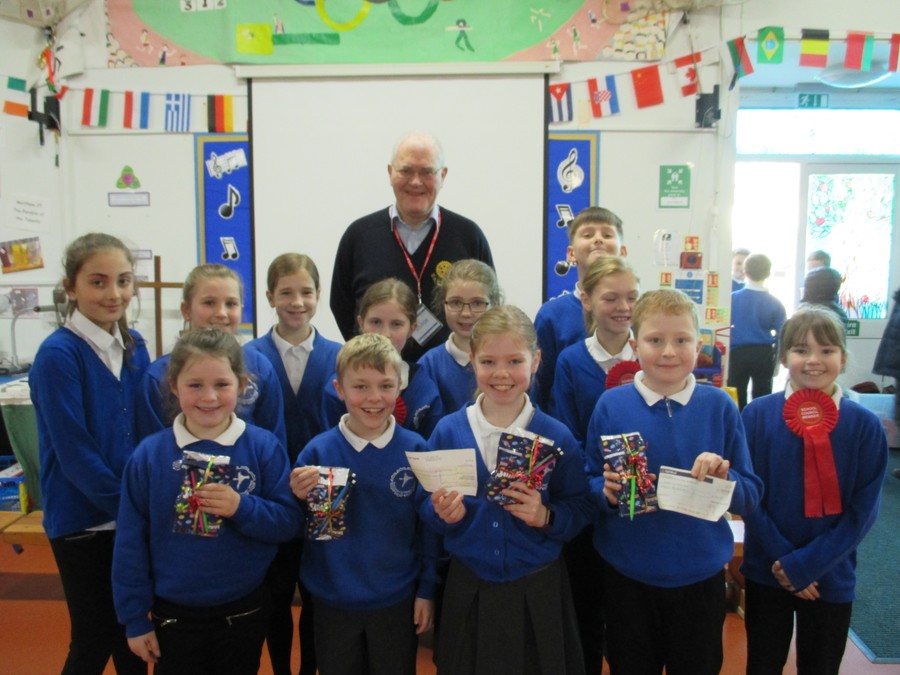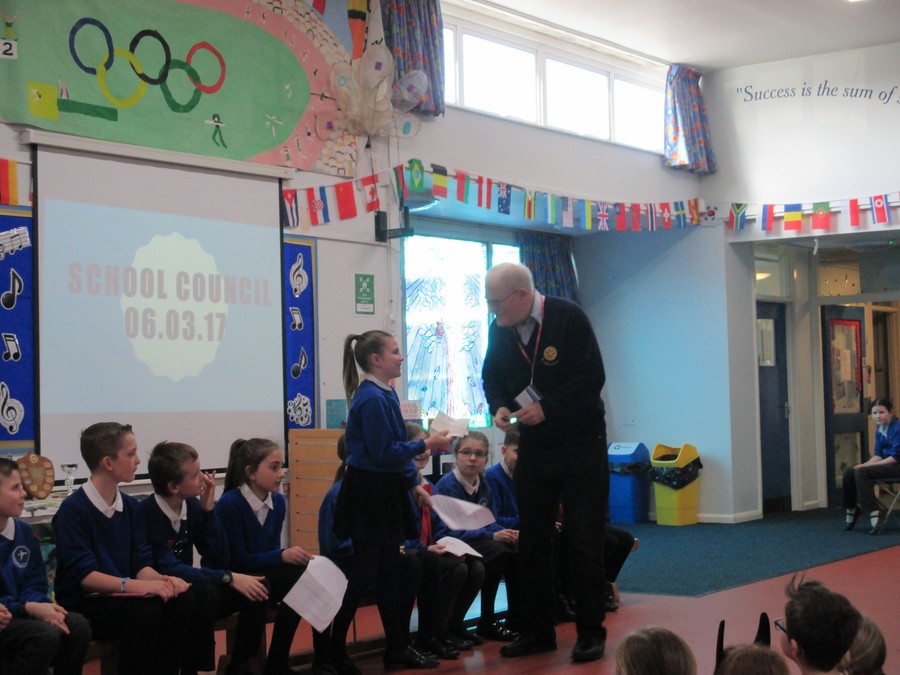 Fund Raising February
We started fund raising for Water Aid on Wednesday 1st February. Most of the children came to school dressed in blue to start the fund raising. We sold watery drinks and biscuits at break and lunch time for 20p and everyone has enjoyed 'spending a penny' in our toilet!
We are well on our way to meeting our target of buying a set of boys and girls toilets through Water Aid.
Thank you to The Rotary in Towcester for your support.
School Council Meeting - 11th January
Our national charity has been decided by the children in the school and we will be supporting the Alzheimer's Society.
In February we will be raising money for Water Aid.
We will start the fundraising with a 50p mufti day on the 1st February - children should come dressed in blue clothing.
Drink for Water Aid - every Wednesday in February we will be selling water drinks with a biscuit for 20p.
'Spend a Penny!' - we will be collecting coins in the entrance area!
We also looked at the new school values and explored the meaning of these.
School Council Meeting - 30th November
We had a whole school council meeting on Wednesday to feedback what we had found out about the school values and to launch our charities for the year.
Our local charity was Towcester Foodbank which we supported in October
Our global charity will be water aid.
We have asked children to vote for our national charity - please see the PowerPoint below for more information.
School Council News - November 2016
We have had a busy term so far – thank you for all your ideas for the new school values it was great to come and meet you all in your classes to collect your choices.
We really enjoyed being part of the interview process to find our new Head Teacher and were delighted when the governors agreed with our decision. As a reward for our hard work Derek took us out for a delicious lunch at the Forum cafe – thank you Derek.
The New Year looks like being just as busy too – in our next committee meeting we are deciding which charities to sponsor for the rest of the school year and what work we can do to help Rotakids. We will let you know our decisions soon.
By Mia
Chairperson
School Council Meeting - 05.10.16
We held our first meeting on Wednesday. We introduced the Chair and representatives for each class. We led an activity to get the children thinking about what's important to them and the value this represents.
We have asked all classes to talk and think about values. We have set them the challenge to identify 6 values they think are the most important.
The class representatives will be collecting the list of values before the end of this term.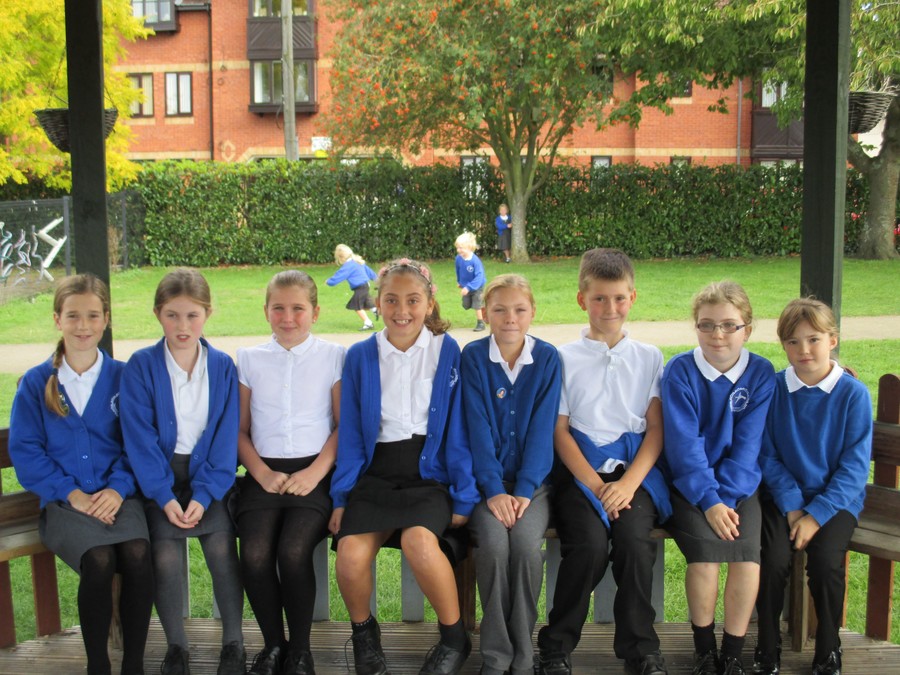 Wednesday 28th and Thursday 29th September - School Council Election
All the children from Year 1 to Year 5 visited the polling station to vote for the two candidates they wanted to represent them on the school council.
The children discussed the rules in a polling station and different elections. All children were handed a voting slip, they voted in secret and placed their votes in the ballot box. Year 6 sent in postal votes as they were not available on the day of the election.
Lots of children were very excited as it was the first time they had voted.
Thank you to Mr Cullen (our official vote counter)who supervised the polling station.
Tuesday 20th September - Candidates presented their manifesto to the whole school!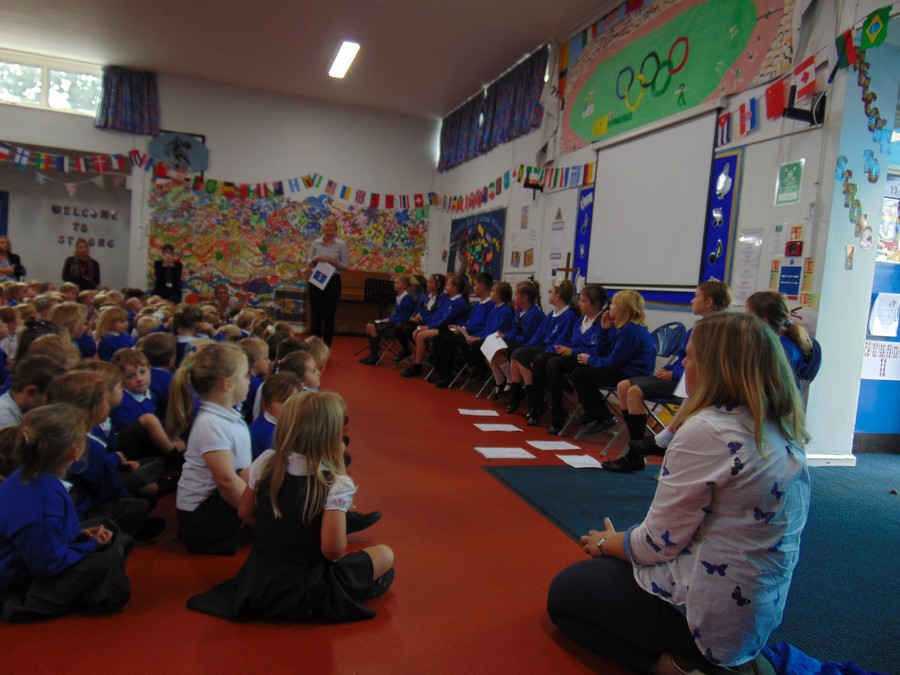 School Council - September 2016
Children from Years 5 and 6 have been invited to apply to be part of the school council. All the candidates had to write a manifesto and produce poster to remind children to vote for them. The children were taught how to write manifestos as part of their 'School Council' lessons in PSHE. All classes thought about the values we would want the School Councillors to show.
School Council members have been elected by the pupils to represent them.
These members are selected from Year 6 as they are our older pupils used to having important responsibilities that affect the whole school.
Pairs of School Council members are assigned to a class and visit their class on occasions to find out what they think about a whole school issue.
The School Council meet on a regular basis and meet with our Link Governor, Derek Cullen. They carry out whole school assemblies and set competitions.
Sometimes our School Council visit the Governors at the start of their meetings. They present an aspect of work they have been doing in school and ask questions about how the Governing Body work.
These photos are from their meeting in March 2016. The School Council shared their recent assembly on Friendship.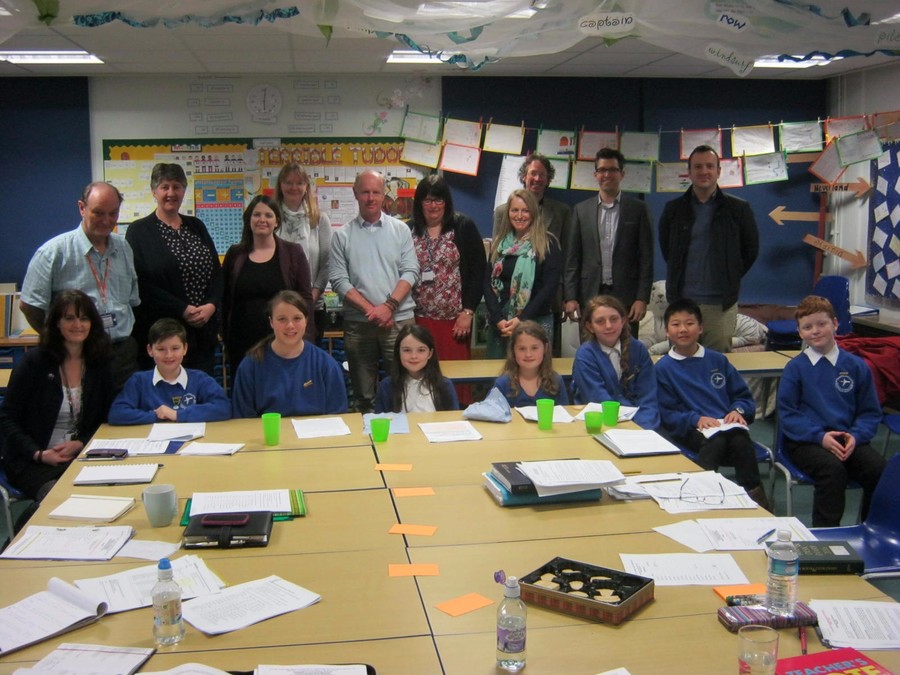 Our School Council members have also become 'Rota-Kids' and were presented with special caps by David and Adrian from Towcester Rotary.