Eco Club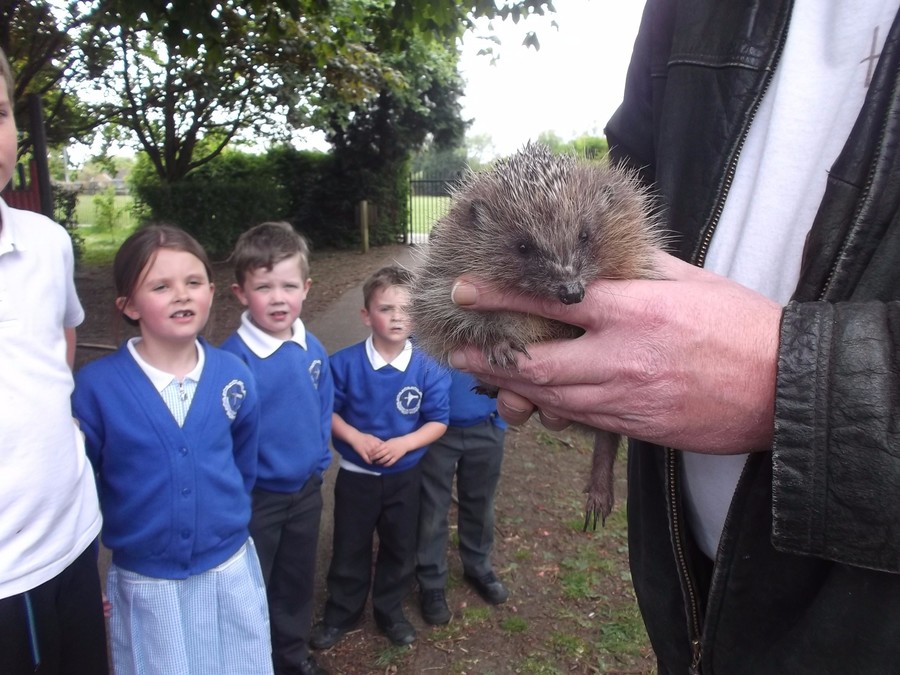 Hedgehog Rescue Update
It is now May and our rescued hedgehog has survived the winter to be returned to school grounds fat and healthy! Harry, Alfie, Taylor and Zac and others from after-school club watched his release.
However Brackley Hogwatch have had to nurse him and medicate him carefully over the winter as he was quite poorly. his weight has increased from 300g to a whopping 900g and in age-related terms he is the hoggy equivalent of an 18 year old.
Brackley Hogwatch have now returned 16 fit and healthy hedgehogs to Towcester and some of them are part of a monitoring program and have been fitted with radio-trackers so that the Hogwatch team can learn more about hedgehog behaviours and habitats.
We will receive regular updates on our hedgehog's location over the Summer. So far, he seems to enjoy the vicinity of the school bus and a certain tree in Vernon Road!
Hedgehog Rescue!
Well done to Eco-clubbers Oli and Emily, also to Harry and the gang from Afterschool Club for rescuing a juvenile hedgehog.
Following our talk by Brackley Hogwatch, the children knew exactly what to do to do when they found the little hog near the school bandstand on a day that hardly climbed above freezing.
A box was found and the hedgehog was picked up in an old tea-towel - the children knew that they shouldn't try to use their bare hands. Everyone helped to collect dry leaves to cover it up. It was given an apple core to munch on while the children rummaged under wood and plant pots to find some tasty woodlice for its snack. Brackley Hogwatch advised against worms and slugs that could carry parasites.
The hedgehog was later taken to volunteers in Towcester until Andrew from Hogwatch could collect it. As it was too small to hibernate over winter successfully, it would be kept and fed through the winter and will be released back onto our school grounds in the Spring.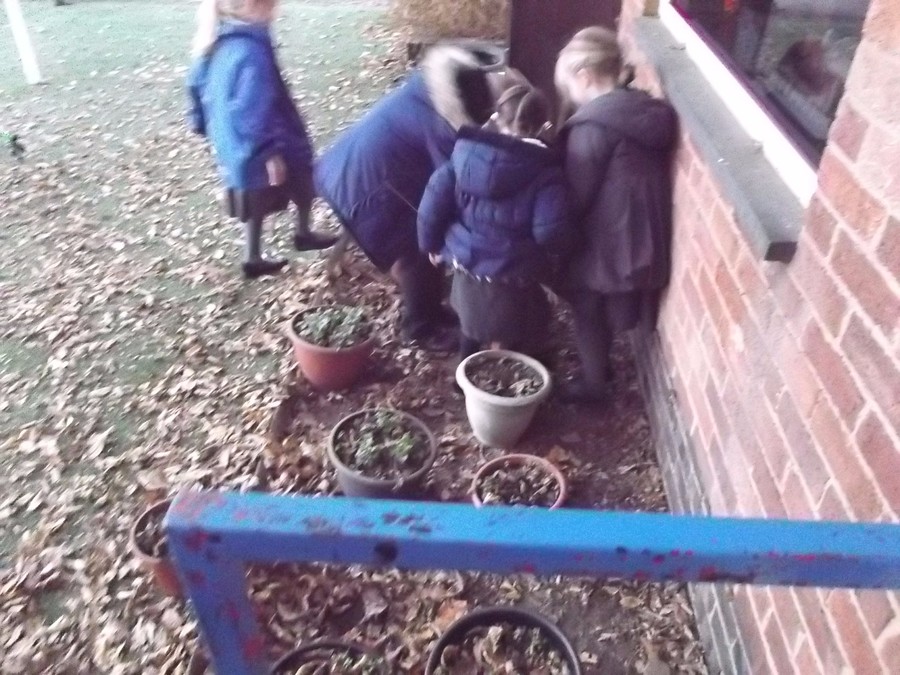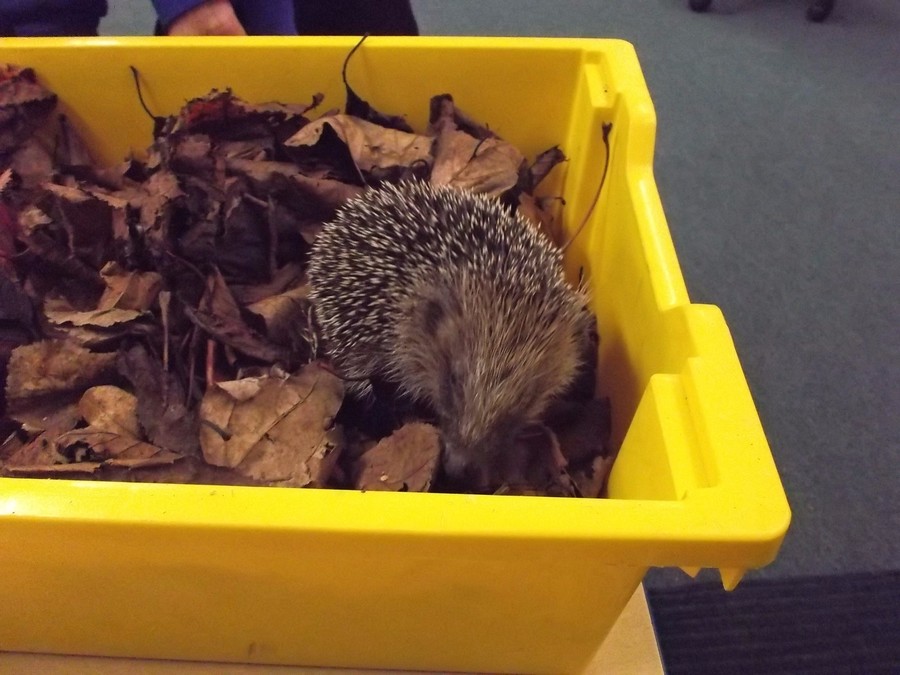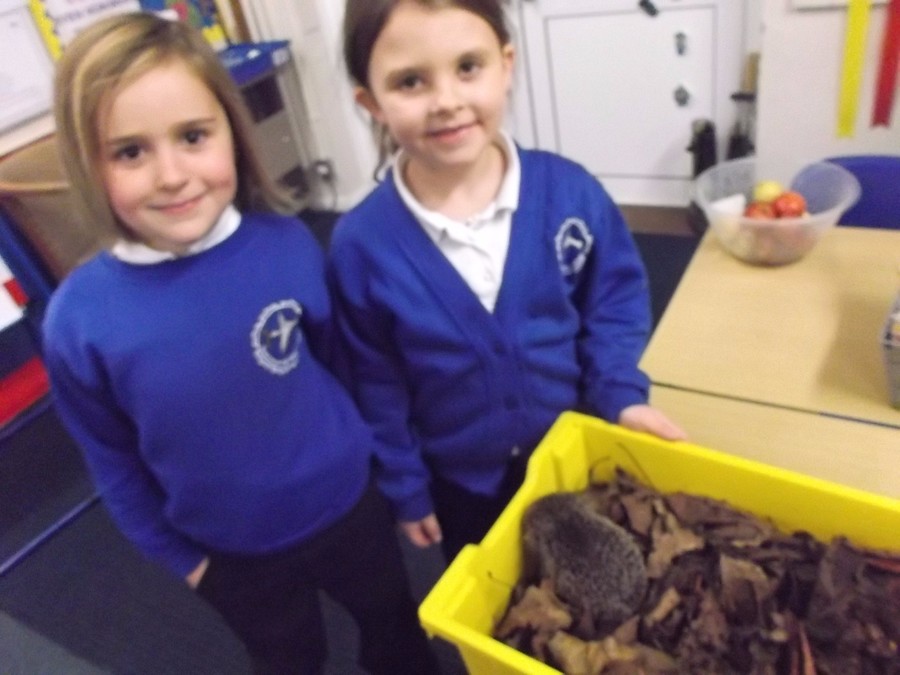 Hog Watch
A huge thank you to Andrew from Brackley Hogwatch who recently came in to talk to the children about the problems faced by the prickly little creatures called Hedgehogs. His passion for helping hedgehogs (severely declining in numbers) is clear. He brought with him a young rescued hedgehog who delighted the club by curling up in her prickles on command! She also showed us that hedgehogs have surprisingly long legs and move quite fast when they want to!
The children learned that hedgehogs like to eat all sorts of creepy crawlies, but that many of these carry parasites that can make the hedgehogs very ill and unable to survive the winter, especially the smaller, late-born hedgehogs.
They also learned that hedgehogs need quiet, sheltered places to hide in, which they are very good at finding in their own. Most importantly the children found out that hedgehogs need holes in fences in order to find enough food. A 10cm by 15cm hole at the bottom of a fence is plenty big enough for a hedgehog to squeeze through.
Children wanted to know what to do of they found a hedgehog that needed help. This is what Andrew suggested:
If you do find a hedgehog awake during the day or if you find a small hedgehog during the autumn, please call Andrew at Brackley Hogwatch and he will advise you from there.
Could you become a Hedgehog foster home? Andrew is rapidly running out of space at his home and needs more volunteers prepared to care for and over-winter struggling hedgehogs. Again, please contact Andrew via their website if you can help.
http://www.brackleyhogwatch.co.uk/
In the Spring term, children will be fundraising to support Brackley Hogwatch.
Green Fingers (or should that be dirty?)
During the Summer term, the children have been doing a fantastic job of weeding the flower beds around school. They have cleared the allotments; allowing room for the beans to grow, and the beds near to Peace Garden; where they've planted several beautiful flowers donated by Mrs Nott - thank you very much for these. It now looks lovely and Mr Parker was grateful to be saved a job!
We have move on to the beds near reception now. Weeds and dead plants have been removed and our next task is to fill it with lots of bright, beautiful flowers.
The children have been doing a fabulous job and Miss King and Miss Crouch would like to say thank you very much for their dedication. Well done!
We look forward to starting new and exciting Eco projects in the Autumn term.
Waste Week follow up
Well done and thank-you to so many parents and children who have made extra efforts over the last fortnight to reduce the waste in their lunchboxes!
There have been some creative ideas and lots of re-usable pots in evidence. Have a look at the photos below for some ideas.
Children and staff in the lunch hall are also now recycling tin foil.
Eco-club have got one more week of monitoring to undertake before their results are analysed and published.
Keep up the good work everyone!
Reduce, re-use and recycle!
Waste Week Assembly April 2016
Eco-Club told us how they have been secretly weighing the amount of waste we have been throwing away from packed lunches in the past week. In total, we threw away 28 kilograms of packaging!
They taught us how rubbish can be reduced by putting our foods into reusable packaging. It was a very interesting assembly and we are all going to try and make changes so we have less waste.