Stackpole
Thursday 24th May 2018
What a fantastic day!
We spent the morning at Pembroke Castle. The four groups had a great time role playing -shooting arrows off the battlements and having pitched battles in the centre of the castle.
After a picnic by the river, we travelled to Tenby.
The childen enjoyed spending their pocket money in the souvenir, ice cream and sweet shops.
Then we had a 'Ghost Walk' tour around the town and saw the harbour, historic buildings and monuments. We had the opportunity to see a lifeboat in its station.
Before travelling back to Stackpole we shared some chips on the beach.
Our day finished with an award ceremony to celebrate our personal achievements over the week and a final room inspection by Inspector Letts.
We are all excited to be coming home tomorrow but we have loved the sights and experiences at Stackpole.
Wednesday 23rd May 2018
Despite all our efforts, we couldn't get tickets to go to Skomer. However, we did the next best thing and went on a boat trip round part of the the island. We still saw puffins, guillemots and razor bills. We also saw a couple of grey seals!
In the afternoon we spent some time playing games at the Stackpole Centre. After dinner, we visited Broad Haven beach, where we saw a film set for 'Britannia' - a drama on Sky. the actors had all gone though, so we just saw security!
Having reached mid-week, the children decided for themselves that a good hair wash was called for to get rid of all the sand.
Another awesome day in Stackpole!
Tuesday 22nd May 2018
Today is titled 'Three beaches in one day'. After a hearty breakfast, we set off on a walk to Barafundle Beach.
We learnt how to skim stones and build a boat of sand to withstand the waves! We saw a jellyfish washed up on the beach too!
We walked back to the centre for a rest then boarded the buses to Angle Beach for an ice cream, cricket on the beach and rock pooling.
Our third beach was visited after dinner - Freshwater Beach, where we played more cricket, toasted marshmallows on a camp fire and watched the spectacular sunset.
All children are happy, fed, exercised and enjoying the whole experience.
Monday 21st May 2018
A slight delay to our start, but we were waved off by some parents at 10.30am and arrived at Stackpole by 5pm. After a dinner of beef grills, vegetables and potatoes we went on a nature walk via the Eight Arch Bridge. All children settled for bed..... eventually, and had a good nights sleep.
Stackpole 2017
Monday 15th May 2017
We had a very good journey and arrived at Stackpole at about 4.15pm. We didn't stop at Raglan Castle due to a late departure, but will try and visit it on the way home.
Beds are made and everyone has eaten a good tea; sausages, potatoes and veg plus jelly and ice cream.
The rain slowed this evening so we went on a nature walk and learnt about swans, wild garlic, ferns etc. We got back to the centre just after 9pm. Most were asleep by 10pm.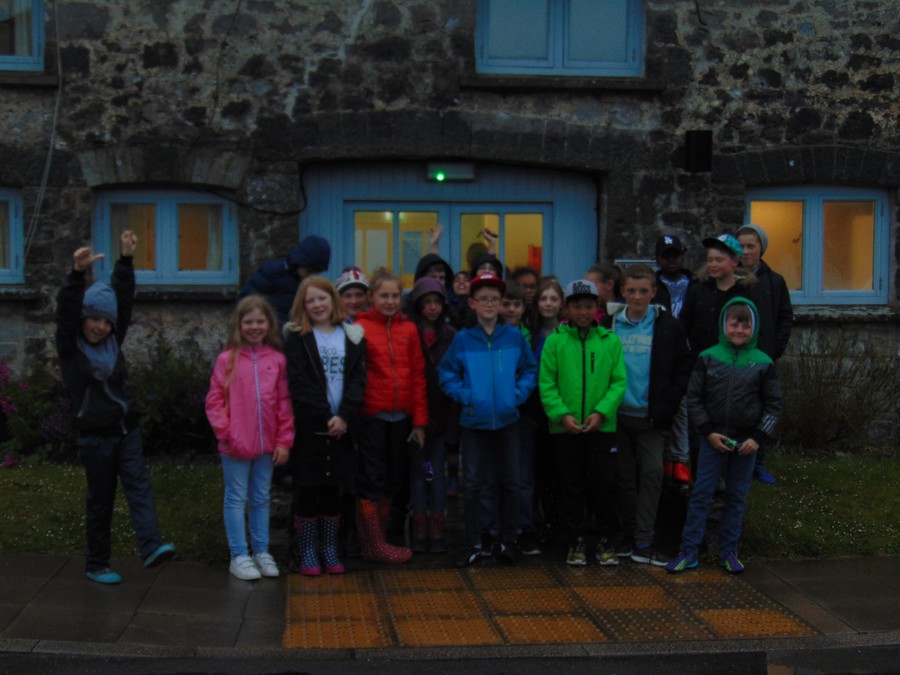 OUTSIDE OUR ACCOMMODATION BLOCK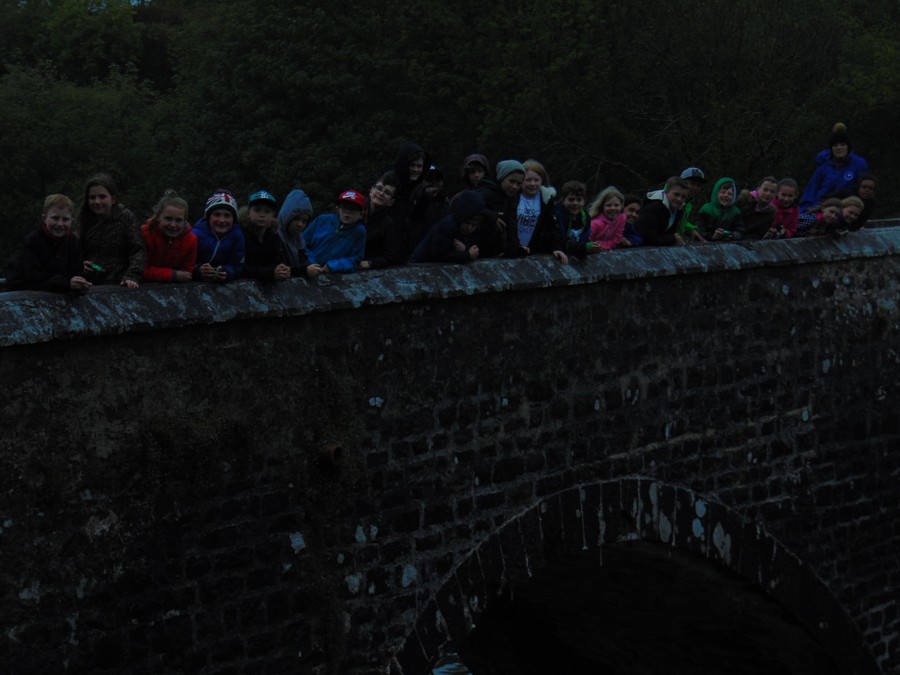 Tuesday 16th May 2017
Most of us got a good nights sleep and welcomed the hot breakfast this morning.
Having spent a little bit of time on our diaries, we started our walk in the rain to the local beach. Thankfully, the rain stopped so we could enjoy playing in the sand. Jason dug a hole towards Australia and Henry buried himself. Jude became part of a mermaid sculpture...?
We returned to the Centre for lunch (a roll, flapjack and fruit) then took the mini-buses to Pembroke Castle. The children enjoyed walking along the ramparts. We then went into the small town of Pembroke to spend our pocket money.
Spaghetti bolognese for tea tonight followed by apple crumble and custard. All of the food is freshly prepared in our block by a cook.
A quieter evening with many children asking for showers and an early night!!
A WALK IN THE RAIN SOON TURNED OUT TO BE A DRY TIME ON BARAFUNDLE BEACH!
IN THE AFTERNOON WE WENT TO PEMBROKE CASTLE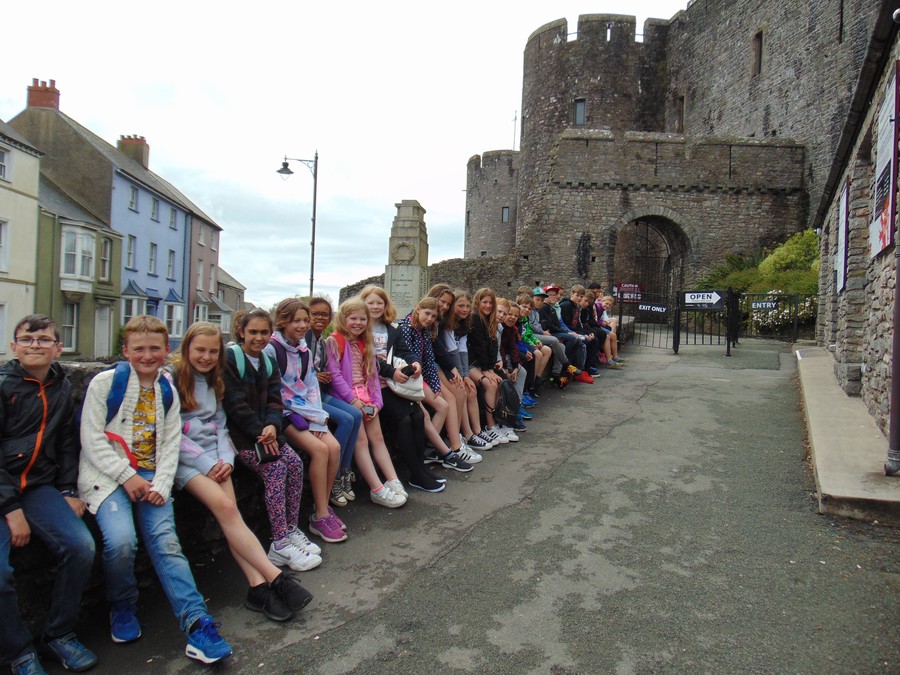 WRITING OUR POSTCARDS TO SEND HOME
Wednesday 17th May 2017
After another super breakfast, we made the hour journey to catch our boat to Skomer Island. Some of us were lucky enough to see porpoises during our 15 minute crossing.
Unlike your weather today, we have had a dry and sunny day! We walked round the island with Mr Camp telling us lots of information about the plants and birds. Despite knowing we would see puffins, I don't think those of us there for the first time could quite comprehend how exciting and fascinating it would be. The children loved it! (Let me just warn parents brave enough to send children with digital cameras ... it may take you a while to see all the photographs on Friday evening when they get home... I recommend setting aside a couple of hours on Saturday instead!)
With the sun still shining, we decided to go to Broadhaven Beach this evening where the children paddled in the sea and played in the sand. All were very keen to have a shower this evening! Fingers crossed, they all sleep very well too!
The forecast tomorrow is still dry so we are planning our 'Three Beaches in One Day' activity... then packing for returning home on Friday.
All children are happy, well fed, heavily exercised and enjoying time with friends whilst visiting new places and experiencing new activities.
We saw a couple of seals in the sea...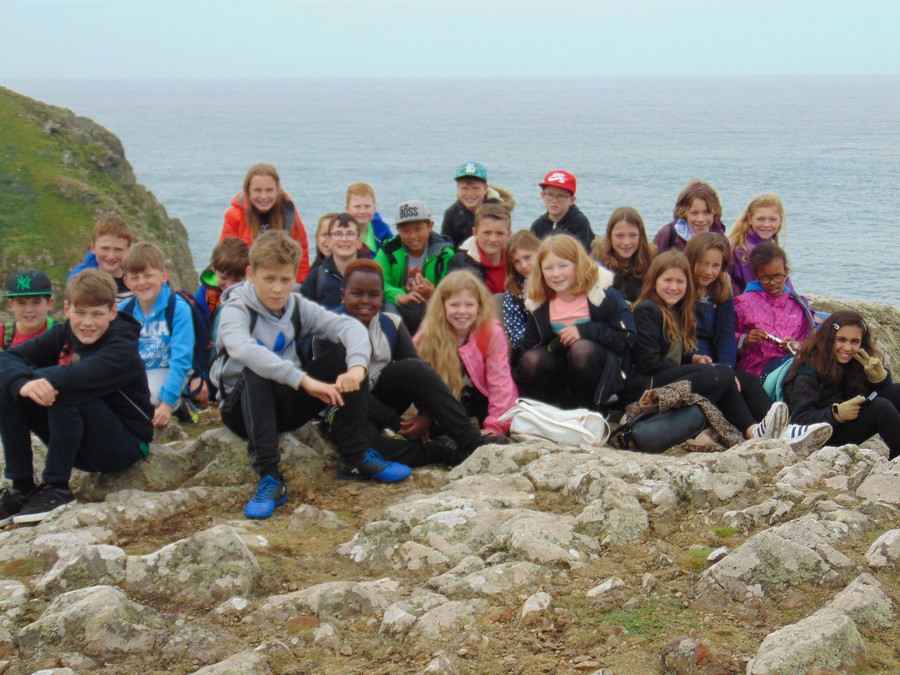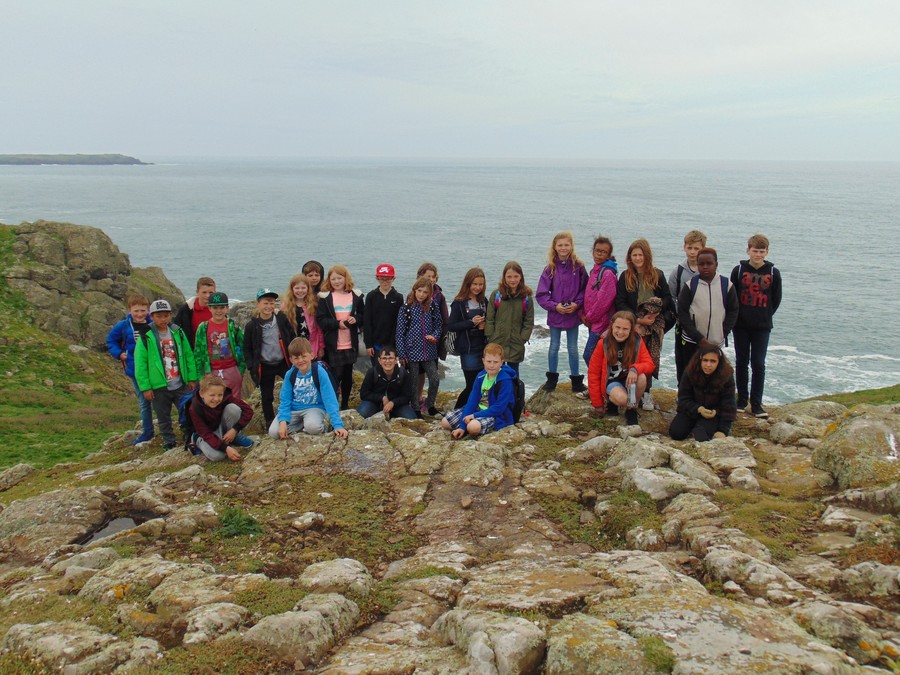 Today was our 'Three Beaches in One Day'. We woke up to sunshine and everyone put on their shorts, t-shirts and sun cream and headed to Fresh Water East. The children enjoyed playing in the sand; football, sandcastle building hole digging and a competition to see whose sandcastle could withstand the sea for the longest.
We returned to the Centre for lunch, re-applied sun cream before heading to Angle Beach to do some rock-pooling. The children saw sea anemones, star fish, different seaweeds, shrimps, fish and crabs. the children were fascinated. In fact it was hard to get them away from their searching.
Our third and final beach visit was to Freshwater West after dinner. We went to watch the sun set on the horizon... but I have to say that most of the children enjoyed jumping off the sand dunes! Mr Camp built a small fire so we could toast marshmallows. It was a late night, but with only the trip home the next day, it didn't really matter.
Our last day... and journey home! the children did really well at finding all their belongings and packing them up. We had a few chores to do at the Centre and the mini-buses needed a little bit of attention as well!
We were aiming to leave at 10am but with everyone co-operating, we manager to lave twenty minutes earlier.
We had a few stops on the way back, including a quick glimpse of Raglan castle, and finally arrived at 4.15pm, welcomed by parents and siblings.
The children were a credit to the school and all had a great time... but I think after the long journey, everyone was pleased to get home!
Stackpole 2016
Monday 23rd May 2016
After a very smooth journey we arrived at the Stackpole centre in plenty of time for a walk before a scrumptious dinner of Welsh sausage, potatoes and carrots followed by apple crumble and custard - the children even enjoyed extra helpings!
An evenings jaunt led us to the nearby beach where the children loved the open space to run, play football and even fly a kite.
Tomorrow we are hoping to travel to Skomer Island to see the wildlife, hopefully we will be able to upload some photos, the internet is incredibly slow this evening.
Tuesday 24th May 2016
Today we had an early start to catch the boat to Skomer Island. The conditions were perfect for seeing the wildlife on the island. What a magical place! The children enjoyed seeing the puffins which were only a few feet away, scrabbling around their burrows. Happy but exhausted, we returned back to the centre for pasta Bolognese, followed by chocolate brownie and ice cream.
Wednesday 25th May 2016
Today brings the day of '3 beaches in one day'.
After a lovely breakfast of local Welsh sausage and spaghetti hoops we set off for rock pooling at Angle Beach, the children enjoyed hunting for the creatures of the rock pools -shrimps, starfish and we even managed to catch crabs!
After a picnic lunch on the first beach we headed off to the second beach of the day, Freshwater East, where we had free time to dig holes, play ball games and skim stones.
The children were fascinated by the jellyfish that the tide had brought in.
After tea we are off to watch the sunset on Freshwater West, where we will be toasting marshmallows over a campfire.
The finale to the day was a visit to Freshwater West to wait for the amazing sunsets that you can see on this beach.
Mr Camp showed the children how to make a fire safely and they all enjoyed toasting marshmallows!
Thursday 26th May
Today we headed off to Stackpole Quay and Barafundle beach - this beach was voted one of the top ten best beaches in the UK - at the beach we had a group cricket match then the children made amazing sand sculptures!
After a picnic lunch we headed off to Pembroke Castle where the children were free to roam around exploring the castle.
A trip along the high street allowed the children to spend their monies.
This evening we are heading off to CastleMartin to watch the tanks firing.
Stackpole 2014
Monday 19th May 2014
3pm - All arrived safely about to make beds (should be interesting) then off for a walk.
More to follow later...
9pm - All children showered after a lovely tea and stroll to the beach ...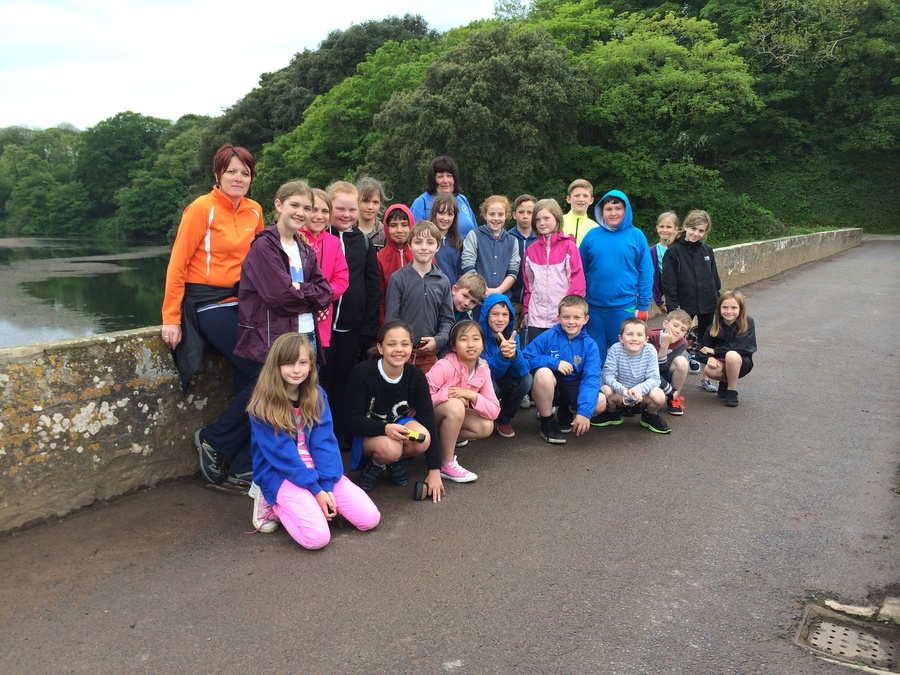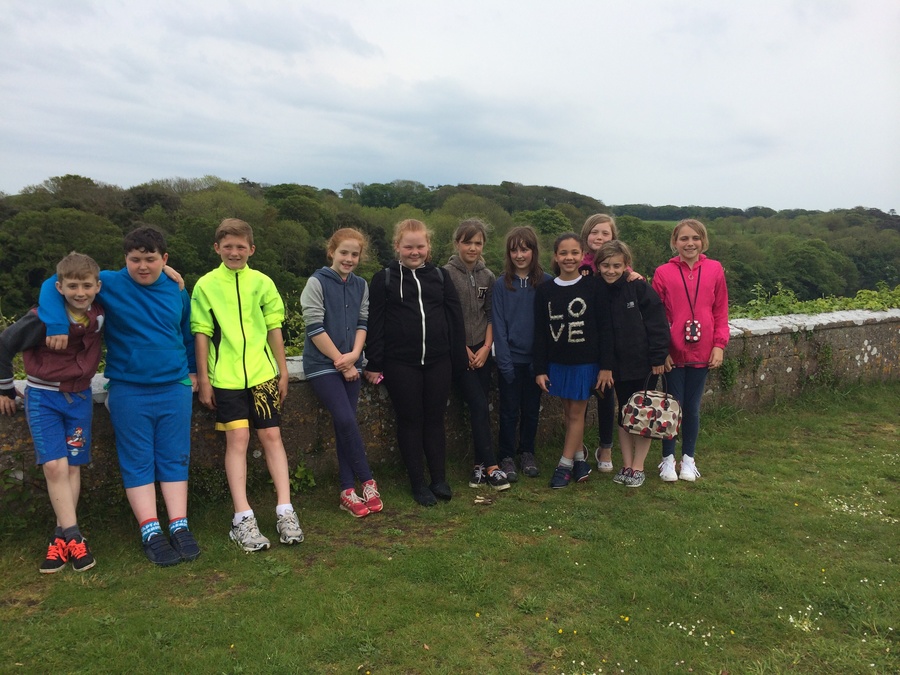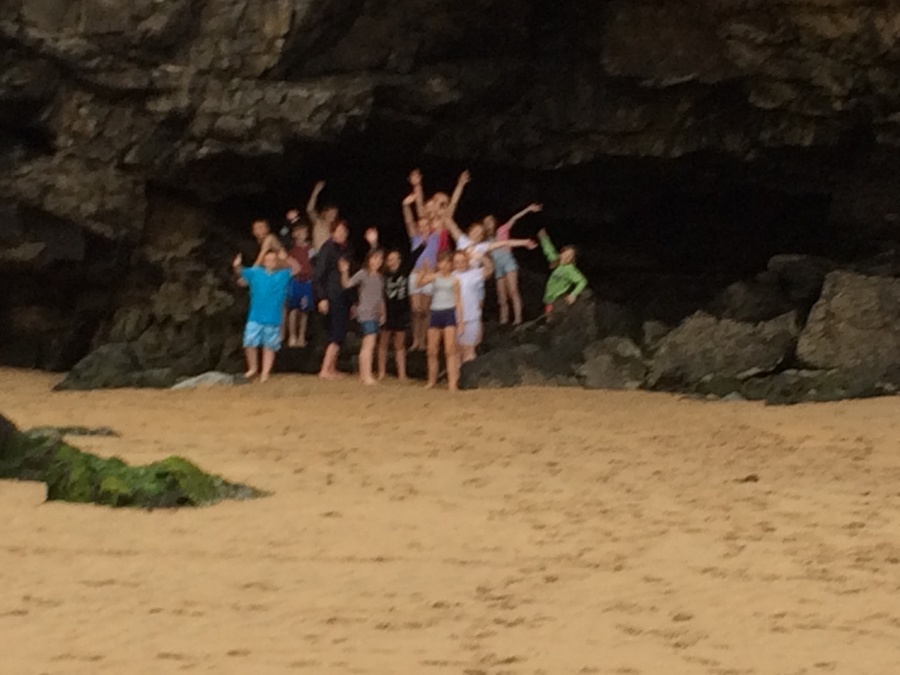 Tuesday 20th May
After a late breakfast we met the head ranger Chris and headed off to Scrubby Bottoms Wood. Lots of jobs to do in the woods, such as: litter picking, tree climbing, board walk mending, tree felling and stick collecting. Lunch was eaten in the buses due to a heavy rain fall! Luckily, the sun soon came out and we built a fire to toast marshmallows before heading over to the walled garden.
Delicious tea with jelly and ice cream for dessert. Off to watch the tanks shortly...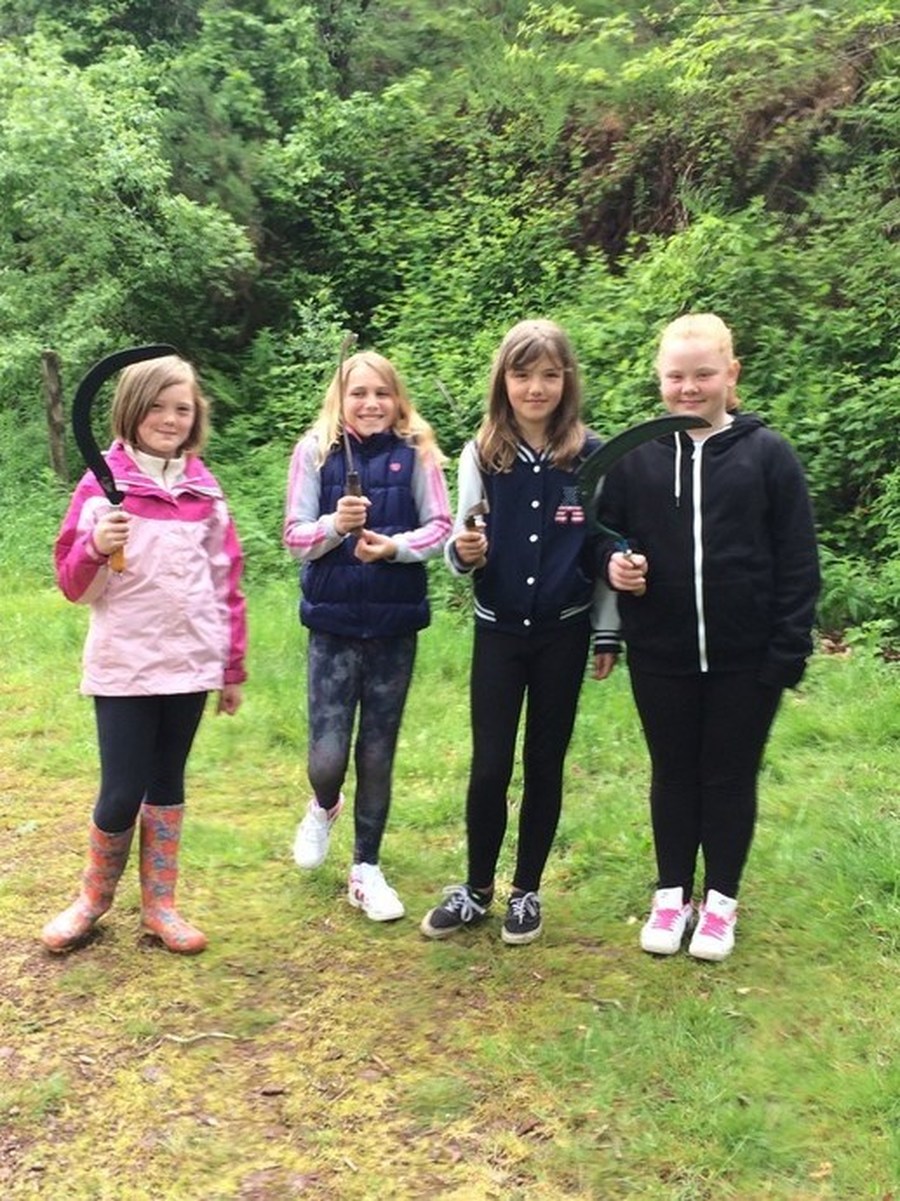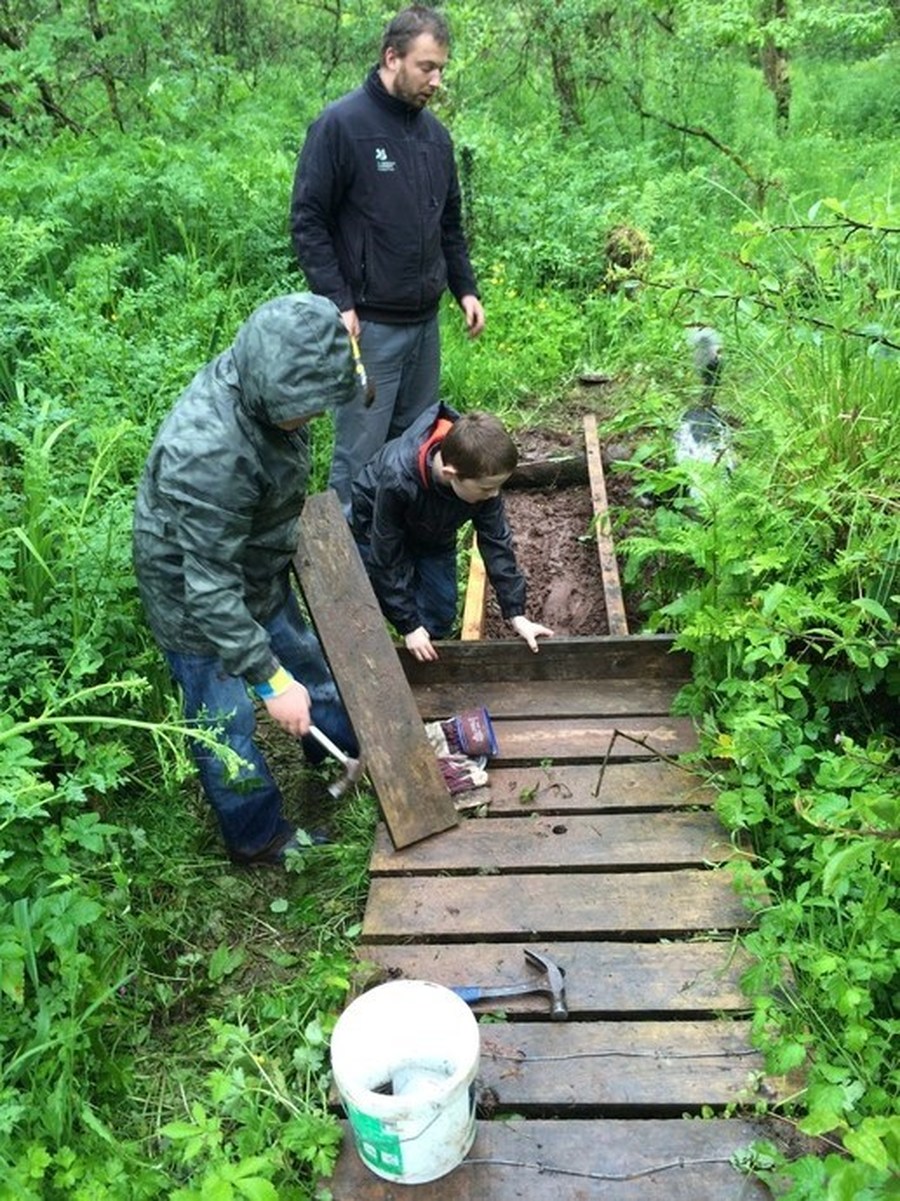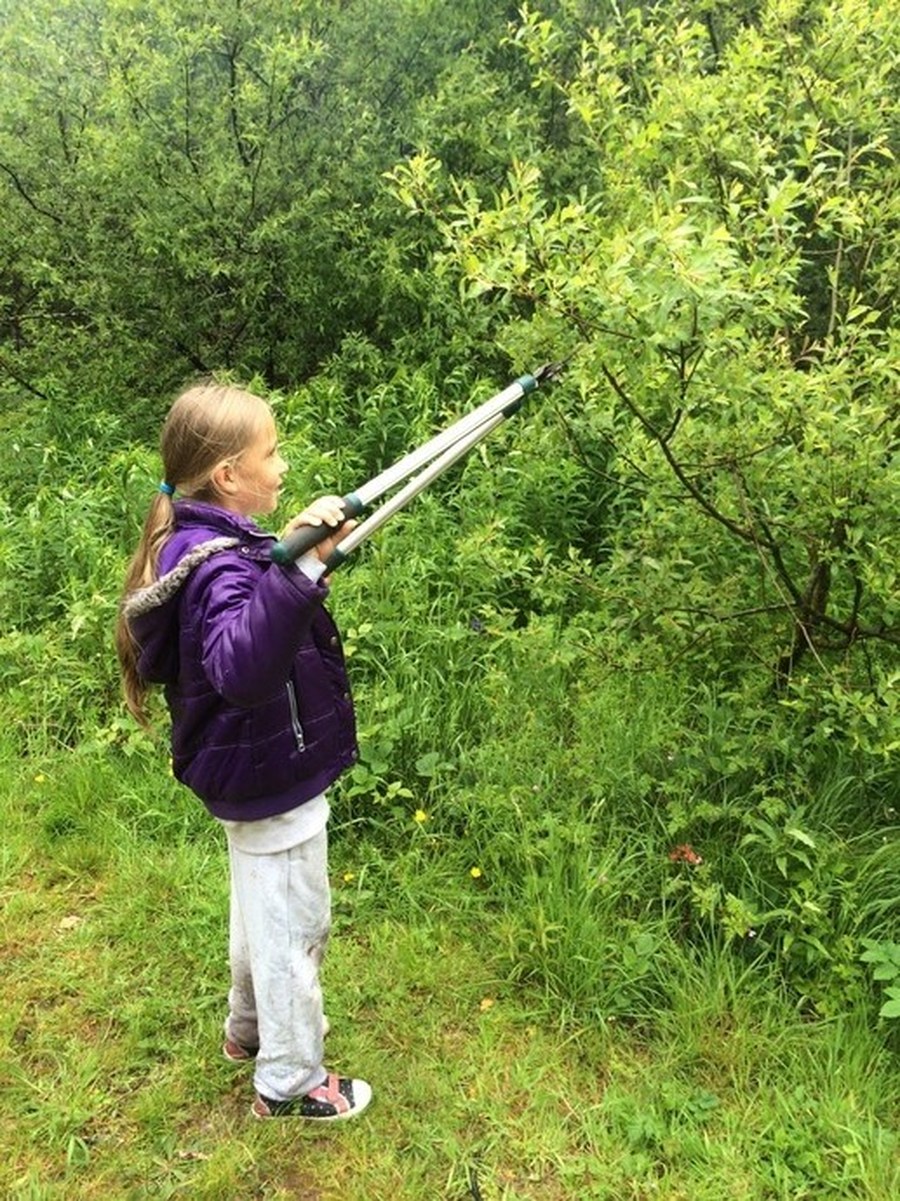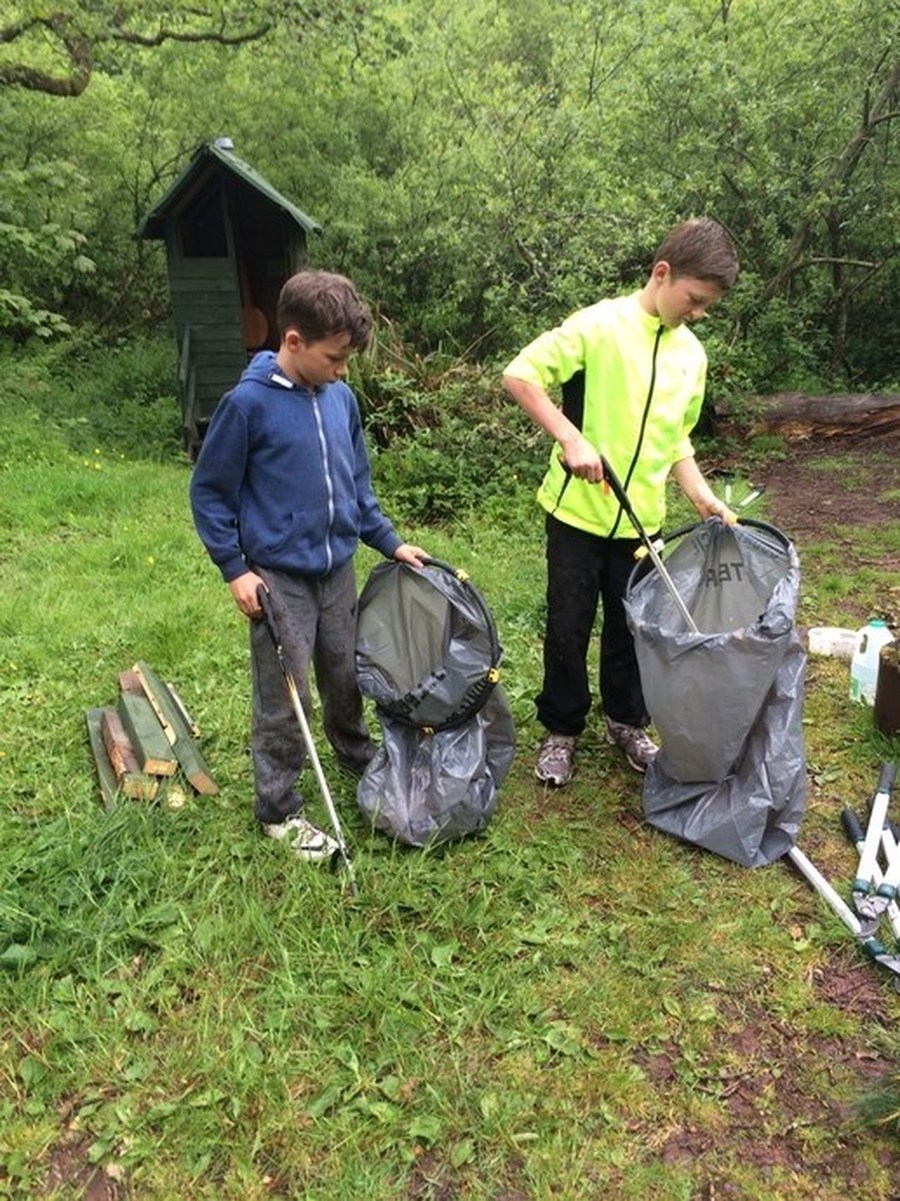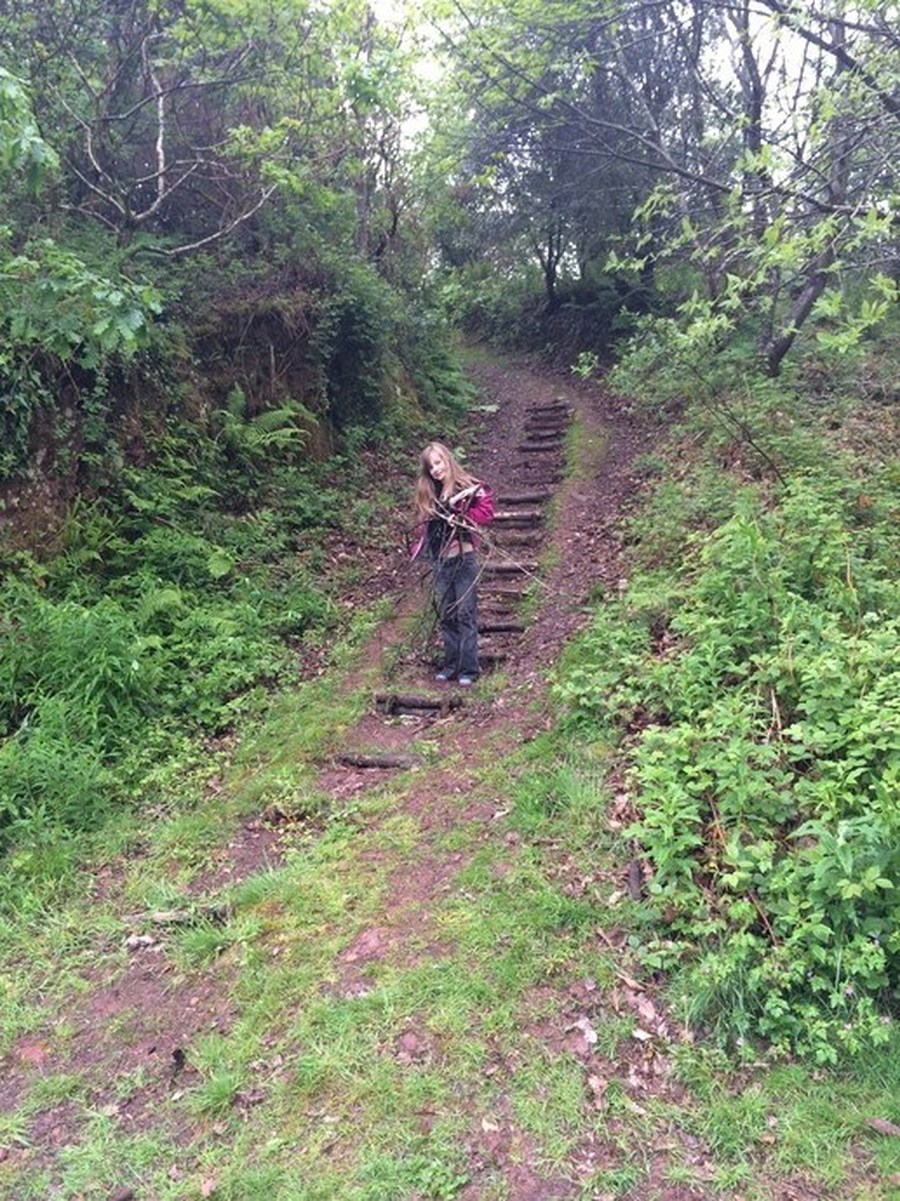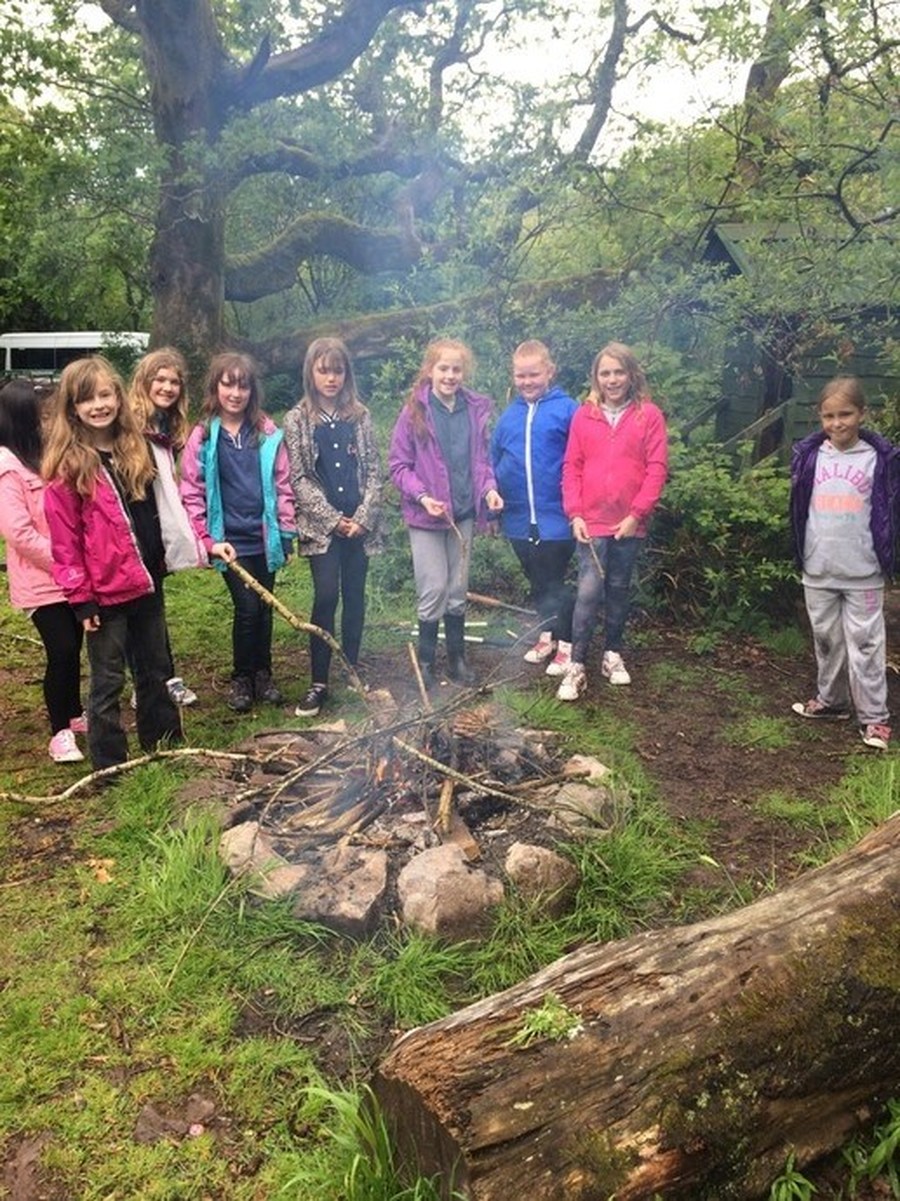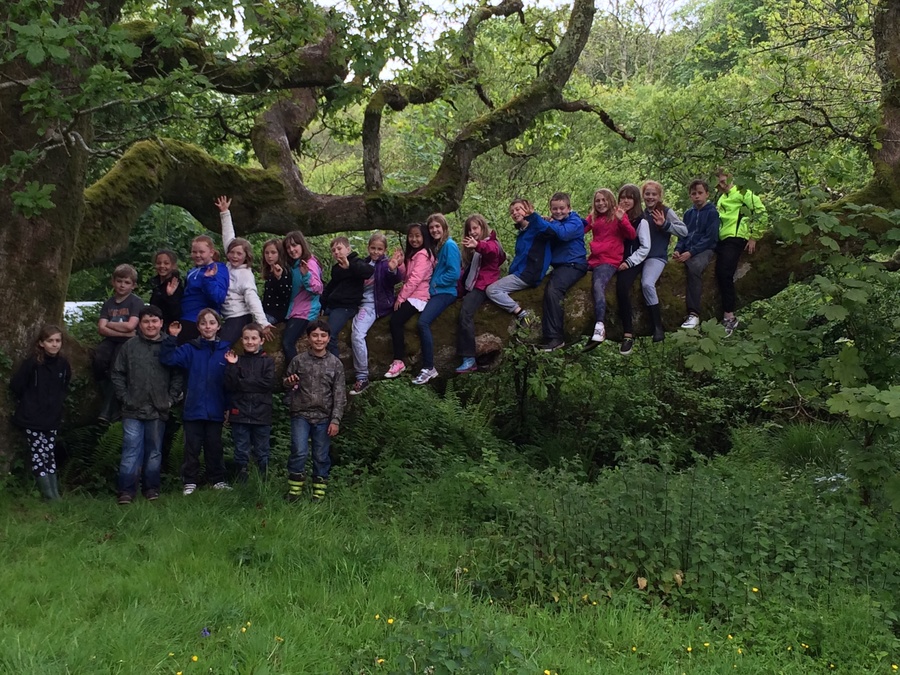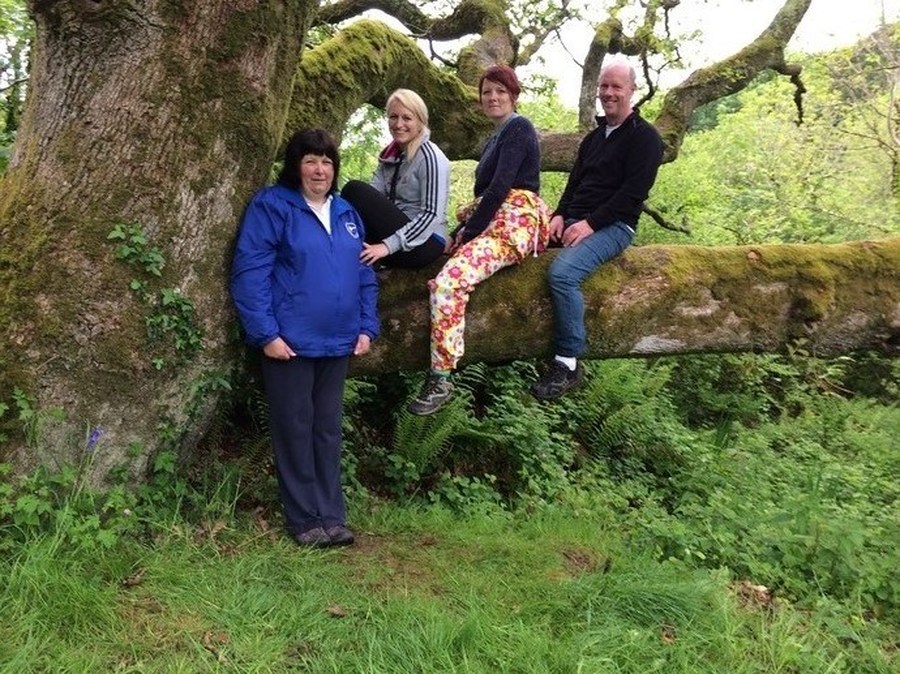 Wednesday 21st May
The day of three beaches... We had an early start after breakfast and headed over to Angle Bay for rock pooling. Unfortunately, the tide was coming in very quickly so we had to change our plans!
We travelled over to Stackpole Quay to search for fossils and explore before having lunch. The sun was out making it perfect beach weather! So we headed to one of the best beaches in the UK - Barafundle. Everyone had a lovely time sun bathing and jumping in the sea! Then it was time for a quick ice cream.
Afterwards we returned to the centre for tea before heading back out to try rock pooling again- this time at Freshwater West. We searched in all the pools and found lots of crabs. Luckily, the sun was setting as we walked along the beach - lovely! All children are off to bed now, ready for another early start tomorrow.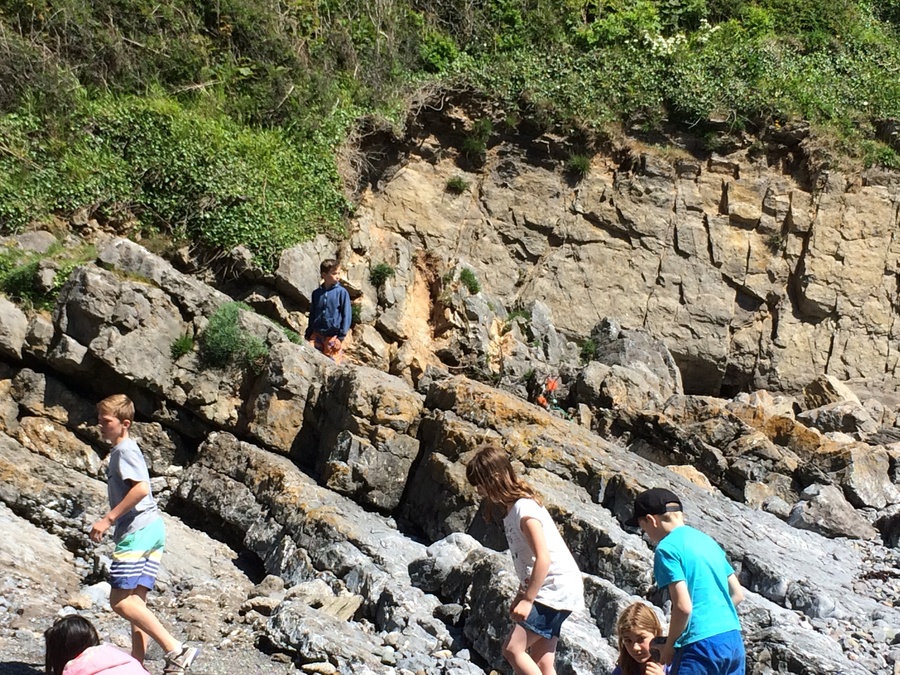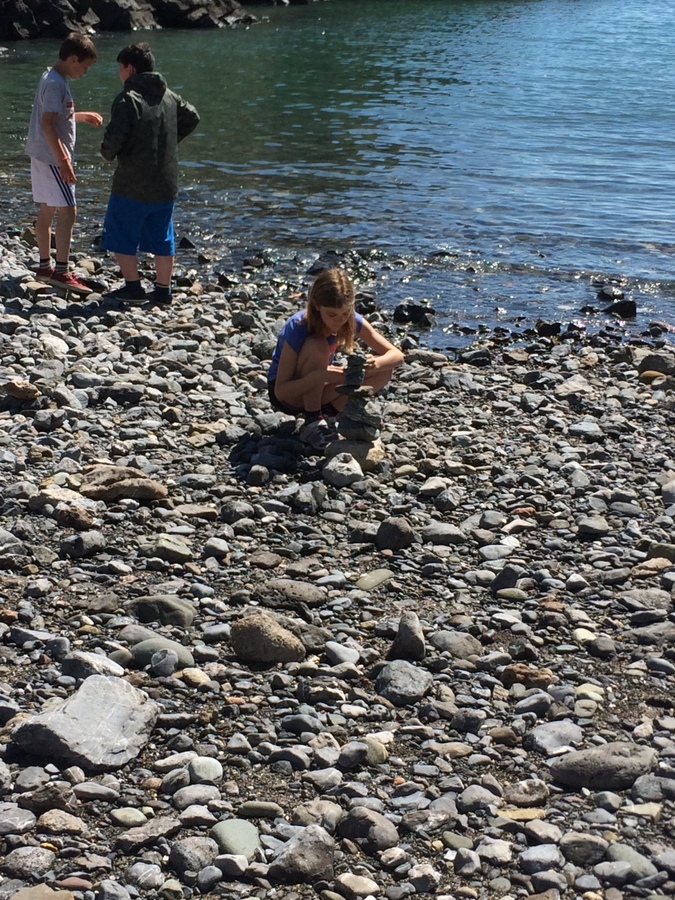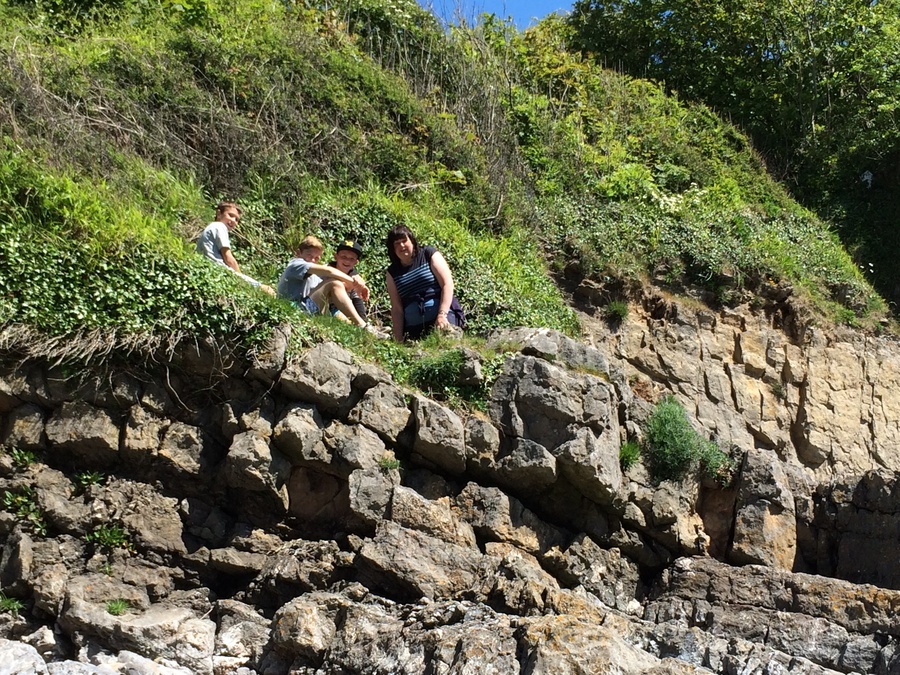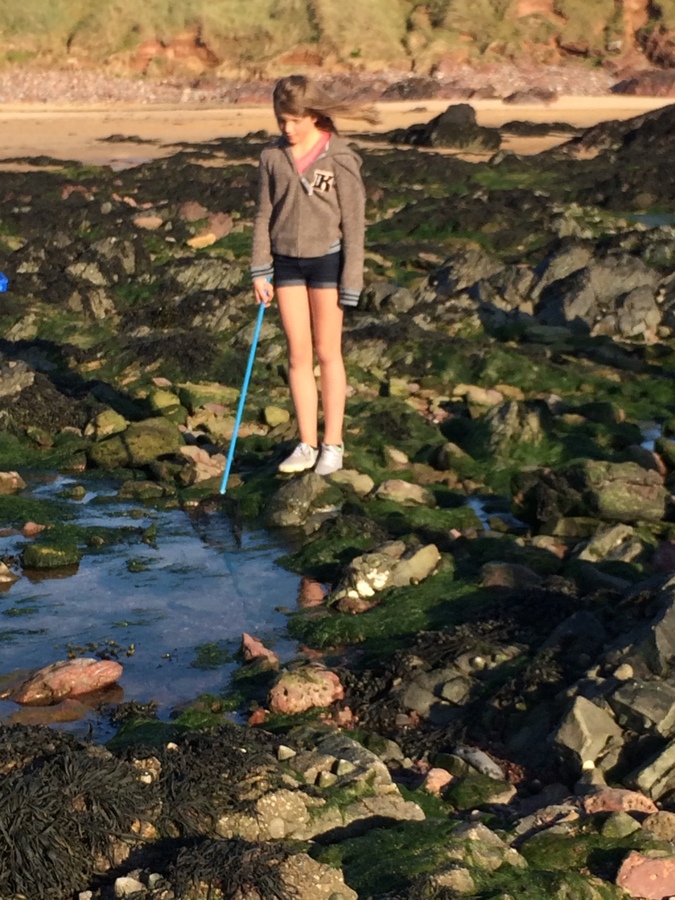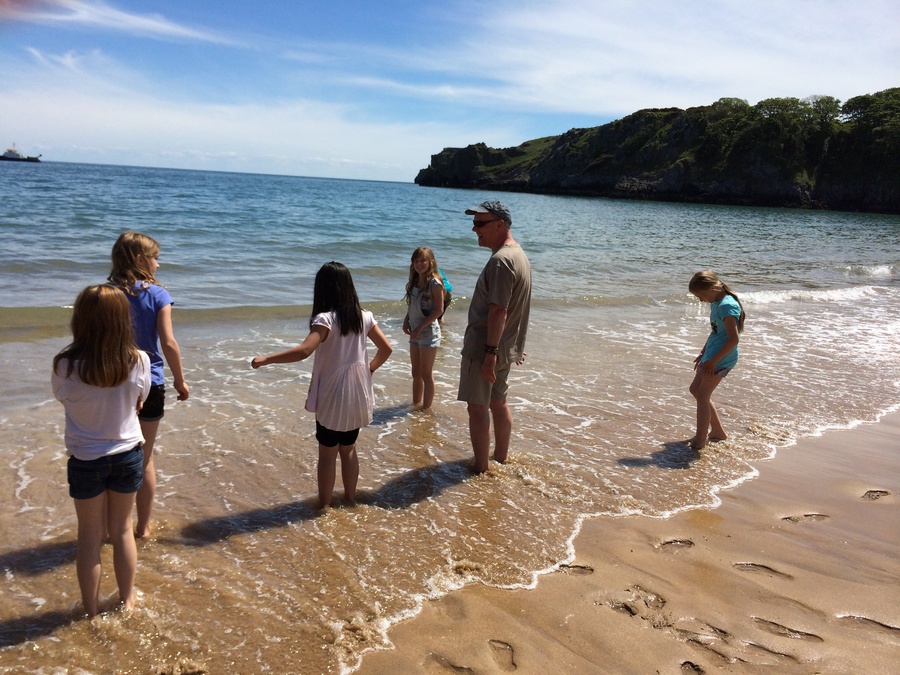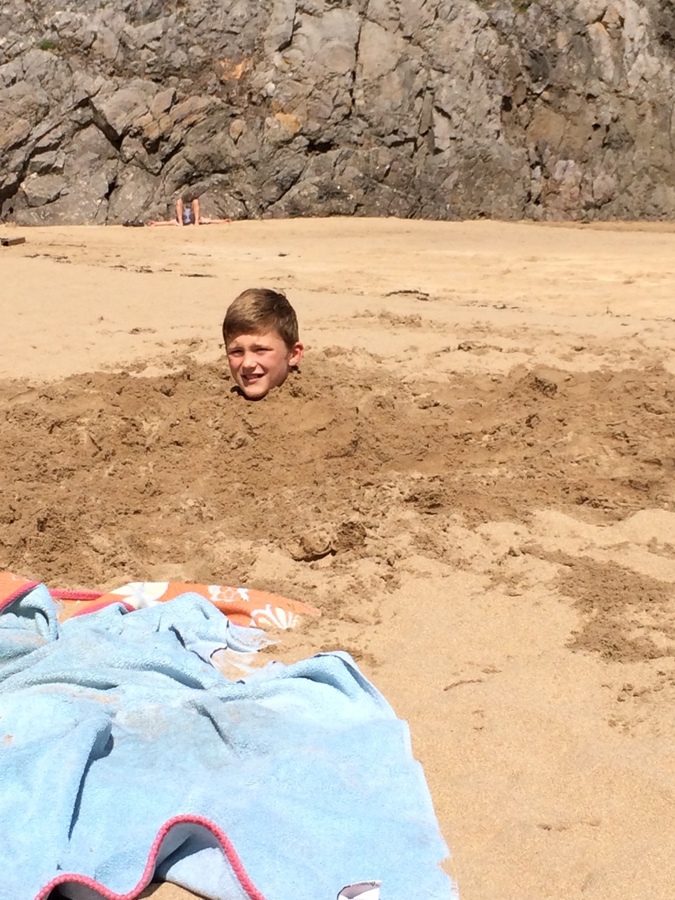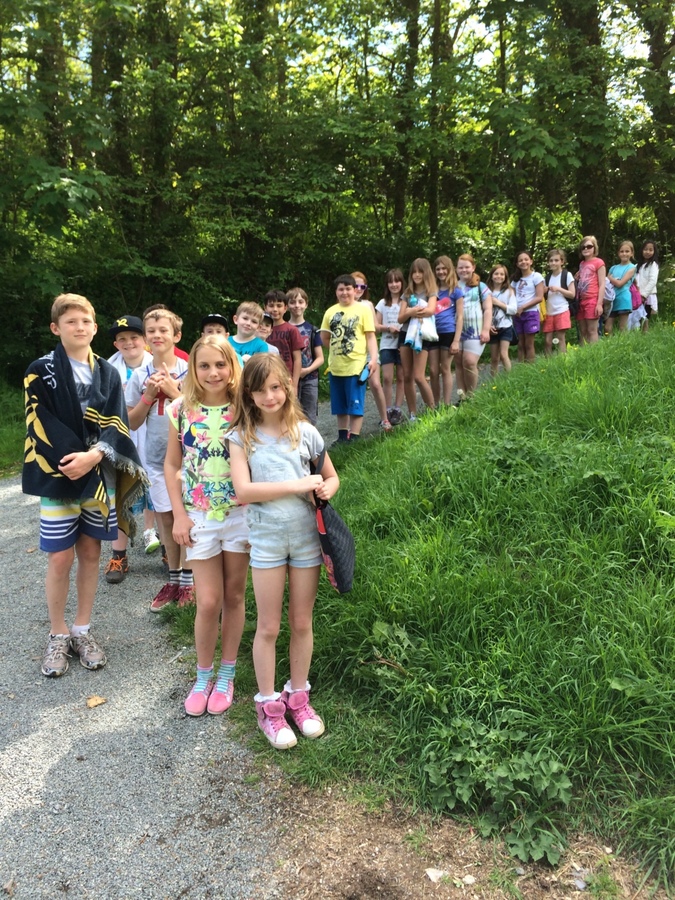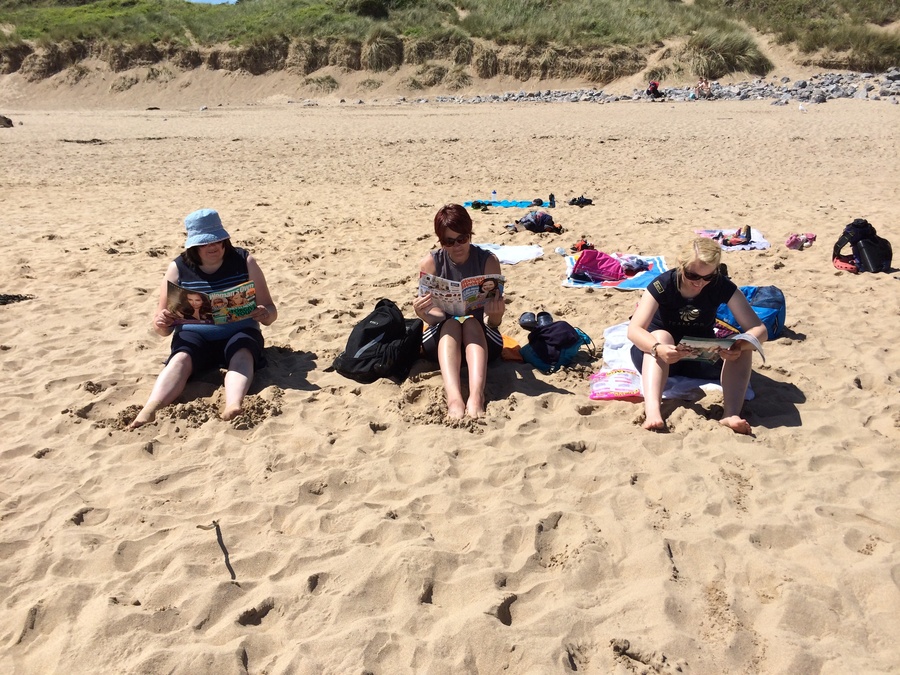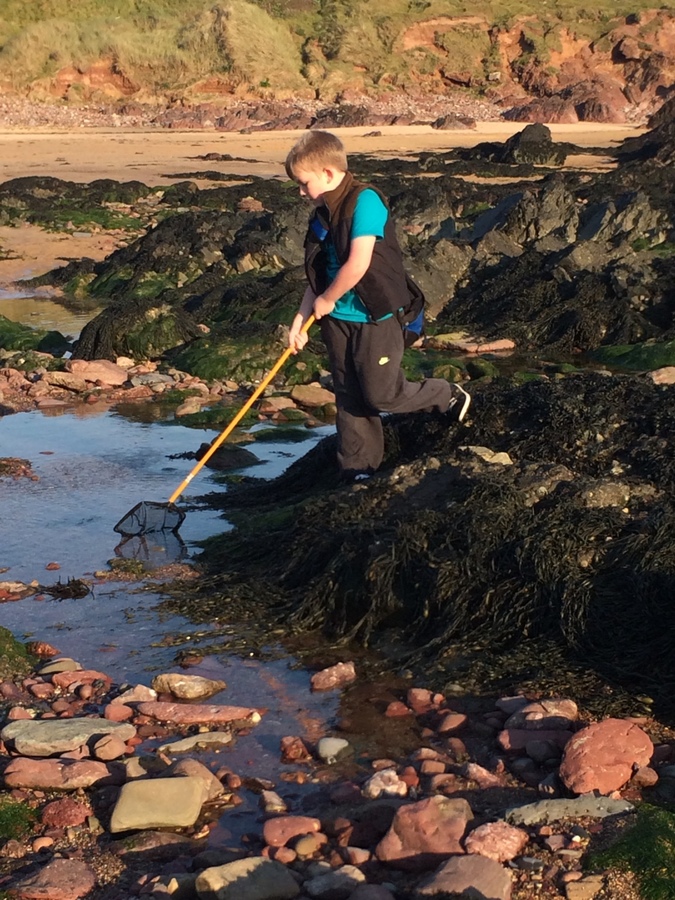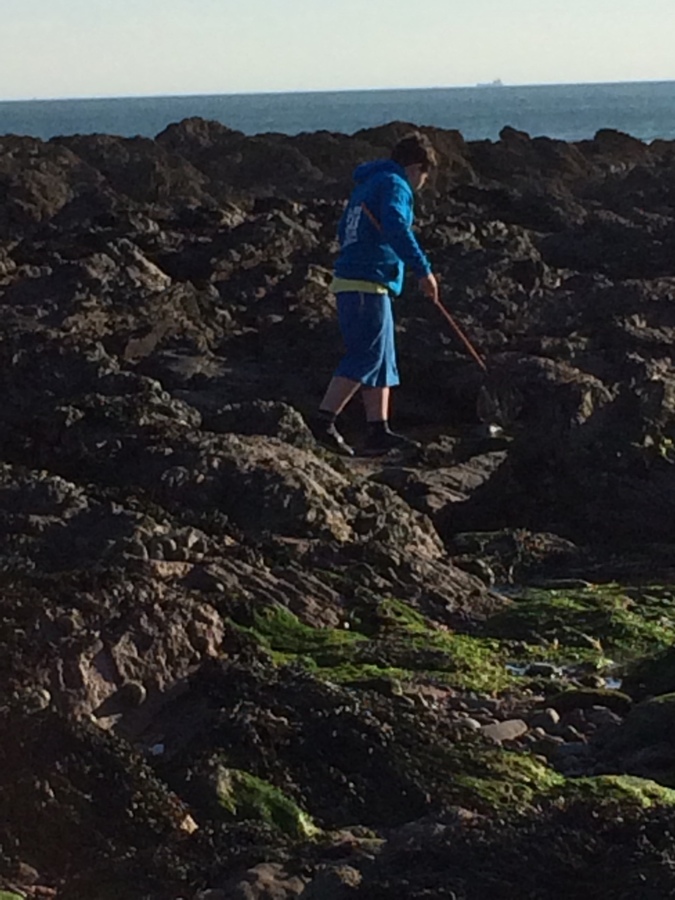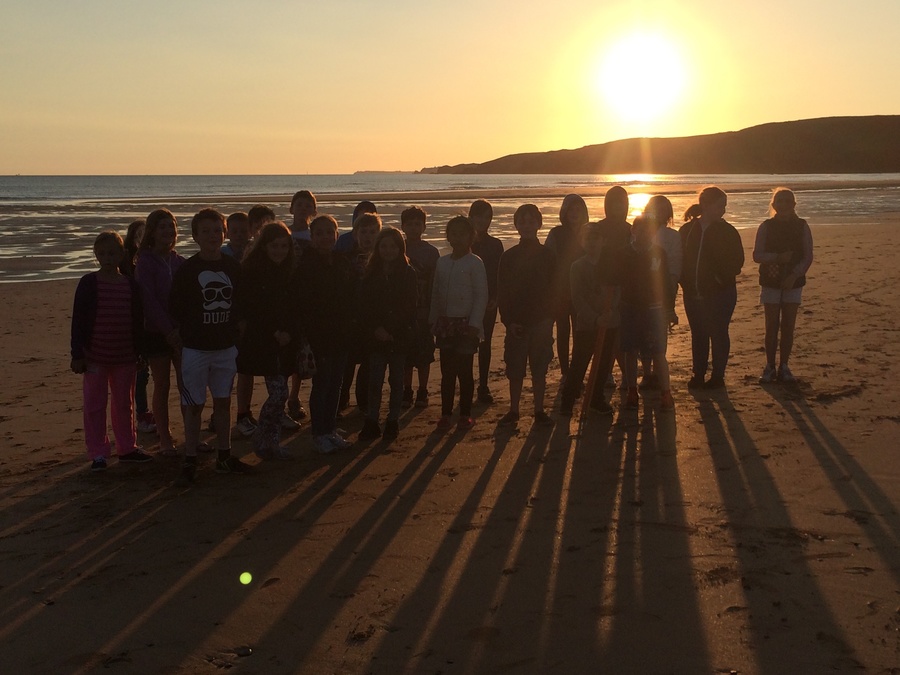 Thursday 22nd May
After an early start this morning, we were all packed up and on the bus and on our way to Skomer... Then Mr Camp received the call cancelling our boat crossing as a storm was due in later in the afternoon! Fortunately, Ms Doran had a plan! She quickly organised an alternative water tour around Ramsey Island instead. The children were thrilled.
Around 11am we arrived in St David's to ride on a jet boat wildlife adventure trip! Jack states "it was a once in a lifetime trip." During the ride children saw seals, gannets diving into the sea for their food and explored the caves around the island. Although the children returned very wet they were also very excited! After a quick stop in St David's city for lunch and to dry off, the weather cleared and we returned to Pembroke to visit the castle.
Our busy day continued as we returned to the centre for tea before heading out to take part in an orienteering challenge. The children are now very tired and packing their bags ready to return tomorrow.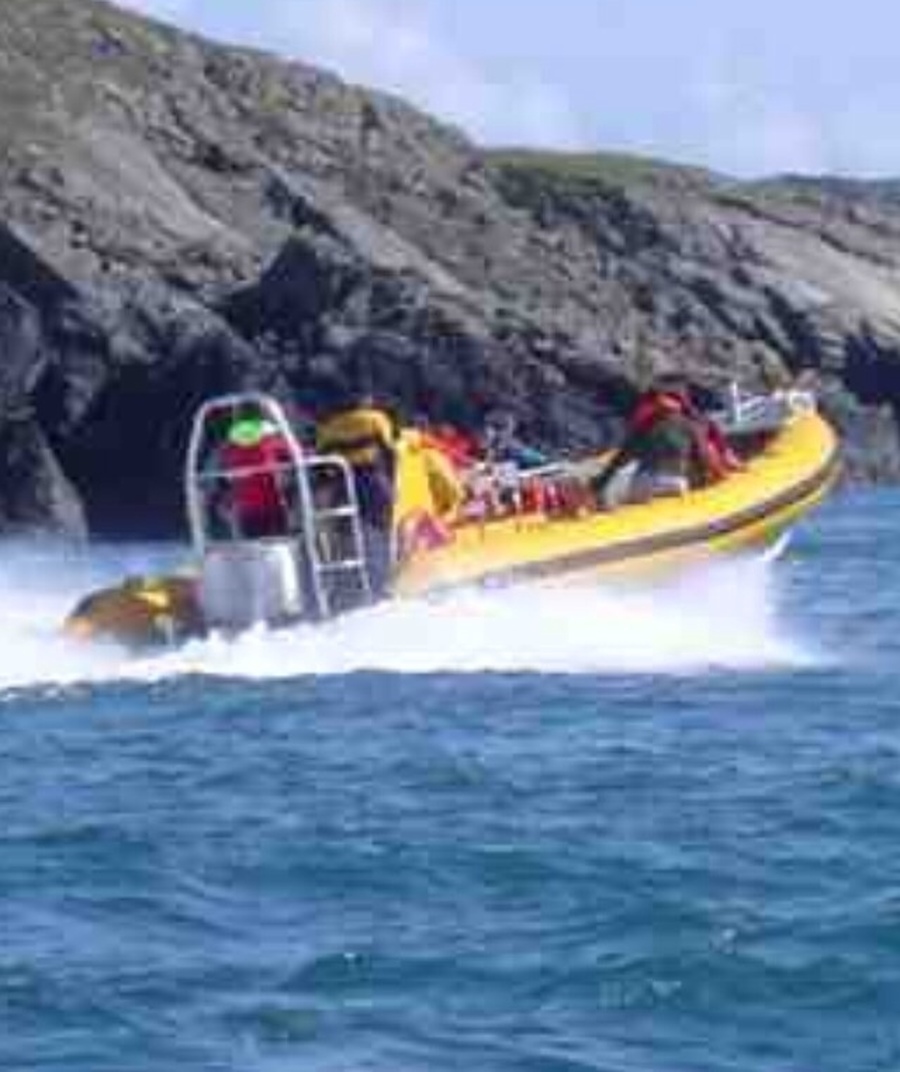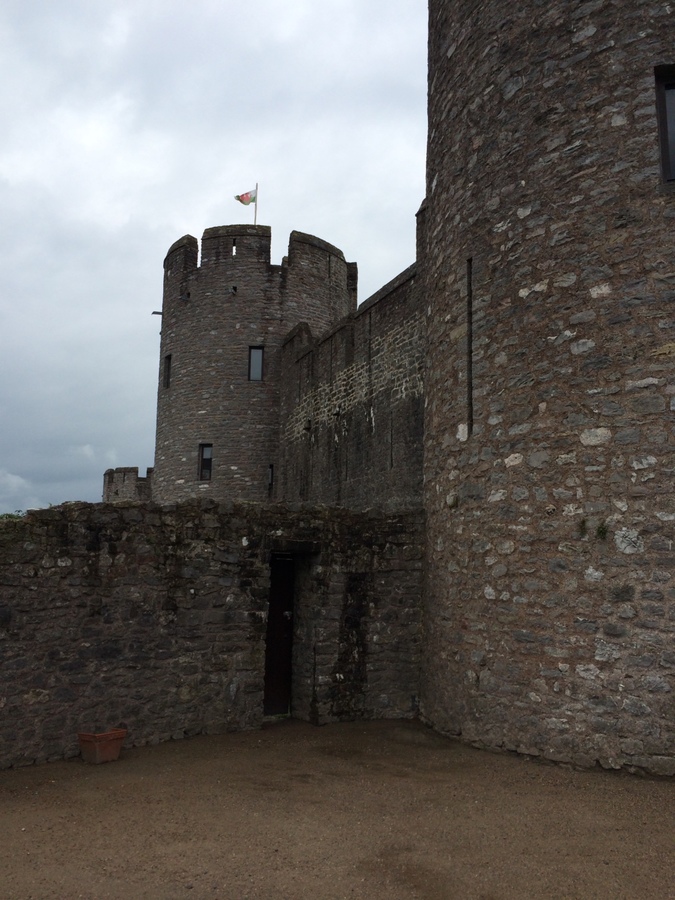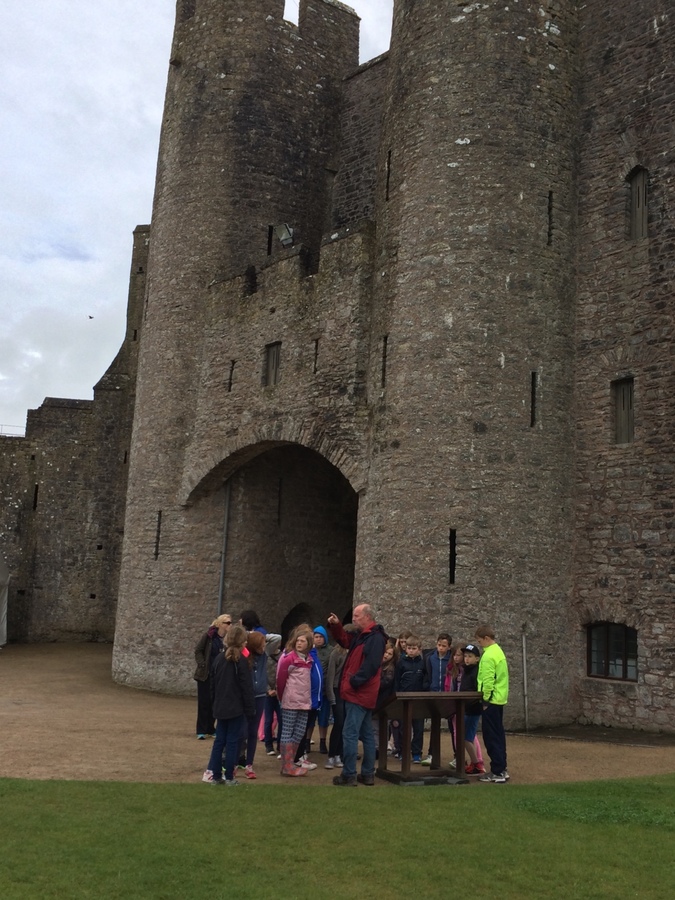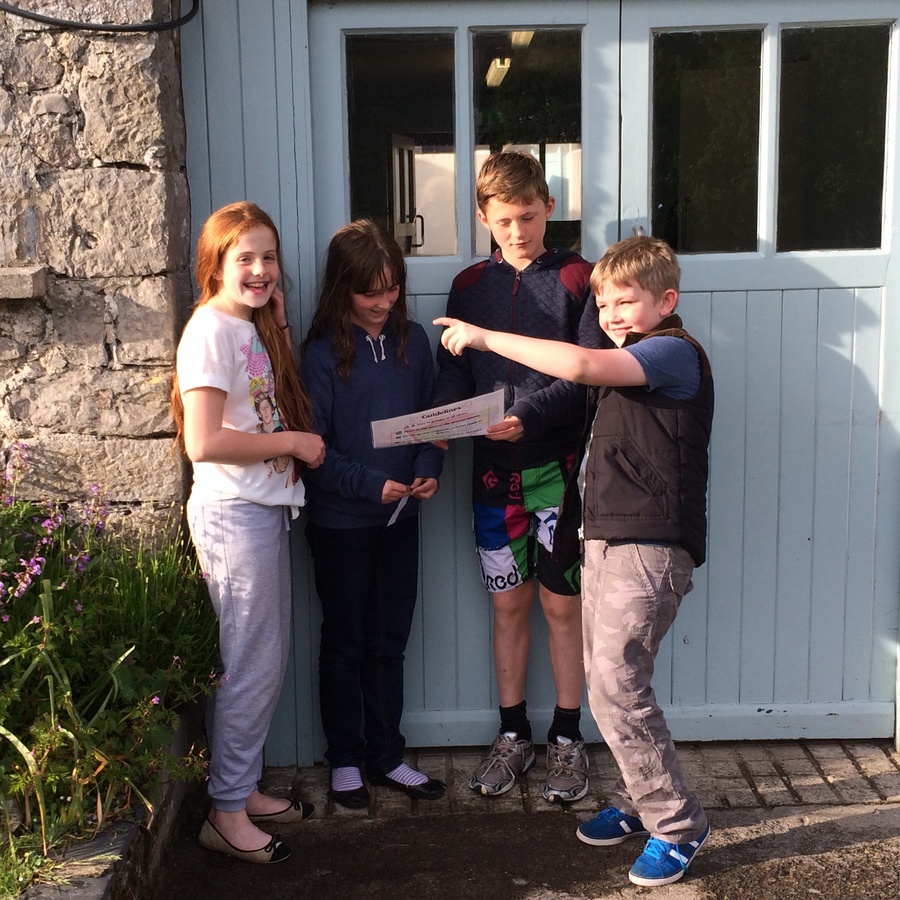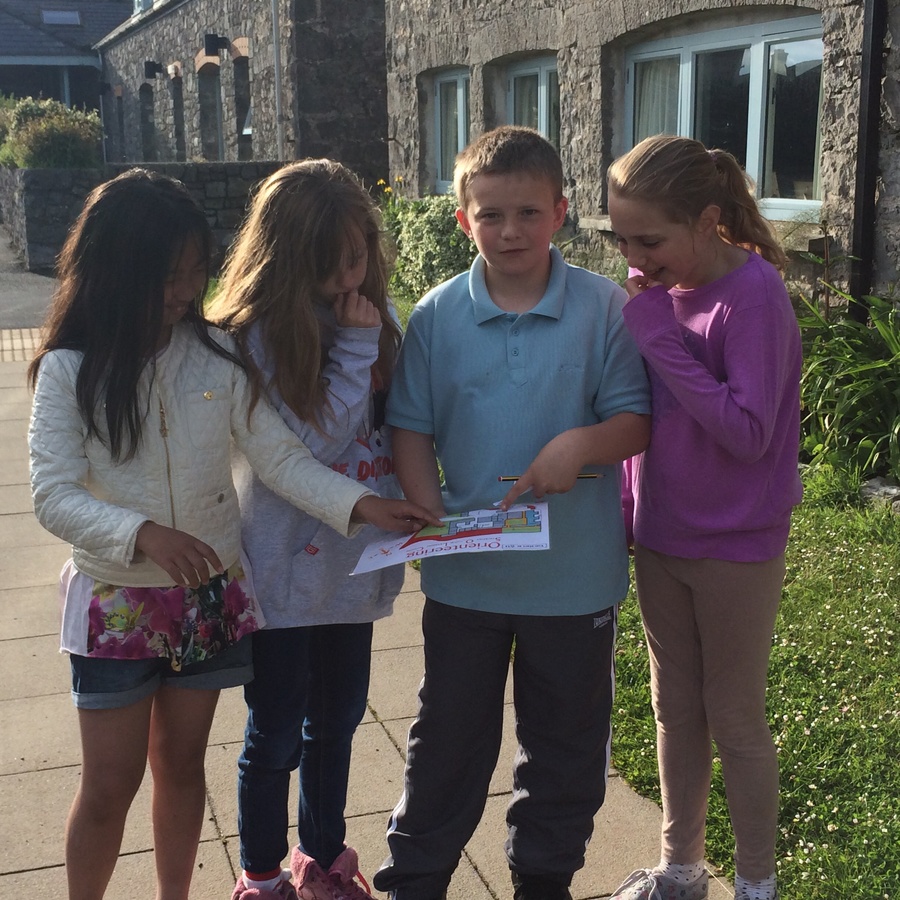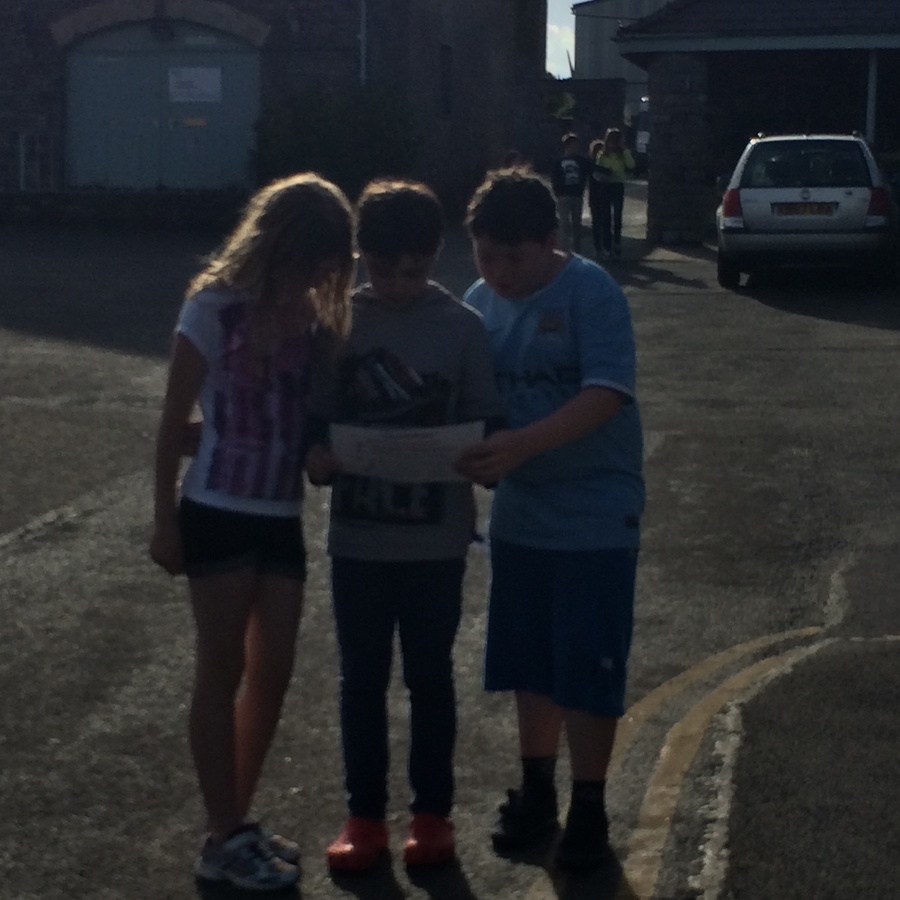 Messages home...
It turns out I like potatoes! Yesterday we went to the beach, it was awesome! Harry
Mum thanks for letting me come, beach is gorgeous with a warm sea. Olivia
Today we went to Scrubby Bottoms. I am really enjoying myself. By the way mum, I ate sweetcorn. Bethany
Dinner is yum! Tom
After a five hour journey, with two stops and Mrs Tyrell's excellent driving we arrived in Stackpole and our first adventure was the beach. Holly
My favourite thing is the beach. Tommy
After a long day yesterday, we filled in our diaries before going to bed. All is okay, mum. Chloe
We were joined in Scrubby Bottoms by Chris's dog Serren who was very cute. Alex
I love all the food and going to the beach with everyone. Ellie-Mae
For breakfast I had cereals followed by egg and bacon on toast. I love all the food! Abbie
The rooms are really nice and cosy. On Monday evening we went to the beach and found: crabs, coral and lots more... Alice
We have been looking for crabs in the cave. Kirsty
I've really enjoyed it at Stackpole so far. Amber
I have enjoyed going to Scrubby Bottoms. Rea
It's really fun and nice here. Alfie
We played Hide and Seek... Harry and I were so well hidden nobody founds us! Callum
I'm having a great time, it is a great centre. Maggie
I loved the beach, the best! Charlotte
I enjoyed going into the sea and jumping over the waves. Rebekah
Messages continued...
I enjoyed crabbing with everyone. Cameron
I had fun finding crabs while we were rock pooling. Trent
The beaches are brilliant. Tom
I am having fun. Harvey
Stackpole News
Monday 20th May 2013
The group of Year 5 and 6 pupils left at approximately 8.30 this morning in two mini-buses. There was much excitement from children as well as parents!
1pm: Just heard that the minibuses have reached Cardiff.
4pm: Message received to say that all have arrived safely at Stackpole. Planned stops were made and all are now looking forward to a walk on the beach, some dinner and a good first night's sleep!
All asleep by ten.
Tuesday 21st May 2013
7.45am: Message received to say that they all survived their first night! The weather is drizzly at the moment, but they think it's sea mist.
10am: Message from Mrs Cartwright: All enjoying our trip to Stackpole. It was a long journey to get here on Monday, but we then had a great time on the beach in the evening - kite-flying and rounders. Looking forward to visiting local woods today to do some environmental work.
5pm: Update from Mr Camp:The children have had a super 'Environmental Day'. Walked to the woods and have been climbing trees, chopping wood and building fires. Children have been cooking bread over open fires. They also carried out an orienteering task in the woods. All are well, happy and enjoying themselves. Lots of fresh air and exercise today!
May have to change plans for tomorrow as weather forecast not great.
Wednesday 22nd May 2013
9am update from Mrs Cartwright:
Tuesday - Busy day doing tree-felling, step-making, fence-building and orienteering round Scrubby Bottoms (yes really!) Woods. Then we toasted our own bread dough round the camp fire.
Another walk down to the beach in the evening to make the most of the sunshine. Mrs Tyrell managed to see an otter in one of the lakes.
Got back to base & then Mr Camp took some children to watch the tanks at the local military firing range!
Hot chocolate, sleepy children, bed.
Wednesday 1.20pm Text from Mr Camp to say that the group were on Skomer Island looking for puffins!
Thursday 23rd May 2013
10am update from Mrs Cartwright:
Wednesday - Went on a boat trip to Skomer Island where we saw a lot of amazing wildlife including puffins, seals, oystercatchers and rabbits. The boat trip across to the island was a bit choppy but the children really enjoyed it (not sure about some of the adults though!).
Had another trip to the beach in the evening and enjoyed the last of the day's sunshine. Some children went fishing with Mr Camp and managed to catch 5 mackerel for Thursday's breakfast!
Friday 24th May 2013
10.15am: Thursday - rockpooling on Angle beach in the morning. Bit breezy (blowing a gale)! Walk along the coast path and ice-cream after lunch.
Friday- all packed and exploring Pembroke Castle before setting off for home.