German Trip - December 2019
Why do we offer the exchange programme?
We believe that offering children a wide variety of experiences helps them to become rounded, happy, confident, respectful and open-minded learners. Our school has been part of this, and the Spanish, exchange programme since 2011 when it was introduced by our previous Head Teacher Mr Camp. Since then, we have hosted a group of German and Spanish children in our school and taken pupils from our school to stay with families in Hannover and Torredembarra.
Our focus is not on the acquisition of language, but to know that we can make friends with children who live in other countries and understand that they are just like us; they play the same games, like the same things and that we can communicate even if we can not speak the language. It teaches us tolerance and respect for other people and their culture. We experience new places, foods and activities. Whilst the children involved benefit most, all children in our school have the opportunity to meet children from other countries; eat with them, speak to them, play with them and find out more about their home, school and life.
In just 5 days, you can learn so much about others but also about yourself. Our research has shown that children who have taken part in these programmes have been more inclined to travel independently in the future, want to learn abroad and maintain long-distance friendships.
Our programme continues due to the support of parents valuing this opportunity for their child and the school wanting to provide the best opportunities for their children.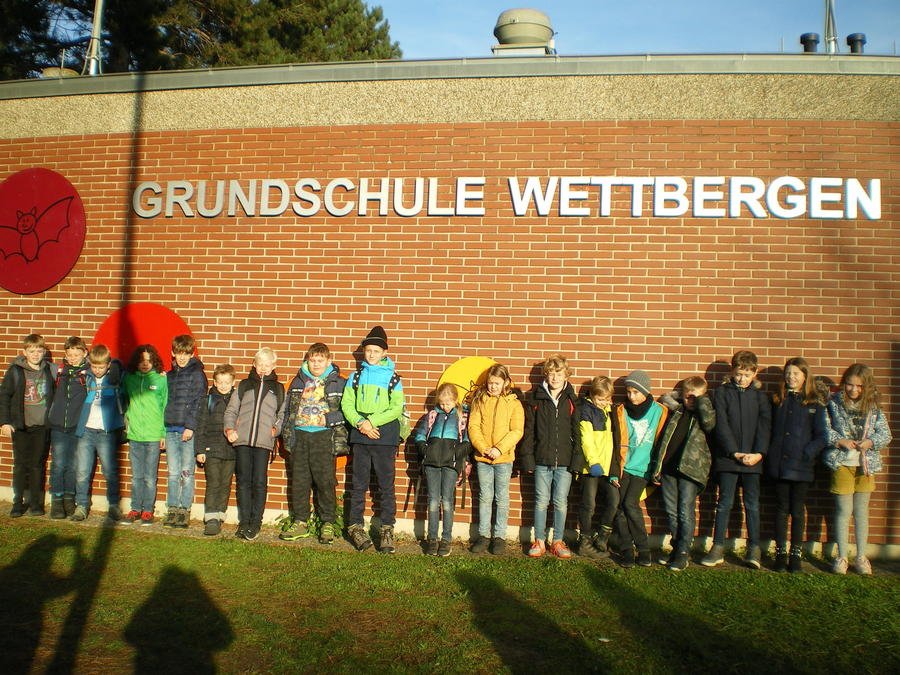 Monday 2nd December 2019
We are delighted to be able to offer, not only our children, but 5 children from Greens Norton C of E School, to take part in our annual exchange programme this year. Mrs Griffin and Mrs Carter accompanied the 9 children to experience German school and familiy life staying with host families/teachers.
We travelled together by mini-bus down to Heathrow Terminal 3 and caught our flight to Hannover.
We were warmly welcomed by a large group of parents, new friends and siblings back at the school before the children went with the host familiy to enjoy a snack before bed.
Tuesday 3rd December 2019
The children arrived at school for 8am having had a sleep and eating breakfast. Some tried different foods but some stuck with what they knew they liked eg. Frosties!
The day started with getting to know the names of the pupils involved in the programme and then having a tour of the school. They saw that there are specialist teaching rooms, an upstairs and an extensive play area with a very big climbing frame. They attended some lessons and assembly after second breakfast.
In the assembly, the Head Teacher, Mr Kuhn, introduced the teachers and pupils to the whole school and the children were presented with a school t-shirt.
Following a school dinner of pasta, potatoes, sauerkraut and cooked ham, we started our afternoon of crafts. We started by completing a fact file about ourselves that will go towards making a souvenir booklet to take home at the end of the week. We then made our Hexenhaus. The room fell silent as the children focussed on sticking their sweets very carefully onto their gingerbread houses. They were very pleased with their results!
Wednesday 4th December 2019
The children arrived at school and told their teachers about their night with their families. Some went to football training with their friend, some played games and some went ice skating. They had enjoyed an evening meal and slept well after a busy first day. The children arrived in school happy and excited for the day ahead.
They attended two lessons with their partner.
After this, we went to get the bus and tram into Hannover in order to visit the Christmas Market and bake some Christmas cookies. We baked in two groups so the other group went to the Rathaus (New Town Hall) to see the 3D models of Hannover. We also visited the market Church and saw a wide variety of nativity sets from all over the world.
Thursday 5th December 2019
We left school at 8.30am to get the bus and tram into Hannover again. We went to the Modern Art Museum to have a tour and then make stop motion movies using everyday objects. The children were very creative!
The children then had some time to spend some of their pocket money at the Christmas Market. Most chose to spend it on food, but a few families might benefit from a souvenir gift....
Friday 6th December 2019
And so it is the last day.
We re-grouped and walked to the local supermarket to buy some souvenirs before coming home.
German Trip - December 2018
Monday 3rd December 2018
Mrs Griffin, Ms Doran and five pupils left Towcester Primary at 2.30pm on Monday 3rd December. With Mr Godwin driving the mini-bus, they made their way to Birmingham airport and caught their flight to Hannover, Germany. This was the start of the next exchange with G S Wettbergen - our partner school since 2011, although the link has been in place for 14 years.
Arriving at the school by taxi, they were greeted by their new friends and families and went off for a good nights sleep.
Tuesday 4th December 2018
The children had an early start - school starts at 8am. With them already being an hour behind, this felt like 7am to the children and they were very tired!
They spent the morning visiting classes, having a tour of the school and finding out what a German school assembly is like. The children went up to the front of the school and received a GS Wettbergen school t-shirt which has the logo of a bat on it.
The children experienced a second breakfast - German style! This involved bread, toast, cheese, meats, fruit and more!
They spent the afternoon with their families. Some went to the zoo, Christmas market or enjoyed time at home playing games with their friend.
Wednesday 5th December 2018
Today we took the bus to the tram station, then the tram to Hannover city. There we had a tour with a guide who explained all about the different traditions relating to Christmas in Hannover. The children saw just how big the Christmas market is and had the opportunity to visit the Market Church where an inclusive Christmas Service was taking place. We listened to Christmas songs being sung to an organ accompaniment in a very big and beautiful Church. Thankfully it was warm too!
We returned to school for a hot school dinner - potatoes and beef soup- and then spent the afternoon making a Hexenhaus - a witches house. This is a decorated ginger bread biscuit - similar to that of the house in the tale of Hansel and Gretel. Some might ask why this is a tradition? Mrs Griffin has carried out some research and it seems that it is the significance of the gingerbread eaten at Christmas time in Germany- not to mention lots of sweet treats being eaten at this time too.The houses might even make it back home... Here is an example made on a previous trip.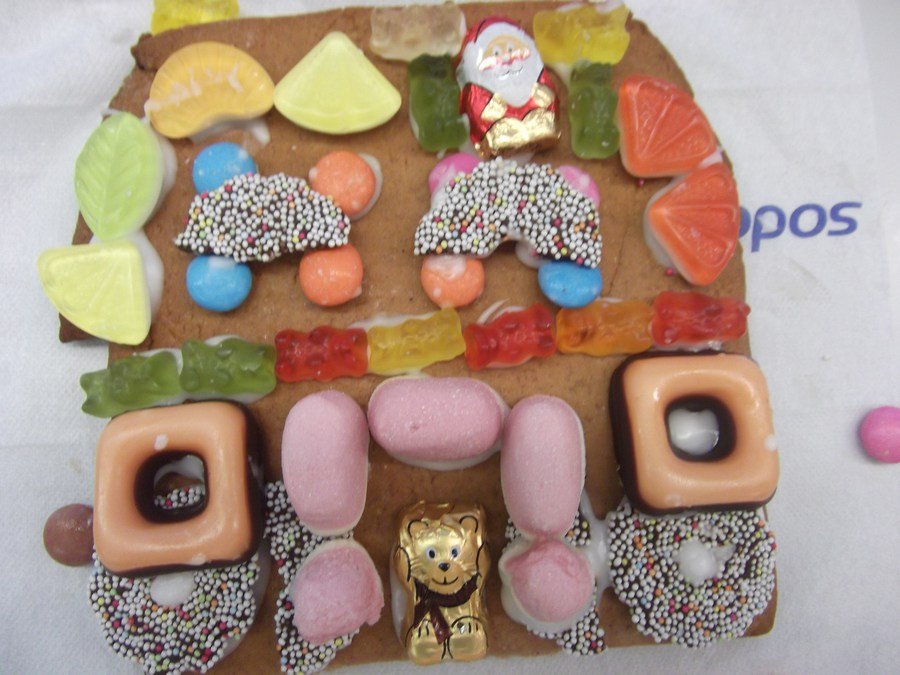 The children enjoyed decorating their houses and used many, many sweets! Then they made a Christmas candle using a biscuit, wafer and small almond. They had a play outside before going home with their partners. Tonight, St Nicholas will be visiting houses to deliver sweets into the shoes of children who have been good this year. We will see if any of our group arrive at school tomorrow having received some sweets or not! Some were going back to the houses to make sure their shoes were clean - just in case!
Tomorrow we look forward to going to a museum where we will attend a workshop to make a stop-motion film. Then on Friday we will be going to class again and making a visit to the local supermarket to make comparisons and buy our last few souvenirs before flying home in the evening. We are learning so much about Germany, German life and about ourselves, and look forward to sharing our experience with everyone at home and back at school.
Thursday 6th December 2018
Today was St Nicholas Day. The children arrived at school telling about how they had washed their shoes (or at least part of them) last night and were pleased to find chocolates or sweets or fruit or nuts in them this morning. Both Mrs Griffin and Ms Doran did too!
We set off soon after arrival at school to catch a bus and tram into Hannover again. We are getting good at this and saw lots of different school groups using the public transport as well. We went to the modern art museum where we had a tour. Some of the art pieces were big enough for us to walk on; one was even a door. Then we used iMotion on iPads to make a stop-motion movie. In their pairs, the children were given three words to give them an idea for a story. These words came from the current pieces of art in the museum exhibition.Then the children used models and cut-outs to create characters and objects. We are very proud of our work and had great fun making them. Please watch them - they are below. It was challenging at times trying to share our ideas with our German partner, but used modelling and demonstrations to help us explain.We proved that you can do it!
Leaving the museum, we went straight back to school as today was a shorter day. We left with our partners for our last afternoon in their homes and experiencing German life as a child.
Tomorrow we are visiting the local supermarket and will be starting to think about our trip home. We have had a great time but are looking forward to seeing our families and sharing our news and experiences.
Today is our last day.
We will be working on our 3D model and reviewing our project and the exchange Programme. Again, the children have some time with their families before getting a taxi to the airport this evening to be reunited with our parents late tonight.
It has been such an interesting and enjoyable trip and we have learnt so much about German forests, life, people and ourselves!
Today, was a day for the children to experience German lessons in their partner's classroom. They experienced three lessons in total and spent the other two working on our 3D model of a forest. The children enjoyed working together - colouring and cutting, talking and laughing together. Despite the slight language barrier, it is still great to see how the children can communicate and talk about their interest and things that make them laugh.
Today was the first day, the children had an opportunity to do something 'bigger'with their families. Some were going to the Sealife Centre, swimming, the zoo, mini-golf and a birthday party.
The children enjoyed their respective evenings and arrived to school, maybe slightly more tired this morning after the events of the past two days were catching up with us!
We gathered together to work on our 'Forest Books' and, just like when the German children visited Towcester, we wrote the English and German names for the places we had seen yesterday afternoon in Hannover.
We then walked to the forest again to meet another forester who taught us about the layers of the forest. We gathered information and evidence and put them on three washing lines to show the layers. When we looked at the bottom layer we separated the humous from the soil and found the different creatures and mini-beasts that live there. This was very interesting.
We carried out many different activities that taught the children - and teachers - a lot about German forest and wildlife.
We returned to another hot lunch - the pasta was particularly popular! Then our afternoon involved the children finding out all about bats. The bat is the school logo for G S Wettbergen. We had six different hands-on activities to investigate that told us more about what they ate, how they see, how they use smell, how much they eat, when they evolved in time and if they were related to mice, birds or dogs. Which do you think it is? We even looked at their food pellets and tried to discover evidence of what they ate!
Again, we learnt loads. Ms King is going to download an app that can detect bats when she gets home!
The children returned to school with their families for a barbeque. We tried different salads, breads and meats and enjoyed playing with our friends on the field, on the playground and in the large sandpit. Our parents are all very friendly and know each other well.
All children arrived to school having had a good nights sleep.
Our day started with a lesson about Andy Goldsworthy and how he has been inspired by nature to produce 'land art'. On our way to the forest, we got into groups and collected shade and shapes in nature from the nature either side of the footpaths. It was surprising how you could find black, yellow, long and oval/circle objects.
After a discussion about the rules and behaviours required in the forest, we entered the larger forest and started our land art. The children worked with their German partner and others to create 3D or 2D, abstract or pictorial pieces of art using the shapes and colours around them. Ms King and Mrs Griffin were very impressed with their creativity.
Before leaving the forest, we created a pathway of different textures to guide our partner over.
We arrived back to school to enjoy a hot school dinner; chicken broth or omlette and potatoes.
In the afternoon, we took the bus and tram to Hannover city. We walked round to see the sights including: the new Town hall, the old Town Hall, the market Church and the parliament building. In the new town hall we saw models of Hannover and how it had changed over time. This is a tradition when we visit Germany and a poignant time to reflect on the historical connection between the English and German politics and relationship during the war. We also saw Germany's largest train station before returning to Wettbergen and going with our partner to their home to spend time with the family.
After trying to concentrate in lessons all day, we excitedly left school at 3pm to make our way to Birmingham Airport. Mr Camp, the instigator of our school exchange Programme in 2011, drove us there in the mini-bus. We had some tea once we got through security. Our flight was on schedule and we enjoyed our journey.
We were met by our taxis and taken to the school - GS Wettbergen - where our families and Mr Kuhn, the Head Teacher, were waiting for us. By now it was nearly 11pm. The children happily went off with their families.
German Visit - October 2017
And so we have been able to start another exchange with our friends from Hannover. These projects are subsidised by the UK-German Connection, whose support enables us to give our children the opportunity to make friends and carry out projects with GS Wettbergen.
Our topic for this year is 'Forests'.
And this time, it was the turn of the Germans to come to visit us first - 12 children and 2 teachers.
We filled our week witha tour of Towcester, a trip to Salcey Forest and making project books about the forest. And a visit from the Pantomime! Our German friends received a school t-shirt and had time in class to sample life in a British school.
We had a BBQ with our families and the teachers too.
German Exchange - March 2017
Much earlier (and wetter) than normal, our German visitors made their return visit to us this month. They stayed for four days; 9 pupils and 3 teachers including the new Head Teacher of G S Wettbergen, Mr Kuhn.
Working with Ms Brown and 9 of our pupils, we made trips to Stoke Bruerne and Northampton Town - not to mention the British Party we had on the Wednesday with the support of Tesco. We walked to see Diane and the team, who let us have a look behind the scenes at the store and then we returned to school to prepare food for our party: home-made pizza, cheese and pineapple sticks, sausage rolls, cocktail sausages and lots more! We followed this with traditional games such as pin-the tail-on-the-donkey, the hokey cokey, musical chairs and more. We had our usual BBQ with all of the guests, staff and host families - and it doesn't seem to matter what time of year it is - the children love to play football together outside.
We had a great week and all of the children in school appreciate that they have special guests and welcome them into their games and conversations.
It is so important for children to meet and communicate with children from other countries and they can learn so much about themselves and life by doing so.
Our thanks goes to the parents and families that hosted and to the school and local community who support such an important project.
German Exchange - December 2016
We have had another great day. This morning we went to lessons with our hosts followed by lunch at school. In the afternoon we built our Hexenhausen. We will leave for the airport at 7:30.
Today we travelled by bus, tram and train to Hameln where we visited the museum and learnt about the tale of the Pied Piper. We then were lucky to have a tour of Hameln by the Pied Piper himself. He told us about the real tale of the Pied Piper. Afterward we had some time in the Christmas market where we tasted schinkenwurst and bratwurst, both of which were very good.
After lunch we went to the classroom to start learning about the Pied Piper and designed pages for the calendar. Everyone is really happy and enjoying the experience.
The children had lunch together before exploring the grounds.
The pupils were welcomed to the school in a special assembly and were given a Wettbergen t-shirt. Each child was introduced to the school by their host. We are all having a fantastic time!
We all arrived safely in Germany. The pupils had a good night with their hosts and are now in their German lessons. Later they will visit the Christmas market.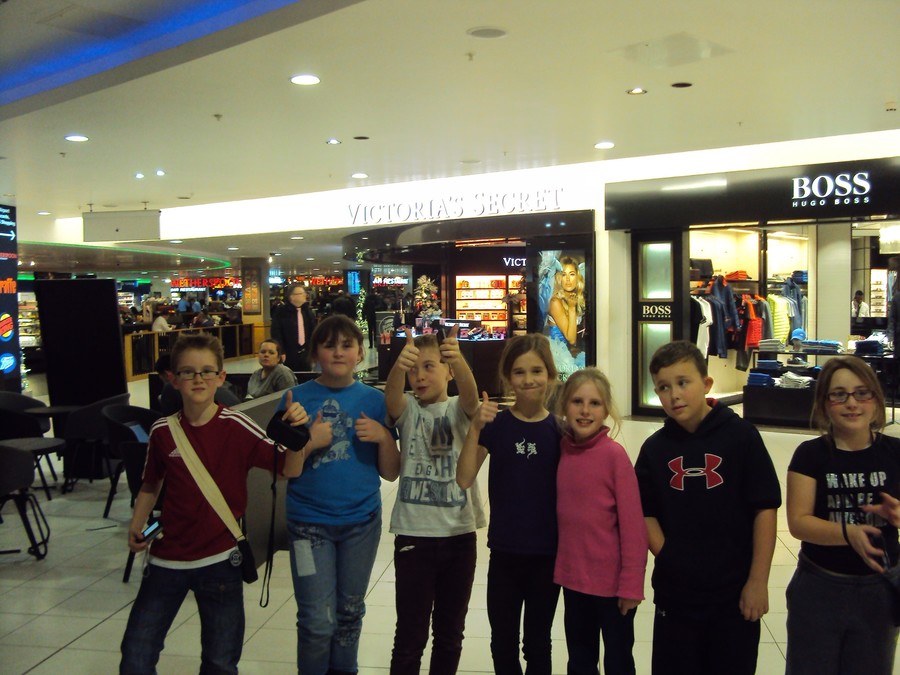 12 German children make the return visit to Towcester - June 2016
As many of you know, this exchange programme between GS Wettbergen has been going for 5 years at our school and 5 years prior to that with Mr camp and his previous school. With it being the 10 year anniversary, this was a very special visit. 'UK-German Connection' support and promote the programme and this visit was all about recognising the value and importance of the partnership.
On Wednesday 8th June 2016, special visitors from the local community including the Deputy Mayor, Sharon Murray, school Governors, parents, a representative from the History Society, joined the 'alumni' - pupils past and present who have taken part in the exchange - to acknowledge why this partnership is so important. The pupils shared their memories of their visits and reflected how the experience changed them as people; their own confidence, their personal interest in languages or just their understanding of other people and their culture.
In addition to this event, the 12 visitors, with their 12 English hosts took part in a variety of activities to learn about Robin Hood, find out about Towcester and the history of Northampton and just experience normal life in a British school and household. It was commendable how brilliantly all of our children welcome visitors in school and the visible benefits it has on everyone involved. Both children and parents should be congratulated on their bravery and kindness to take part in this project. And thanks must go to many of the school staff and members of the local community that support events such as these. Tesco have been very generous with their contributions of food items and time to offer activities for the children. The History Society have supported our exchange programmes with donations for visits to Towcester Museum. And of course, our school community, parents, pupils and Governors, pull together to support the events and exchanges.
Monday 6th June 2016 - Working with our new friends
Tuesday 7th June 2016 - A trip to Sherwood Forest
Tuesday 7th June 2016 - BBQ with the hosts
Wednesday 8th June 2016 - Towcester Primary t-shirts are presented in assembly
Wednesday 8th June - Our Celebration Event with the alumni
Thursday 9th June 2016 - A visit to The Guildhall, Northampton
A traditional Fish and Chip Lunch before flying home
German Exchange December 2015 - we go to Hannover!
Friday 4th December
Another brilliant day! We went to Hannover and had a tour about Christmas traditions in Germany and then we went to the Christmas market to spend the last of our pocket money. After lunch at school, we made hexenhaus' with our friends. We return to school at 4.30pm for final preparations before leaving for the airport at 5pm. We will see you all very soon!!
We had a tour in Hannover and learnt about the Christmas traditions and how they have changed over the years
We made a hexenhaus with our friends
Thursday 3rd December 2015
Hi All,
We had such a brilliant day yesterday in Hameln. The Pied Piper took us on a historic tour of the city and then we got to try a few different German foods including pretzl and sausage. Then we went to a museum and found out more about the plague and watched a Pied Piper show. It was a long day but everyone was happy and interested and enjoyed themselves. The children had the opportunity to spend some of their money, but don't expect to see it, as it mostly consisted of food!
Today we had a 9am appointment with the Mayor in the Town Hall (Rathaus). We sat in the council chamber drinking juice and eating biscuits. We found out about the council and the city of Hannover. We then went to the Market Church and saw parts of the Christmas Market before travelling back to school. The children will have a longer amount of time with their families this afternoon to visit different places or do different activities.
We can't believe that tomorrow is our last day. The time has flown by!
Our appointment with the Town Mayor
Wednesday 2nd December 2015
Good morning everyone!
The School has had no internet so I have been unable to upload photos and messages. However, this morning it is back on and I have 5 minutes to tell you about yesterday before we get on the train to go to Hamlyn. We are very excited about our day out today. Everyone is well, happy and well fed. The children are trying new foods.
Yesterday the children experienced lessons and gave their partners one of our school ambassador badges and they in return got a school t-shirt.
We visited a local supermarket and then found out about the story of the Pied Piper in preparation for today. We then made rat bread rolls! Our last event of the day was to meet about 30 ex pupils who came to the school and had been on the English-German Exchange over the past 10 years. They brought photos with them and we saw a younger Mr Camp!!
Have a good day.
These are pictures from the assembly. We gave badges and received t-shirts. We sang an action song with the school about Christmas.
Tuesday 1st December 2015
Good morning everybody!
We landed in Germany last night at 10.30pm and were welcomed at the school by our host parents.
The children have gone to their classes this morning and we will be attending a welcome assembly at 10am. Today we will be finding out about the story of the Pied Piper before our visit to Hamlyn tomorrow.
The temperature is quite mild.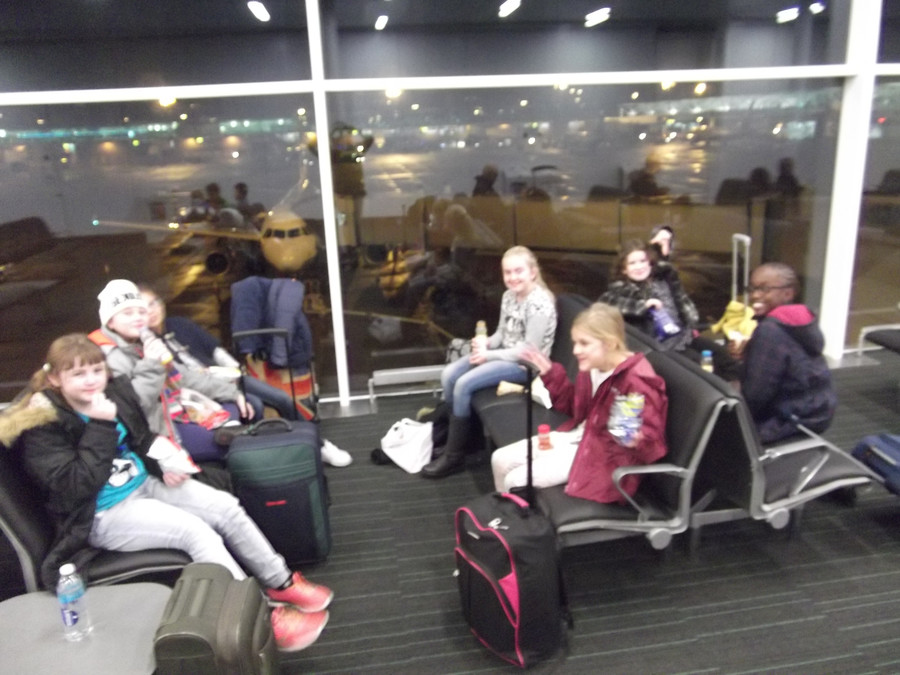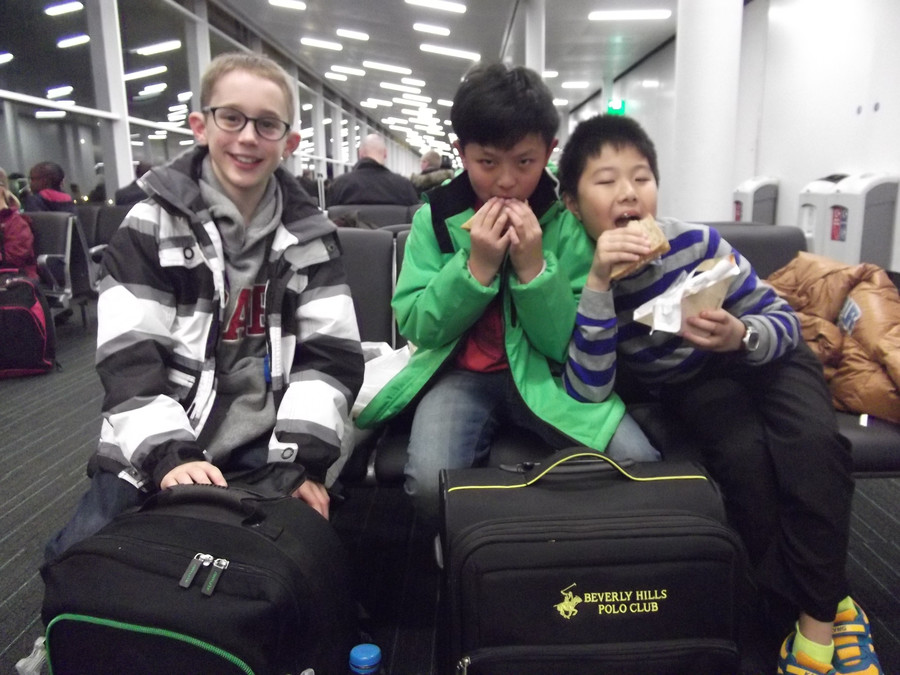 On Monday 30th November 2015, ten pupils will be flying to Hanover to stay with families from our link school, GS Wettbergen. This is the largest group of pupils we have taken to Germany. The children will be accompanied by Mr Camp and Ms Brown as this will be the tenth year the exchange has taken place between the two Head Teachers. Our project theme for this year is 'Traditional Tales' and whilst in Germany we will be visiting Hamlyn and doing some work on the 'Pied Piper of Hamelin'. We are looking forward to our trip.
German Exchange July 2015 - the return visit
Our German friends arrived very late on a Monday night, but were keen to arrive at school the next morning to continue our joint project on healthy eating.
Following our visit to Germany in December where we learnt about wheat and potatoes, it was our turn to teach about dairy produce in England.
Our first trip was to the Arla Milk Processing factory near Aylesbury where we learnt about the factory, how much milk was processed every day and how it all happened. We saw the milk arriving at the factory then being bottled and the robots moving the milk around to the designated areas for lorry collection.
Next we had a visit to Tesco in Towcester to see where the milk was stored once it arrived at the store. It was very cold in the chiller! But then we went in the freezer - and that was really cold! We looked on the shelves to find the different Arla products. We then brought some ingredients for our special meal the next day. (We would also like to say thank you to Diane for organising our visit and for Tesco who contributed to our meal.)
On day two, our friends went to a maths lesson before being presented with a school t-shirt in assembly. We were presented with aprons to help us when preparing our healthy foods. We then set to work in our Bungalow kitchen to prepare a meal that used diary based ingredients. We had mini-pizzas for starters, toad-in-the-hole for mains and then yoghurt smoothies and mousse and traditional rice pudding for dessert.
Our friends went for a walk round Towcester whilst we prepared for a barbeque. All families who were hosting the pupils, returned to school in the evening to meet all the other students and the Head teacher and English teacher from G S Wettbergen in Hannover. We had a lovely evening eating, talking and playing games. the sun even started to shine!
Our final day was a walk in Stockgrove/Rushmere Country Park before returning to school for traditional fish and chips.
Reading this, it probably sounds like we just did a lot of eating! But in between, we learnt about each others foods, likes and dislikes and tried each other's language! We taught each other games and songs.
It was a very busy but enjoyable time together. If you are not sure about the benefits of the exchange between the two schools, then please ask any of the pupils or parents who were involved.
Roll on December when we can hopefully go back to Hannover and make more friends.
Can you believe another year has passed?
German Trip December 2014 - Exchange Visit
Monday 1st December
5 pupils, Mr Camp and Ms Brown will be flying out to Germany to take part in our fourth exchange visit. The five pupils will be staying with families in Germany and carrying out a project on food!
Watch this space for more information over the next few days.
Monday 1st December
9.30pm German Time
Plane landed and we took a taxi to the school to meet our new friends.
All are well and happy and looking forward to spending time together.
Minus two degrees here tonight.
A cold start tomorrow, with a brisk walk to a farm to find out how bread is made and watching the process from grain.
Tuesday 2nd December - morning

Have had a super morning learning about how grain from the fields gets made into flour and then into bread.
The day started with a cold walk to the bus stop, and then a short journey to the farm. We looked at the different types of grain and then thought about which were used for which foods. We got the chance to roll some oats and grind some wheat to make flour. We all made our own rolls choosing our own design and decorating them with other grains, seeds and raisins.
We saw the big ovens used to cook all the bread before returning back to school for some lunch.
Everyone is enjoying themselves and making new friends, trying new foods and experiencing new things - the cold being one of them, but we are wrapping up warm!
Tuesday 2nd December - afternoon
This afternoon we made a 'hexhenhaus' - a house for a witch. This is a German tradition from the story 'Hansel and Gretel'. We used biscuits and lots of sweets! We even used coloured marzipan to make witches to stand outside the house. Our results were very pleasing! The houses have been put in a cupboard box in the hope we can try and get them home. So you might get to see them... unless they get eaten!
The children have now gone home with their new friend to spend time with their German families. Some might be going to the German Christmas market.
Wednesday 3rd December - morning
Arrived at school this morning to find out what everybody did with their families yesterday afternoon. Most went to the Christmas Market in Hannover whilst others rested at home playing games and watching films in English with German subtitles.
Then we went to a classroom to find out about how potatoes arrived in Germany and how they grow. Splitting into three groups, we then proceeded to the kitchen to make three dishes that involve using peeling and cutting; potato soup, baked potatoes with a dip and apple crumble.
There are no excuses not to help at home now!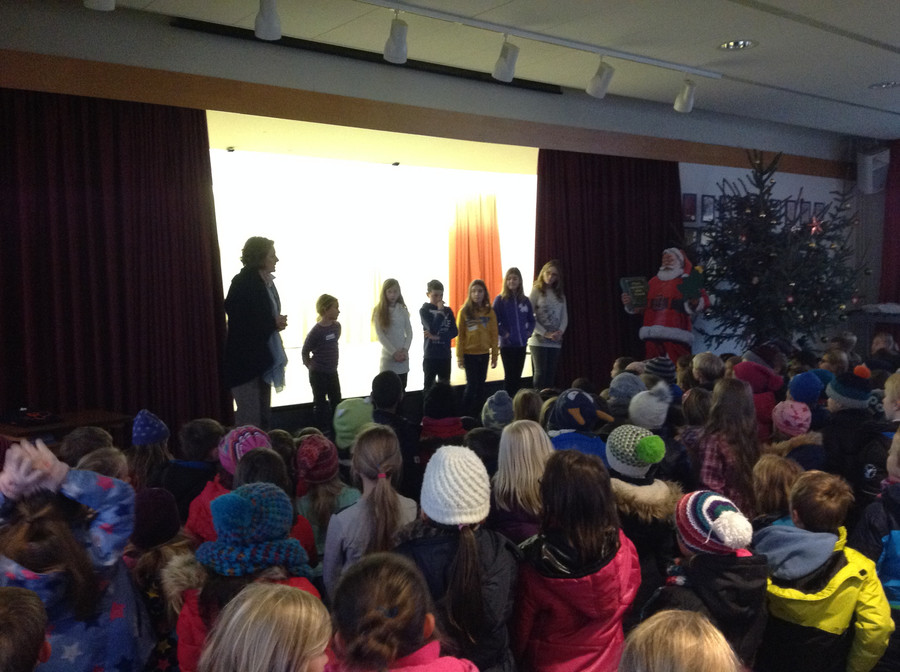 We attended a school assembly where we received GS Wettbergen School t-shirts.
Once our dishes were complete, we all sat down and had a four course meal. The children laid the table, even with fancy napkin decorations! We had:
potato and carrot soup
potato and carrot gratin
potato wedges and dip
apple crumble made with potato starch
We were very full! And this was at 11am!
This afternoon the children will be taking a trip to the local supermarket and then leaving school with their families for a final afternoon and evening together.
This will be our last entry. See you tomorrow!
German Trip December 2013 - Exchange Visit
Tuesday 3rd December 2013

Another trip to Hannover is about to start!
Ms Brown, Mrs Tilson and 5 pupils from Year 6 leave today for our third exchange trip.
We will be leaving school at 4pm this afternoon and fly from Standsted arriving in Germany about 10.30pm.
We will be going to G.S. Wettbergen School, making gingerbread houses, visiting Hannover Zoo, Christmas Markets and a Museum before returning to school on Friday evening.
Please watch this page of our website to find out more as the trip develops.
710pm
Arrived at airport an hour ago. Have checked in bags and had some tea. All very excited!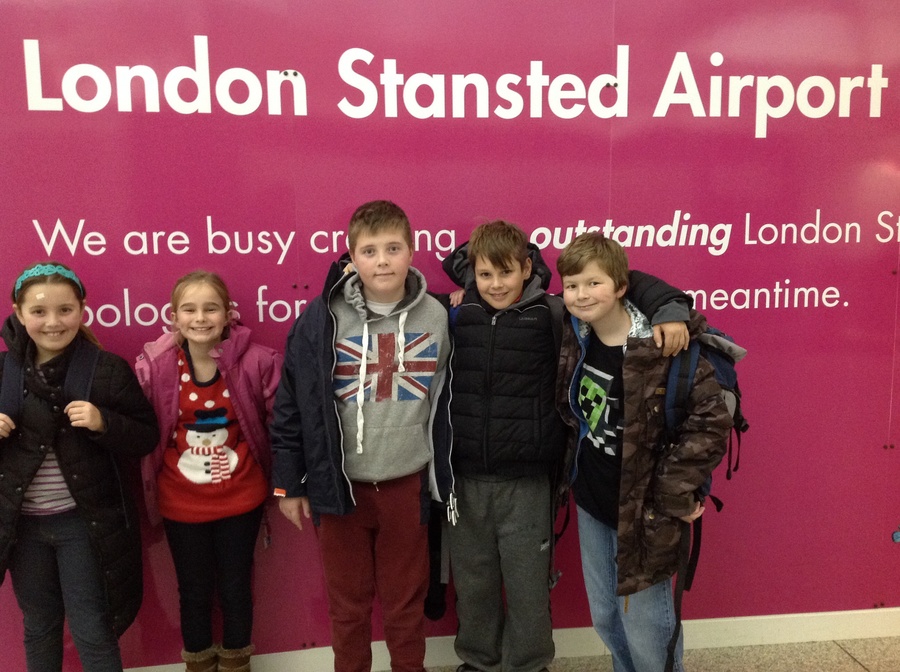 Wednesday 4th December 2013
The children had a good first night and came in to school happy and ready for the day ahead.
We all went to assembly where the children received a t-shirt from the school. we then spent the morning making gingerbread houses. This was very tricky, but lots of team building and patience was displayed.
Thursday 5th December 2013
8.35 am Good morning everyone!
All are well and in class at the moment. The children will shortly be leaving for Hannover Zoo. We were going to be doing this in the afternoon but due to weather conditions and a forecast of snow (!) at about 3pm, we are going to go to the zoo this morning.
3pm German Time
A change of plan!
We used the tram system to get us to Hannover Zoo. However, five minutes before we arrived they decided to close it due to the weather conditions ... none of the animals were brave enough to come out of their 'houses' to see the public!
Therefore we headed into Hannover City Centre to see the Christmas Markets.
We visited the biggest Church in the city where we saw models of scenes from the bible.
We looked round the the little stalls and tried some German treats such as caramalised nuts, candy floss, sugar canes and even chocolate covered bananas!
We went to the Town Hall to see models of Hannover time; 1639, 1939, 1945 and then today! It was amazing to see how it has changed.
Nickleodeon were advertising in the street so we had some free stickers and our photo taken with a carriage with horses.
Our children visited a local supermarket on our return to school to buy yet more gifts... and sugar! Then made individual gingerbread houses with their friends.
The weather is very windy here, as I hear it is at home. It is also very cold! But no snow yet. However, all of the children are safe, happy and enjoying their experience. They are learning so much about the German culture, the food and communicating with other people despite a slight language barrier. I am really proud of them. Speaking to them earlier, they all said how great it was and that they would recommend anyone else to come and visit Hannover next year.
Ms Brown
PS Ben still has his hat!
Friday 6th December 2013
Greetings from Germany!
We have had a light sprinkling of snow! And St Nicholas has delivered chocolate into our shoes for being good.
The Zoo is still closed so we are going to a Sea Life Centre this morning.
German Trip September 2013 - Comenius Project
Mr Camp, Miss White and some children from Key Stage 2 will be going to Germany to continue our part in the Comenius Project. They leave on the 19th September. Watch this space for their news.
We arrived in Hannover just before 4pm (German time), we used the train to travel to Fisherdof station where two German teachers met us.
We are staying at the Jugendherberge Hannover, we arrived here at 5.30pm before heading out for dinner at a sports accademy!
We are now back at the hostel/hotel getting ready for bed as we have an early start tomorrow!
Miss White
"Today we met the Mayor of Hannover in the town hall, we were able to sit in the town hall meeting room and ask her questions." Tom
"We went to the German school and took part in lots of different sporting activities, including an 800m run! We made lots of friends and they welcomed us with a song." Mia
"We´ve had lots of fun learning and watching how to play Handball-Strong class we can`t wait to teach you this." Eve
"Finally, we had presentation of awards and gifts - I won gold. After that we had some food prepared by the parents of the German pupils. The food is fantastic." Shay
Wow-what a day, the children have all gone to bed exhausted!
Our day started at 8.30 with a lovely German breakfast. The bread rolls at the youth hostel are delicious and the children like having breakfast here because they can have Coca Cola with their cereal!
We then met with the Germans, Slovakians, Polish and other English children to travel in to Hannover town together. We walked over the river and took lots of photos of the town.
We then visited some of the older parts of Hannover and saw a church that had been destroyed by the Second World War. It was then time for lunch, we stopped at a German food hall and had pizza!
After lunch we walked further into town to shop! Hannover has quite a mix of shops and the children had lots of ideas on how to spend their money!
With all our money spent we took the bus back to the other side of Hannover to go swimming. The children enjoyed swimming with an Olympic Swimmer! Then it was back to the Youth Hostel/Hotel to change before having tea at the sports accademy!
All the children were then taken off to get changed in preparation for becoming team mascots for the Hannover Handball team! The children were thrilled. They all received a special t-shirt from the team to thank them and we all watched the game. Much fun was had by all.
So it was a very busy day but the children are having a great time!
"I would love to come back here!" Tom
"Did you see me on the big screen?" Shay
"The handball man signed my t-shirt." Mia
"I have a pen friend." Eve
We return to England tomorrow, but myself, Mr Camp and the children will be sad to leave all the new friends we have made.
Off to bed now, we still have more to see before we leave tomorrow.
Miss White
Wednesday 4th December
Children went off happily with their families last night. All were excited despite being late.
This morning we are making gingerbread houses!