Friday
Risking it, Mrs Lewis had set the alarm for 6:15am and had a 15 minute snooze. When checking the rooms, only 15 children were actually awake. By 7am, still only 21 children - clearly they were shattered. Once the children were up and dressed, it was time to finish packing and strip the beds before breakfast.
It was straight on out after breakfast for the final activity with only one group getting wet!
Lunch was by far the most popular meal - a fry up! The children loved this and by the end of it we had some very tired children ready to come back to school. We did well this year, only a few socks left behind and unidentified.
It was a fantastic, fun-filled, non-stop trip enjoyed by both children and adults. Each child had their own favourite memory or activity which they all shared. There behaviour was also amazing, they should be very proud of themselves!
Thursday
Mrs Lewis had set her alarm for 6am and hadn't heard a thing so snooze got hit. Before it had gone off there was the stirring of tiny feet, so it was time to get up. Lots of them were still asleep but the morning began with watching a movie, building structures with giant Jenga blocks, colouring or playing pool. They will definitely have enough energy for the day after that breakfast; toast and 2 or 3 bowls of cereal!
The sun is shining brightly and the winds are strong but it's been a wet morning for the children. More children have gone off canoeing this morning, fighting against the tide, whilst the others have been walking the plank - it's not as scary as it sounds! They've been guiding their blindfolded partner across some beams and stepping stones in the middle of a very muddy pond. Several children have had to empty their welly boots.
After lunch, we decided to take the children off to explore their surroundings. We had a lovely walk towards Stanwick lakes where we found an assault course. On our return, it was straight in to the afternoon activities. Some children went to experience new heights on the climbing wall or the king swing, whilst others got to try out archery or walk the plank.
Wednesday
We have arrived! We made it here safe and sound, lunch has been devoured, beds have been made and we're all unpacked. Their first fun filled activity is already underway, with some children having a go at being Robin Hood and trying out their archery skills. There is another group who are already testing out how waterproof their waterproof clothing really is, as they paddle their way up and down the river in their canoes and play games on the water.
After dinner, there was madness as 40 children take their £3 to the tiny tuck shop to buy sweet treats for the campfire. What a campfire - Mr Camp did a good job. We all bumbled off, heading towards the flames, children taking fizzy drinks, popcorn, sweets, chocolate or marshmallows. They loved the huge roaring fire and some of them even had their marshmallows roasted.
Once we were back from the campfire, it was time for teeth, toilet and jamas. They all went to bed, no problems. There wasn't a peep out of them after 9:30pm!
Here's a few more from our first day.
On Wednesday 14th March, 40 Year 3 and 4 pupils and 4 members of staff set off for the Frontier Centre at Irthlingborough. During our 3 days there we participated in a number of exciting and adventurous activities which really challenged us physically, mentally and emotionally.
The first challenge was to make our beds – one of the most demanding tasks we would be faced with! Just how does the duvet stay in the cover? And why don't the mattress protectors fit?
The three groups did different activities at different times. Here's a summary of some of them.
King Swing: Imagine being harnessed to a bar of steel and hoisted 100 feet into the air before being released to swing back and forth. The children showed great courage and ambition, challenging themselves to go as high as they dared.
Walk the Plank: Would you like to fall in a pond, up to your knees in muddy water? Well, we tried to avoid it but it was inevitable. Wet wellies all round!
Open Canoeing: This activity involved teams of children worked together to paddle canoes in a straight line, then in a circle. Sounds easy but not when you're seven or eight and all paddling in different directions! We got the hang of it eventually and built up our tem working skills and resilience.
Bushcraft: Despite a soggy afternoon for one of the groups, we got a fire going using a flint and steel and made a shelter that would fit the whole group in. No marshmallows though!
To keep our energy up, we were fed well with lots of carbohydrates. We loved the burgers!
In the evenings we had a camp fire – with marshmallows – and were entertained with such classic stories as "The Hairy Toe"! We also enjoyed movie night with hot chocolate and a biscuit.
We all slept well, giving the teachers time to recover! On our return to school, we were pleased that we could fit all of the lost property in a small gift bag and the parents were just as pleased with all of the dirty washing to do!
Wednesday 14th March 2018
The children have arrived safely, have eaten their lunch and are now off to start their first activity!
It's nearly time for our trip so there are just a couple of reminders. With this being the last weekend before we go, the kit list can be found below for any necessary last minute purchases. It is important that your child takes part in the packing process as they are often unaware of what has actually been packed or won't recognise new clothes - this leads to a lot of lost property on our return so please label their clothes and footwear. We do not allow any mobile phones or games consoles to be brought on this trip. If your child is found to have these items, they will be confiscated. Similarly with snacks, these are not allowed as children like to share and this could cause problems for children with special dietary requirements or allergies.
On the morning of the trip, please bring children round to reception between 8:30 am and 8:45 am, where they will be met by either Miss, Crouch, Mrs Baker or Miss Thomas. Any medication needs to hand this directly to one of these adults, in a named bag. The same applies for any pocket money the children bring. We ask that they bring no more than £3, and this is also to be handed to one of the trip leaders, in a named bag. All of the children's luggage will be kept together but they will keep hold of their lunch, which we ask to be disposable and in named bag. The children will need a reusable drinks bottle, also with their name on.
We are all travelling together by coach this year and aim to leave around 11 am, arriving around an hour later. Then the fun will really begin as they attempt to make their beds! We hope that the children are looking forward to their stay away as much as the grown ups are.
Thankfully, the weather was slightly warmer than last year and the children were all super excited and ready to make some great memories at the Frontier Centre! Off went the year 3's first and they had the chance to explore, eat lunch and attempt to make some beds before the year 4's turned up. Let's just say that most of the beds were made by the grown-ups. We had even more space this year as well which was great, two meeting rooms...one for meeting and one for muddy shoes - there were a lot of them!
During the few moments when they had free time, all of the children managed to entertain themselves and it was so nice to just them enjoying the simple things like climbing tress and flying a kite...until it got attached to a tree.
Once the year 4's arrived it was almost straight off to their first activity of many. It was a jam-packed timetable this year, very little time to stop. The children didn't seem to mind as it was always on to something else they loved.
One of the activities they took part in was Mission Impossible: Egg Drop. They had a selection of tasks where they worked as a team to earn points. They could then use these points to spend on items to help protect their egg and prevent a messy demise as it was dropped from a very high height!
A favourite from last year was the King Swing. We had some very brave children on this trip, with nearly all of them daring to go to the very top. The were lots of screams and some tears... thankfully all followed by smiles!
This was another chance for the children to get up high and swing through the sky. The high ropes was full of choices and they all got to try the task they liked the look of most. Mr Skears even gave it a go and hung upside down as he bravely jumped...and missed the bar!
It's not all about heights here, its also about water! During walk the plank, may of the children stumbled and fell as they lost their balance on the increasingly slippy planks and beams. Miss Crouch even ended up in the water and she wasn't even blindfolded. That's what happens when you go last.
There was also the splashing of each other when out canoeing. That's not to mention the children and Mrs Harry who chose to jump in the water!
After the year 3's had left, year 4's got the chance to go and explore off-site. Miss Crouch and Miss Doran took them off down towards Stanwick Lakes in sunshine and then back for some time to play before we had to make our way back to school.
And so we return to Frontier Centre with some of our Year 3 and Year 4 pupils again this year. This residential trip is a firm favourite and the children always get so much out of the experience. Miss Crouch, Miss Doran and Miss Nichols have gone with the group and look forward to taking part in lots of fun, energetic and challenging activities.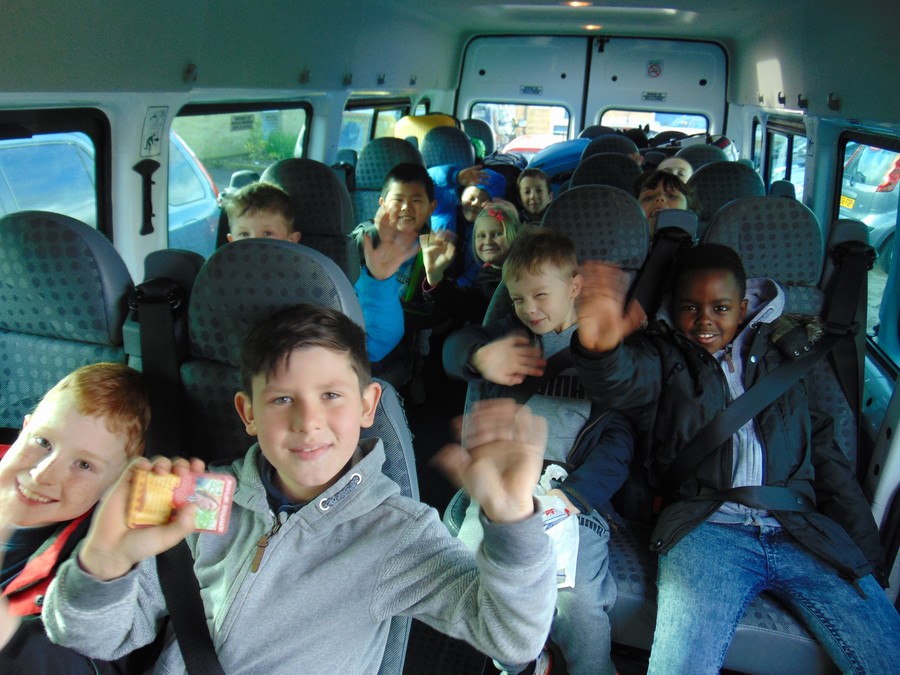 We arrived safely and eager to start exploring. They didn't have long to wait until their first activity which was search and rescue. The children had to work together, using their map reading skills in order to provide shelter and first aid to an injured person (a very big log named Billy Bob). They had to complete different team building tasks in order to earn the necessary equipment to carry out their rescue. Both teams successfully rescued their injured party and we headed back to enjoy a warm dinner.
That wasn't the end of the fun for that day...Later that evening, the children were told that they needed to get ready for a very wet, cold and muddy activity. Muddy was an understatement! Off to the Adventure Pits we went, in the dark, torches shining bright and obstacles to tackle. As you can see from the photos, no one escaped the mud, not even Miss Nichols! They all seemed to enjoy it, some even falling in the mud voluntarily.
After getting clean and having a good nights sleep, it was time to start again. This time there was some more mud and water in Walk the Plank. Children led their partners, blindfolded, across a small pond with wooden planks to balance on. Many wellies turned in to mini ponds! There was also an activity, called Nightline, where children worked as a team, again blindfolded, to make their way through an obstacle course by following a rope.
Time for more water, this time we were on it rather than in it but still managed to get wet. All of the children helped to carry the canoes down to the water, then it was time to paddle down the river, jump up and down and then then play a game catch.
The King Swing proved too much for some but there were many brave children and Miss Crouch, who got strapped in, lifted high and let go. Many screams, some tear but enjoyed by all. If they weren't down at the King Swing then they were bouncing around and wearing themselves out in the bouncy castles.
Who doesn't love a good campfire with roasted marshmallows, snacks, a game of charades and a bit of music to sing along to. For a while it didn't look like there was going to be much of a fire but with a bit of perseverance we got roasty-toasty warm.
Sad times, our last day. We started with a filling breakfast before our final activity. It was High Ropes now and the children got to climb high, jump from platforms in mid air and hang upside down like the were circus performers.
It wasn't all action, adventure and adrenaline but even just the simple things during down time kept them, content and entertained. Great fun was had by all, new experiences tried and memories have been made.
Yesterday the children took part in two different activities. One group were abseiling, which everyone tried and enjoyed. The other group took part in a search and rescue exercise. The children had to read a map and work together in order to find and earn supplies to rescue someone. Again the children were all enthusiastic and worked well together as a team.
After our cottage pie or sausage and mash dinner, all the children had great fun playing on huge bouncy castles. The children were very much worn out from all the bouncing, which meant everyone got a very peaceful nights sleep.
After a big breakfast this morning, the children are now starting their morning activities, one group are abseiling and the others are taking part in a bush craft activity.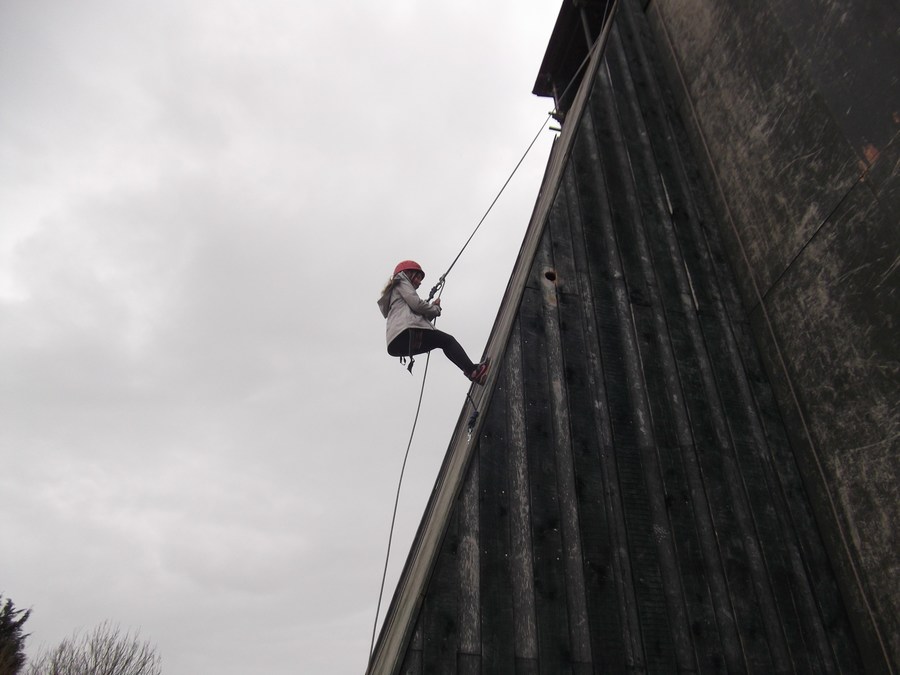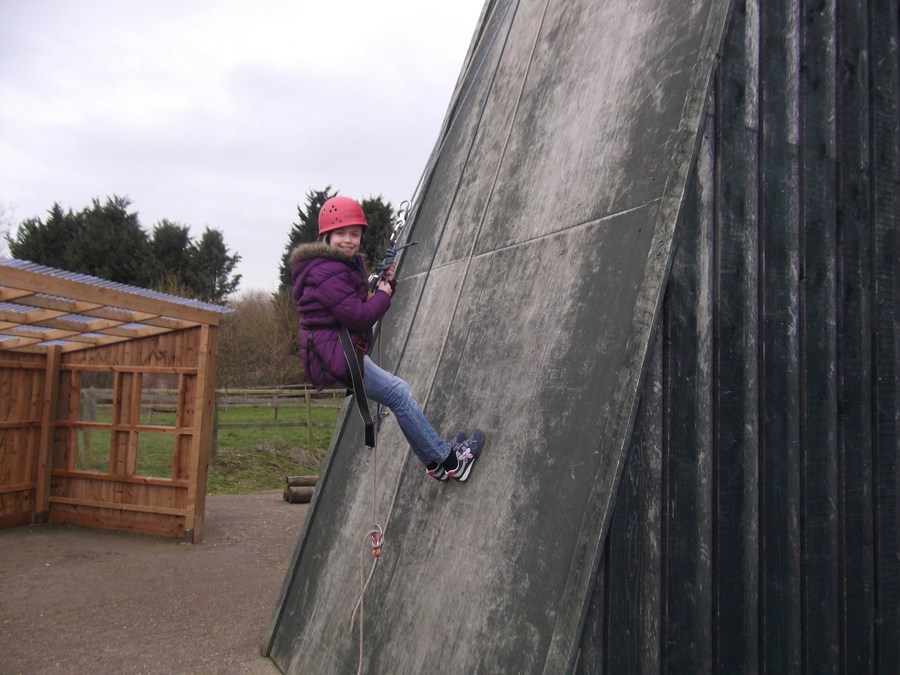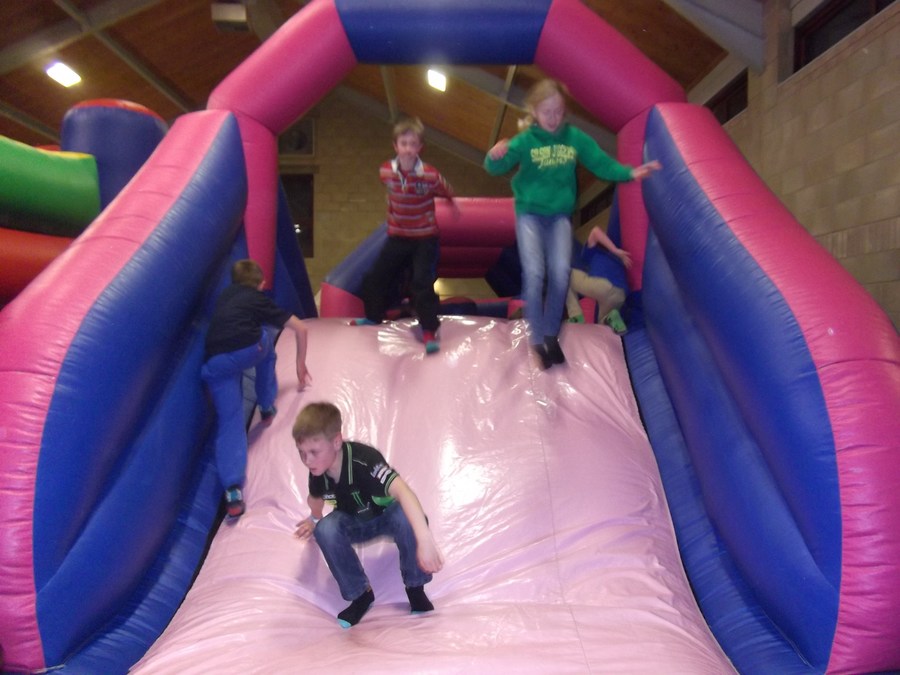 12th - 14th March 2014
13th March:
The children are all enjoying breakfast before we go off on our first adventure of the day.....raft building!
We had a busy day yesterday, raft building (everyone got wet) and then after a superb lunch of pasta with assorted sauces we had an afternoon of abseiling, king swing and walk the plank. In the evening we had great fun on the huge bouncy castles!