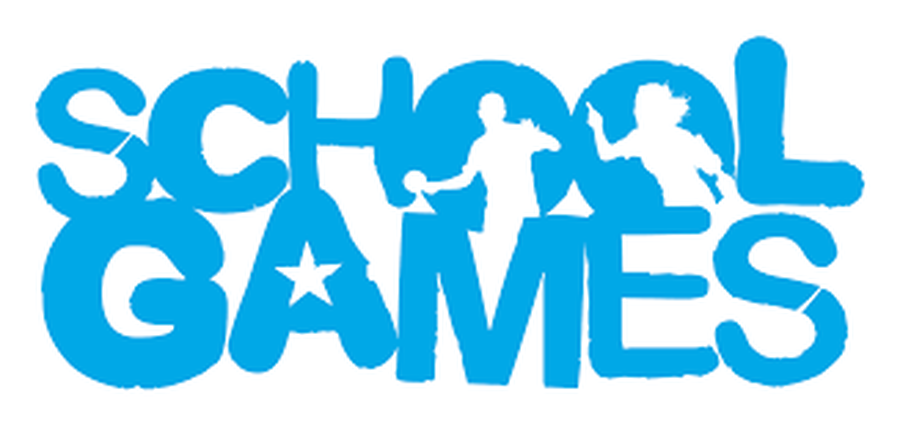 Sports Hall Athletics
Well done to our wonderful sports hall athletics team. Second place overall and they have progressed to the next stage of the competition! As always, they had great spirit and showed courage, determination and resilience! We are so proud of you all!
Cross Country
We are super proud of all the year 3,4,5 and 6 children who took part on the Cross Country competition. They showed enthusiasm, stamina and perseverance as well as compassion for everyone running. Well done to those children who won the 'Spirit of the Games' medal!
Tag Rugby District Finals
We are through to the county championships! Well done to our amazing tag rugby tea, who came 3rd overall in the district finals today. We are incredibly proud of you all, you all were amazing in attitude, game play and sportsmanship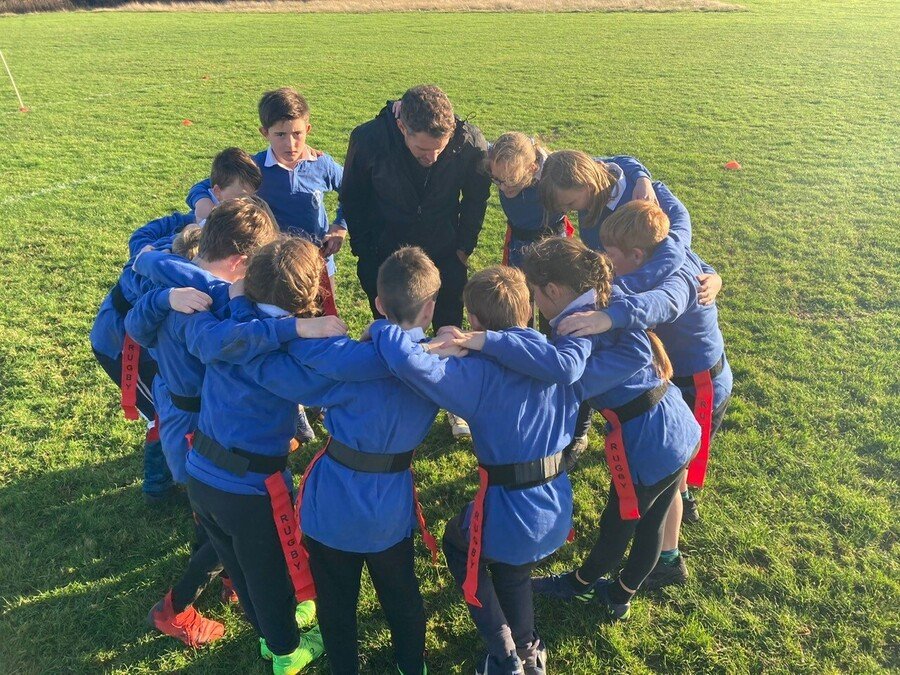 Football and Tag Rugby
Well done to the sports leaders at Sponne for running a successful Year 5/6 Football tournament and Year 3/4/5/6 Tag Rugby tournament! The children really enjoyed themselves. One team achieved 1st place in the Yr 5/6 Football AND both our Tag Rugby team's scored 1st in their individual tournaments! What a great start to the year!
Inclusive Archery
On Thursday 16th January, two teams went to Sponne School to take part in an archery competition. There were 4 different activities to take part in, including: aiming through hoops and target shooting. One team came in 1st place and the other team came in 2nd place.
Girls 5 & 6 Football
On Friday 8th November, the girls took part in a football tournament.They played five matches altogether and scored 49 goals and only conceded 7 goals.They did very well and managed to come in 1st place.
KS2 Athletics
On Thursday 7th, some of us went to compete at Sports Hall Athletics. We came 5th and had loads of fun!
Year 5 & 6 Open Football
The open football team played Deanshanger in their last game of the 2019 football tournament on Friday 8th November. We got on so well with the school, that we have arranged a friendly game in the new year!
KS2 Boccia Event
Our Boccia team won the award for having the most self belief and determination!
Year 5&6 Girls Football Tournament
Our Towcester girls football team played their first football match on the 8th of October against Caroline Chisholm Primary School. They showed amazing sportsmanship and represented the school incredibly well. The girls won 13-1!
Year 3&4 Football
We took part in a year 3 & 4 football competition. We showed great sportsmanship and came in 2nd place overall! Well done Towcester!!
Year 5&6 Tag Rugby World Cup
We were proud to represent Argentina and Scotland in the Tag Rugby World Cup. Both teams played really well and came in 4th and 5th place!
2018-19 Sports Events
Archery. Yr 4 and 5:
One team from Towcster primary took part in a archery competition and came 2nd and are now through to the the school games!
Tri Golf: Yr 3 and 4:
One team from Towcester Primary took part in a tri golf competition and achived 2nd place.
Cricket:Friday 10 May
On Friday 10th of may some children from Yr5 went to a cricket competition and came 4th!!!
Netball:Thursday 25th April
On Thursday 25th of April 3 teams from Towcester primary years 5 and 6 took part in a netball competition, which was held at Sponne school. Many schools took part and we are proud to say that the teams made 3rd and 2nd place.
Archery: Thursday 7th February
On Thursday 7th of February three children from YR 2 took part in a archery competion that was hosted by our YR 6 sports crew. We invited many schools from around the area to join us and we are happy to say we came 1st place!
DODGE BALL: Friday 18th January
On Friday 18th of January six children from YR 6 took part in a dodge ball competion. Near the end of the competion they had to say the team who lost a player first would come second as Towcester played so well! After a long morning of sports our children came out on top and brought back a 1st place trophy!
DODGE BALL: Friday 30th November
On Friday 30th of November year 1 and 2 went to a dodgeball they played really well!
GIRLS FOOTBALL FINALS:Wednesday 21ST November
On Wednesday 21st of November year 5 and 6 girs went to a football finals and they came 3rd.
SPORTS HALL ATHLETICS:Thusday 15th November
On Thursday 15th of November year 5 and 6 went to sports hall athletics and they came 2nd.
UNDER11 COUNTY FOOTBALL: Thursday 8th November
On Thursday 8th of November year 5 and 6 tock part in under 11 county football.
PAN Boccia: Wednesday 7th November 2018
On Wednesday 7th of November,years 3,4,5 and 6 competed in a pan boccia compitoin they played amazing and they came 4th.
BOYS FOOTBALL: Friday 2nd November 2018
On Friday 2nd of November, 14 girls a and boys competed in a 5-a-side football tournament. Both teams played extremely well, showed great sportsmanship and were a credit to the school. One team came 1st and the other team came 8th. Well done everyone!
KS1 CURLING TOURNAMENT: Wednesday 18th October
The children played amazingly and have made it through to the semi-finals. They won six matches and drew 1.
BOYS AND GIRLS WORLD CUP FOOTBALL: Thursday 4th October
On the 4th of October a mixed group of boys and girls played a match of football at Sixfields stadium. They were representing team Mexico. Unfortunately they lost the match but they showed great sportsmanship and played really well. They were also very lucky as they were given a tour of the stadium afterwards and even saw the Cobblers new manager- Curle.
BOYS AND GIRLS FOOTBALL: Wednesday 3rd October
On the October of 3rd October a group of 7 boys and 2 girls participated in a football tournament and came joint 5th. We played very well and we tried everyone showed great sportsmanship. We played 4 games, lost 1 game, won 1 game and finally drew 2 games.
GIRLS FOOTBALL: 27th September 2018
On Thursday 27th September, 14 girls from our school participated in a football tournament. Both teams did amazingly well! Team A came 7th and team B came 1st!!! The girls are training hard ready for the semi finals on the 14th of November!
CONGRATULATIONS GIRLS!!
2017-2018 Sports Events
CONGRATULATIONS TO THE YELLOW HOUSE FOR WINNING THIS YEAR'S SPORTS DAY!
Year 3/4 Tri-Golf Tournament - June 2018.
.
Year 6 Transition Rounders Tournament- June 2018.
Two teams went to Sponne to compete in the rounders tournament. Both teams played against other schools in the area on which was a scorching hot day! The fielding skills were extraordinary! CONGRATULATIONS to team 2 for winning the tournament!
Year 3/4 Tennis Tournament- June 2018.
Four girls and four boys, making up two tennis teams, participated in a red tennis tournament at Sponne against other school from across South Northants and Daventry. Both of our teams showed great sportsmanshipand tried very hard, with one of our teams being joint first place when judged on matches won/lost (dropped to second place when points were then added up to decide upon the winner)!
Well done!
World Cup Football Tournament- June 2018
During the morning of Monday 18th June, a year 3 and 4 football team traveled to Brackley Town FC to take part in a World Cup tournament against other schools in Daventry and South Northants. They fought hard and only lost one of their matches!
The year 5 and 6 took part in the same tournament during the afternoon and showed some amazing football skills- with one of our goals being scored from the half-way line! A big CONGRATULATIONS to the team as they were crowned World Cup Champions for winning the tournament! Come and have a feel of the trophy-it's very heavy!
Year 3/4 Cluster Football Tournament- January 2018
We took two teams to Sponne for the cluster football competition- a mixture of both year three and year four children.
Both teams got stuck in and showed-off some of their fantastic football skills! Great sportsmanship was demonstrated by our players as they shook hands with their oppositions at the end of every match.
One of our teams finished in fourth place and our other team came FIRST, which meant we regained the WINNERS TROPHY! :)
Well done boys and girl!
PDET Going for Gold Sports Day
On Monday 17th July, we took two mixed Year 2, 3 and 4 teams to the annual PDET Sports Day. They all did brilliant in all the events and represented the school amazingly throughout each event.
Team 2 unfourtunatly didn't come in the top 3 but they still did really well! You all should be really proud of yourselves.
And then Team 1 did really well too because they came.....2nd!!!!!!!!!
Well done all of you and you should incredibly proud!
As Miss Letts said in assembly though, try to get one more turn in before the round finishes next time! :p
Take 6 Basketball
Eight of our children (four boys and four girls), went to Magdelene School in Brackley to compete in a basketball event against other primary schools across Daventry and South Northants.
Three girls were on the court at one time, against three girls from another school. Then our three boys, faced their three boys.
After the first match, our players got into the swing of it more and were showing great skills and scoring many baskets!
The opposition was extremely tough and we finished in fourth place.
Well done basketballers!
Netball
Two teams competed against eight other schools in the district.
Both team played extreamly well and used great teamwork and had great enthusiasm through-out the event.
We were amazed when we found out where the teams placed,
team A came 2nd place and team B came 8th place.
Aimee.D- ''I really enjoyed this event and if there are any netball clubs or competitions in te future i will definately want to attend them''
Serena-''It was a tough game ,but we all worked well together''
Franchesca-''I would definately reccomend taking part in the netball tournament as is was a truly enjoable experience and great event to take part in''
Cluster Swimming Gala
Due to other commitments, this is the first year in a while that we have participated in the cluster swimming gala. We took a team of year 5 and year 6 children who had to take part in different races involving various strokes.
All of our children loved the experience and showed great passion!
They were awarded the silver prize for second place overall!
Goalball event
On Wednesday 1st of February, three pupils went to the leisure centre and took part in a Goalball competion- they came 5th. Well done to Kai, Chris and Cairan. They showed great Teamwork and were always wishing well to the team they were up against before the match began. Once again, very well done!
Year 3 and 4 Football Tournament
Well done to both teams that took part! in the year 3 and 4 football tournament at Sponne. Team 1 came 1st! Also, a great well done to team 2- who came 5th.
Now we have another trophy to present in Friday assembly! Hooray!
Year 5 and 6 Cluster Football Tournament
Some of our children from years 5 and 6 went to Towcester Leisure Centre to play a series of matches in the cluster football tournament. Team A came second and Team B came 6th. Congratulation to Team B and well done to Team A. Both teams showed brilliant sportsmanship and teamwork throughout the event.
A special well done to Alvin from Team A for being awarded a 'Spirit of the Games' certificate for showing amazing DETERMINATION. Also well done to Craig from Team B for displaying great TEAMWORK!
Year 5 visit the Davis Cup
At the beginning of September, a group of our year 5 children had the amazing opportunity to visit the Davis Cup- a prestigious tennis award- whilst it was in Northampton. It was a lot bigger than they'd all imagined it would be!
After having photos taken with the trophy, they took part in tennis activities and matches with the tennis coaches.
Compliments were made about the amazing manners and behaviour of our children. :)
"We played three different tennis activities and they were all very fun in their own way. I liked the game 'Champion' and I really loved seeing the Davis Cup because it was so pretty!" Ellie,Yr 5.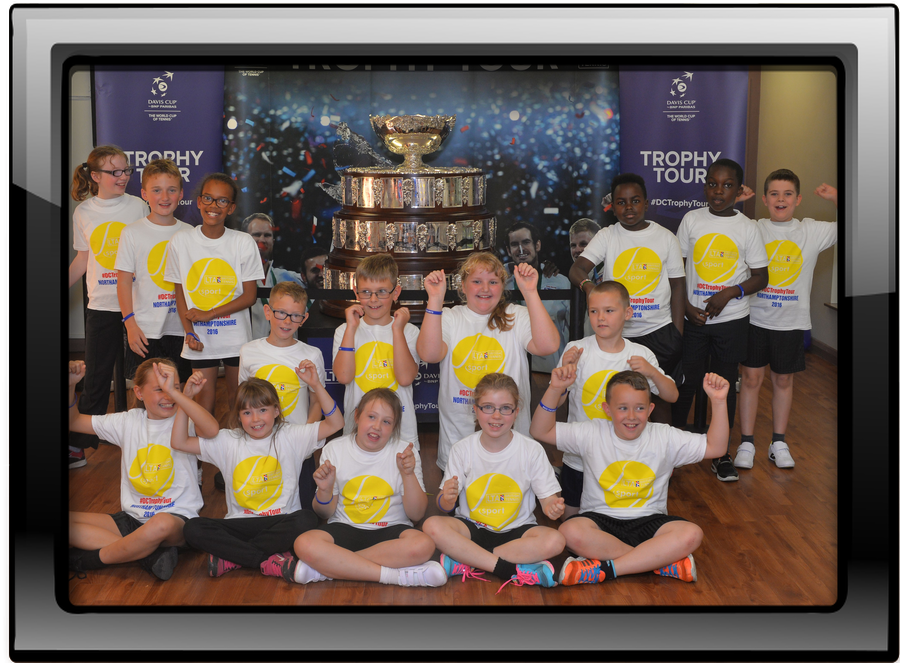 2015-2016 Sporting Events
District Inclusive Goalball
Sports Crew Leadership Day
Cluster Quicksticks Hockey
Stanair Cup- Second Round
Gifted and Talented Sports Hall Athletics Coaching
Cluster Tag Rugby- Oct 2015
Cluster Football Year 4, 5 & 6 -Oct 2015
2014- 2015 Sporting Events
Thursday 11th June- Tri Golf Competition
Six year 5/6 children and ten year 3/4 children went to Whittlebury Park to participate in a cluster golf tournament. It was the first time our school had been to this competition, so we were unsure of exactly what to expect.
The year 5/6 team were split into pairs and had a fantastic time putting the six holes across the course.
The year 3/4 team took part in various tri golf activities, gaining over 500 points, which meant they ended up winning the cluster competition and progressing to the District Finals later on that afternoon.
In the finals, the children showed such great teamwork and positive sportsmanship! They did astonishingly well in all of the events and scored 795 points, which was well above any of the other schools scores! Our year 3/4 Tri Golf team achieved the award of being the best out of 95 primary schools in the district! WOW!
As a result of this fantastic achievement, the team will compete in the County Finals at the Sainsbury's School Games, representing Daventry and South Northants!
HUGE CONGRATULATIONS!
Wednesday 10th June- Year 3/4 District Hockey Competition
We hadn't taken part in this competition before as the children had limited experience of hockey, but this year, decided to enter it to give the children a different sporting opportunity. Five of our year 3/4 children became our hockey team and participated in the event. They all came back to school full of smiles because they had enjoyed it so much!
"It was a tough competition! Some of the other teams were really good! We won 1 match, lost 2 and drew 1."
Well done team!
Monday 8th June- Year 5/6 Girls Kwick Cricket District Competition
Thursday 4th June- Year 3/4 District Tennis Finals
Monday 1st June- Year 5 District Kwick Cricket Competition
District Inclusive Arrows Archery Competition
Cluster Red Tennis Competition
Wednesday 22nd April- Arrows Archery Competition
We entered a year 4/5 team to compete in the arrows archery competition at Sponne School. The children participated in four archery events; traditional archery, jigsaw, shoot the hoop and tin can alley.
We WON the competition with a total of 143 points, which was 41 points ahead of the second placed team!
Congratulations to the Arrows Archery team! We will wait and see what the total scores are at the Arrows Archery event at Campion next week, to identify whether we have scored enough points to gain a place at the Sainsbury's School Games County Finals in July!
FANTASTIC!
Wednesday 15th April- Sports Crew Day
Miss Letts chose four children to become members of next years Sainsbury's School Games Sports Crew. These children went to Moulton College for the day to develop their leadership skills and to participate in various sporting activities. The children had a brilliant time and learnt lots of new things that they can use in school when leading events/ training sessions for other children.
Sponne High 5 Netball Tournament written by Mia,Amber and Nathan
On Thursday 5th March, 14 children took part in the high 5 netball tournament at Sponne School. The first few games in the tournament weren't as good as we planned. However, the third match in, we started to score more and more goals which kick started our adrenaline. After a few tough matches, we made it into the battle for 1st, 2nd and 3rd position. Our first match was against Nicholas Hawksmore 1, in which we draw 0-0. In our last match we played Nicholas Hawksmore 2. This match was the decider. Not only did we have to win, but we had to score 6 or more goals within the 6 minute match to win the competition by goal difference. Within the first half of the game we had scored 5 amazing goals. The second half of the match was nerve wracking but our team kept going and we scored a further 2 goals. The match ended 7-0, which meant Towcester Primary school finished the competition as champions!
EXCELLENT!
Stanair Cup second round
Our under 11 team participated in the second round of The Stanair Cup at sixfields stadium. This was a fantastic experience for them as they took part in the penalty shoot-outs at half time of the Cobblers match on the pitch, in front of nearly 5000 spectators.
The children tried really hard with their penalty kicks and the goalie did well to save some of their shots. Unfortunately we were defeated, so we will not progress into the finals of the competition this year.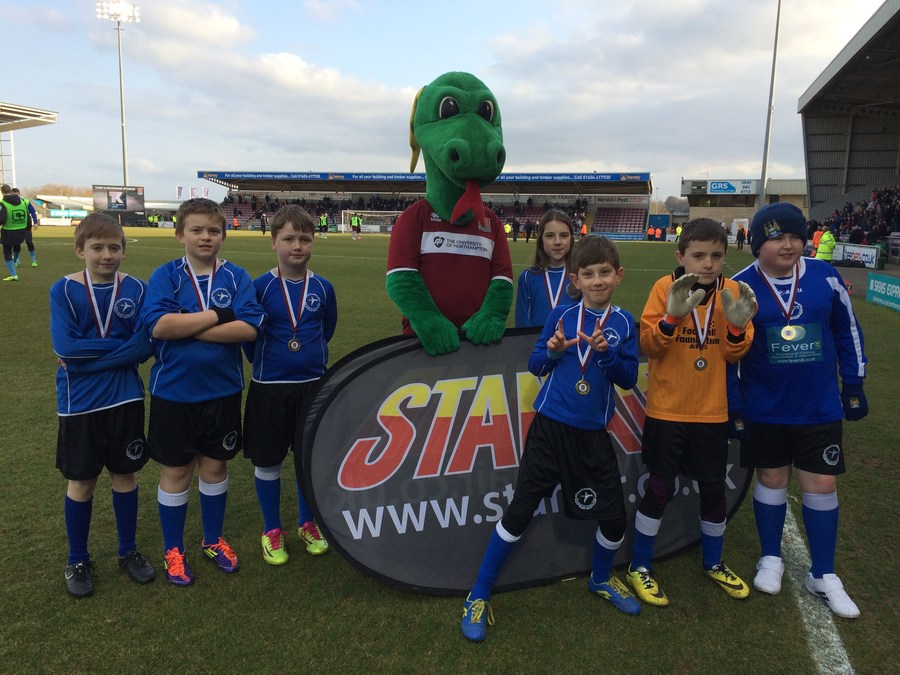 24th November- District Girls Football Tournament (Year 5/6)
After school, we went to Campion School for a girls football tournament. There were eight of us in the team; some in year 5 and others in year 6. We won the first match 1-0, we drew the second match 0-0 and then we won the last match 3-0! These brilliant results meant that we won our group at the tournament, so we faced the winners of the other group in the FINAL! The match was tough and very exciting! After the full 10 minutes, it was still 0-0, so the referee decided to go to 'Golden Goal'. The first team to score in the next 5 minutes would win the match! We were feeling slightly nervous but were determined to carry on!
After the 5 minutes, the score remained at 0-0! This meant one thing.....
...PENALTIES!
Each team had to take 5 penalties to decide upon the overall winner of the tournament. At this stage, the whole of the team were feeling under huge amounts of pressure! Lacie made some brilliant saves and other members of the team showed good precision with their shots. After each team had taken 5 penalties, it was a DRAW! This then led to...
...SUDDEN DEATH!
Unfortunately, the opposing team scored their next penalty and we missed ours, which meant that they were crowned winners and we achieved second place. The girls were very disappointed to lose at such a late stage (as was Miss Letts), but it was great to see the good sportsmanship from the winners, who gave us a massive cheer!
I am so proud of our girls team! They have not had a lot of opportunity to practise together as a team and they played absolutely outstandingly! I am looking forward to competing again next year with some of this team! - Miss Letts.
Saturday 22nd November- Stanair Cup First Round (under 8 and under 11)
Our under 8 and under 11 teams went to Sixfields on Saturday to take part in the first round of the Stanair Cup. We watched the first half of the Cobblers (Northampton Town FC) match and then both teams went onto the pitch to take their penalties.
The children were very excited, expecially the under 8s as they had never been to a Cobblers match before!
The under 8 team tried very hard but unfortunately, didn't get through to the next round.
The under 11 team had to take the penalties to sudden death as it was a draw. Fantastically, the team won! This means they are now through to the second round of the competition (date TBC).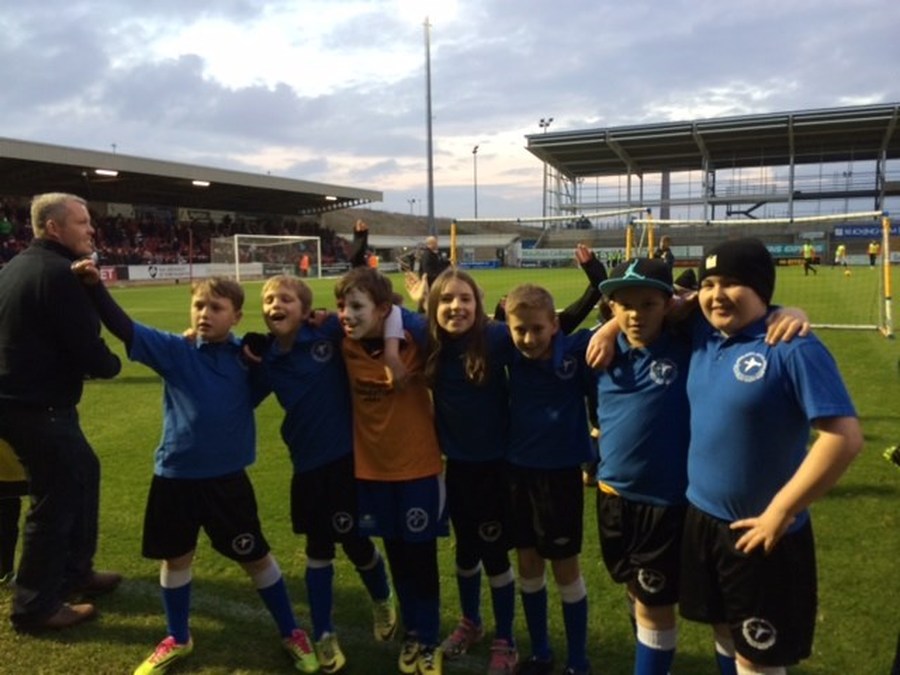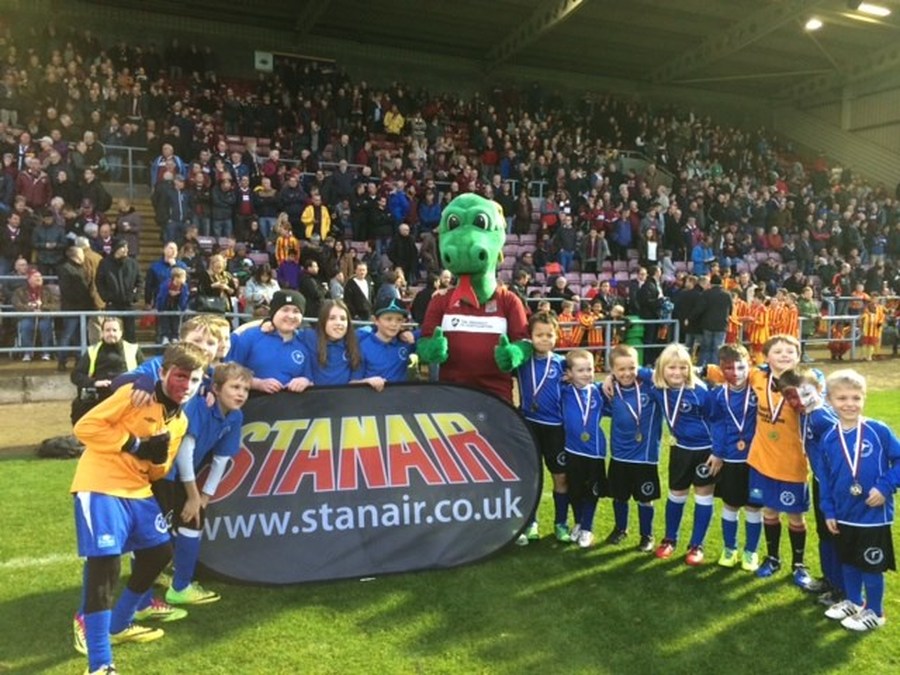 20th November- Cluster Cross Country (years 2-6)
Mr Camp accompanied 55 children from year 2-6 to Sponne School to take part in the cross country event.
The distance that the children had to run, depended on their age. Everyone put lots of effort in and our school came SECOND overall.
Well done!
Gifted and Talented Sports Hall Athletics Coaching (years 2-6)
Ten children, that have shown a natural flare for PE and sport, were chosen from year 2 - year 6. They spent an afternoon at Sponne School trying out lots of different athletics events including, speed bounce and relays. The Young Leaders at Sponne did a great job of coaching the children, so that they could beat their personal bests that they had set.
The children all had a brilliant time!
23rd October- Cluster Tag Rugby Tournament (years 4-6)
Saturday 11th October- Stanair Cup First Round (under 9 and under 10)
1st October- Cluster Football Tournament (years 4-6)
17th July 2014- Cluster Tennis Tournament
Twelve of our children from year 2- year 6 attended a cluster tennis tournament this evening at Silverstone Junior School. Eleven of the team had never played a competitive tennis match before and had only had a couple of practises at lunchtimes.
The children showed great sportsmanship on such a hot evening and were crowned overall winners of the competition!
Well done tennis players!
10th July 2014- School Games County Finals
Miss Letts, Miss Brady and Ms Doran accompanied twenty children to Moulton College to participate in The School Games Competition (county finals). The School Games is the biggest and most important sports event of the year for primary and secondary school children. Only the best teams reach this stage, so we were delighted to have three teams there representing the whole of the South Northants and Daventry district.
The three teams were:
Year 4/5 Arrows Archery
Year 3/4 Red Tennis
KS1 Multi-skills
An absolutely brilliant day was had by all! The archery and multi-skills teams both came 8th in their competitions, which is a fantastic achievement!
The tennis team made it through to the semi-finals and won it! They then played in the final but unfortunately lost the match. This result means that our year 3/4 tennis team are the SECOND BEST TENNIS TEAM in the WHOLE OF NORTHAMPTONSHIRE! ABSOLUTELY AMAZING!
The children were a real credit to our school and showed great sportsmanship throughout the competitions. All of the children should be extremely proud of themselves!
Some of our tennis team have now been inspired to take up tennis and are going to be joining a weekly tennis coaching club!