A Church of England School
We will send the children out, as Noah did the dove (Genesis 8:8-12), having nurtured and prepared them for life. Knowing that they are valued they can fly and take the values of the school out into the world.
'If we live by the spirit, let us also walk in the spirit.' (Galatians 5:25)
Section 48 March 2015
A copy of our Inspection Report
Please click on our picture of St Lawrence Church to meet Paula and see our special Church inside.
As a Church School we have a Christian ethos and strong links with St Lawrence Church in Towcester. Being a Church of England School is very important to us. We serve our community regardless of their faith, culture or belief. We follow the vision of the Church of England and deliver education that shows 'life in all its fullness'. (Church of England Vision for Education)
We regularly attend Church for key Christian festivals and to celebrate both the beginning and end of the school year. Our Foundation Stage pupils perform the Nativity each Christmas and the whole school is involved in Holy Week. We contribute to the Church Flower Festival each summer and involve ourselves with other community groups linked with the Church.
Our community and sense of belonging is very strong and our families join us when they can.
Reverend Paula leads our services and comes into school regularly and about once a month she leads our Collective Worship. In addition the benefice Children and Families Worker, Claire Reetz, visits school weekly to do a variety of activities with various groups of children these include smaller group focused lunchtime clubs as well as whole classes supporting RE and key stage focused Collective Worship.
Sunday Services
Each year group is invited to support a Sunday Service in the Church on a specific month. The children take on key roles such as readings, welcoming, leading our prayers, helping with the collection among others. They support the congregation with singing some of the songs we sing in school too. The children enjoy and learn much from the experience and are always congratulated for their ability to conduct themselves appropriately and represent the School in such a positive manner.
Collective Worship
Our school collective worship explores different values and themes throughout the school year and we sing songs with lyrics that make us think about our values, our world or God.
Generally, we have a theme for the term and each whole school assembly on Monday looks at a different aspect relating to this theme. Our Collective Worship is in three parts: Learn, Reflect and Respond. We learn about something, reflect how this knowledge informs us in our lives and then respond to it further in our classes. An activity is set to develop their thoughts and understanding of this learning idea.
We regularly have visitors who tell Bible stories through painting or pictures. Other assemblies are taken by teachers and visitors from the local community discussing values or teaching/sharing with the children about an aspect of life to open up their world and experience.
We light three candles and a prayer is read by one of the children from the school book of prayers written by the pupils within the school. Pupils are invited to join the prayer if they wish or to use the time as quiet reflection time. Each week, one of our classes choose the songs or hymns we will sing that week. Each KS2 class has two Collective Worship Ambassadors that support with the delivery and monitoring of our collective worship.
In discussion with Reverend Paula links are being made between the collective worship opening and closing responses used in school and the Family Service opening and closing responses used in church. We hope that this will help pupils to feel comfortable in the worship in both church and school.
We say grace before lunch and each classroom has a reflection area.
Religious Education
We teach Religious Education using the 'Diocese of Peterborough Syllabus for Religious Education' alongside 'Understanding Christianity'. Our whole school overview ensures that the correct coverage and time is given to the teaching and learning of RE across the school. However, RE does not just happen in RE lessons. It permeates other areas of the curriculum, especially art, PSHE and Humanities: RE across the Curriculum through Concepts and Attitudes.
Every pupil has an entitilement to Religious Education and is a necessary part of a broad and balnaced curriculum. The intention of RE is 'to enable pupils to hold balanced and informed conversations about religion and belief'. Parents do have a right to withdraw their child from RE lessons.
We regularly have visitors to our assemblies. CSALT visit us regularly and tell the children stories from the Bible using words and pictures. The children enjoy seeing the picture change and develop.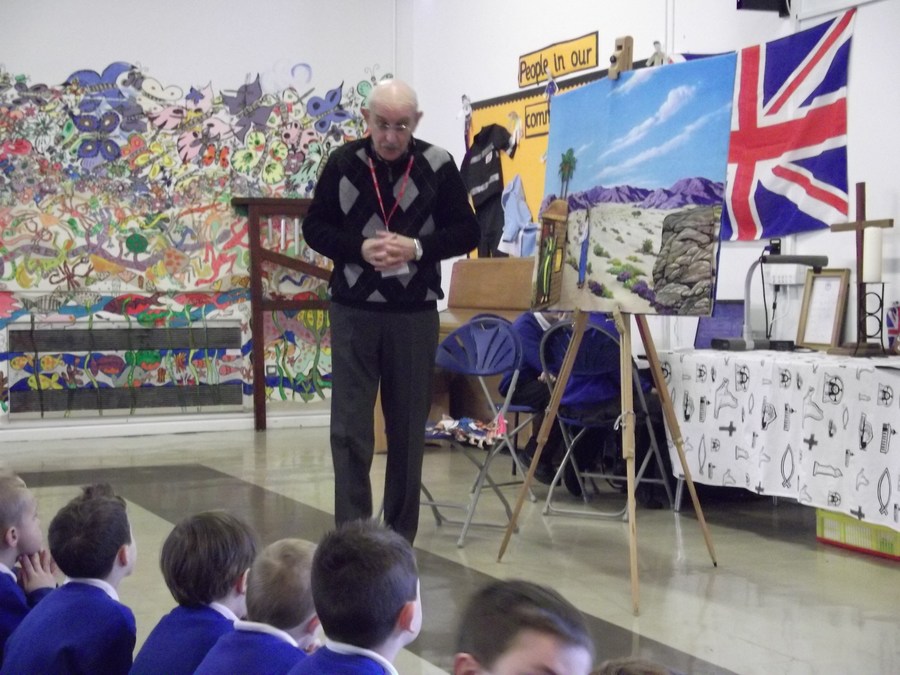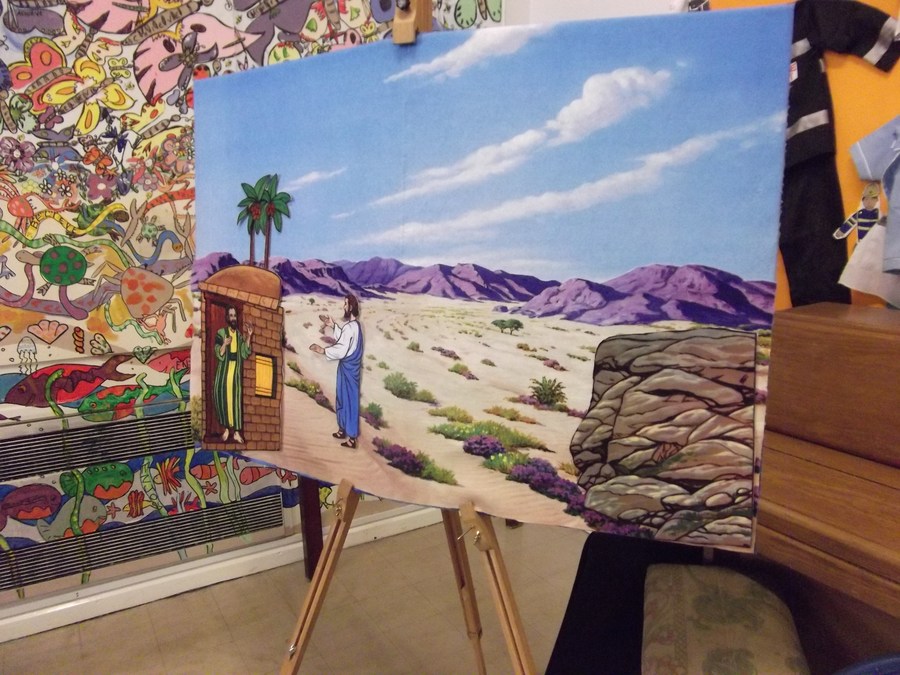 Anna Bayman visits us every term and tells us a Bible story through her painting. We display her painting in school to remind us of the message we have learnt.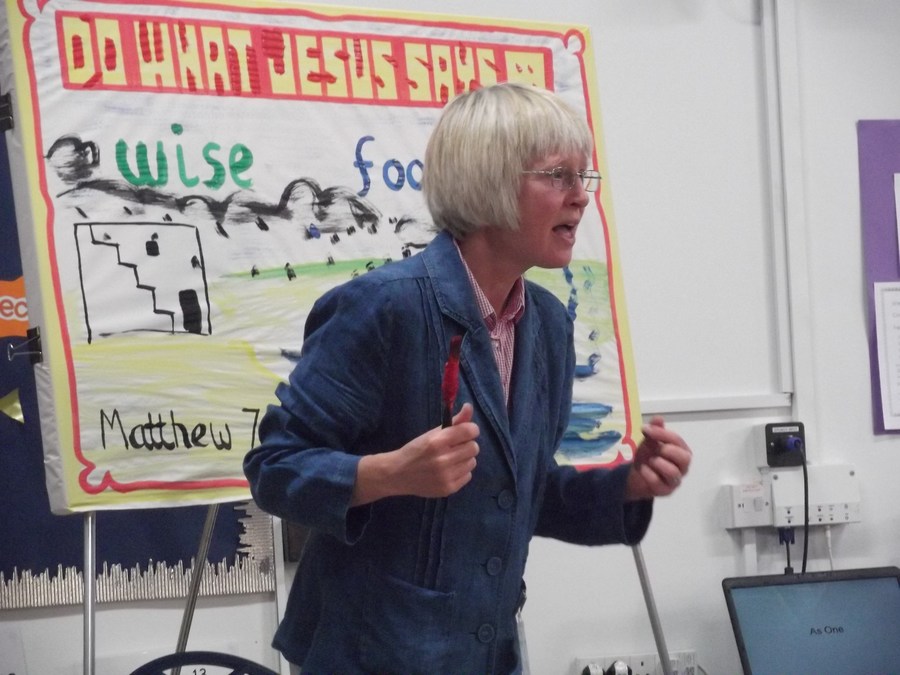 We have visitors from other faiths too. We learnt about the Jewish Festival, Hannukah.