Our Spanish Exchange for 2017!
Thursday 27th April 2017
It was the turn of class 5B to ask us lots of questions - their English is very good and they were able to answer our questions too. We all enjoyed singing ´Power in me´ at the end of the session.
Just before a traditional Catalan lunch, we were able to spend some of our money and buy souvenirs for our family members. Lunch was shared with all the Spanish host children and teachers. We were able to try omlettes, cheese, ham, sausages, cooked beans and escalivada with strawberries and cream for dessert.

Wednesday 26th April 2017
We have had a busy day in Tarragona visiting the Roman ruins of the ampitheatre and walking the old streets. We saw a model of what Tarragona would have looked like in Roman times, the children were very interested and asked lots of questions. After a picnic lunch we walked along the aquaduct that was 27 metres high and 210 metres long.
Tuesday 25th April 2017
We have had a busy morning with a trip to see the Educational Councillor at the oldest school building in Torredembarra and then a tour around the Town Hall - built upon the remains of an ancient castle. We had a little time left before lunch to visit the local market and spend some of our money!
This afternoon we have been in a year 5 class answering questions that they had prepared, comparing Towcester to Torredembarra. The children suprised us at the end by singing ´Power in me!`
This evening we walked through the wetlands nature reserve and along the beach. The children loved jumping the waves and getting their toes wet!

Monday 24th April 2017
We had a great flight and we all enjoyed the drive from Barcelona to Torredembarra, comparing our landsCCape to the Spanish one. The host families were waiting for us when we arrived at the school and the children went off very happily with their Spanish families.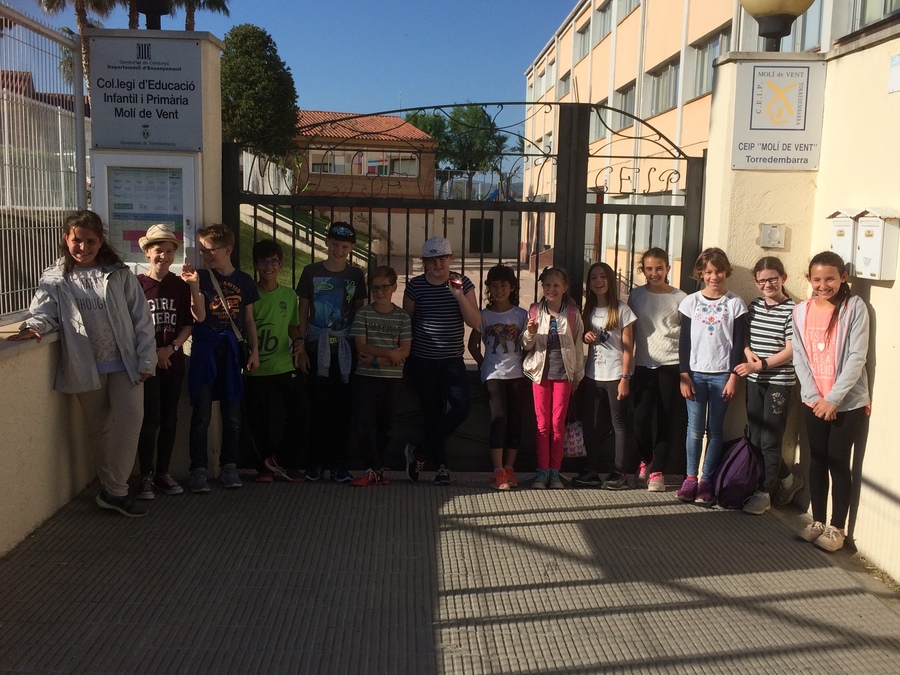 Another Spanish Exchange! - May 2016
Friday 20th May - morning
Our last day and we have time this morning to do a little shopping for family and friends before lunch at school and then driving to the airport.
Thursday 19th May - afternoon
After lunch we were able to walk around the ampitheatre in Tarragona. It is built on the coast and is a very impressive building.
Thursday 19th May - morning
We took the bus to Tarragona today with all the year 5 children from school. We took part in a Roman workshop with 500 other children from schools in the area. There was an opening ceremony and then we went with our host partner around the arena taking part in the many Roman activities that were organised.!
Wednesday 18th May - afternoon
We spent an hour in class this afternoon answering and asking questions to the Spanish Year 5 children. One of the questions was about what instruments we played and Justin, not only told everyone he played the piano, he also played a little for us all. Thanks Justin!
We all had fun playing outside with the class after the question session - can you see the ocean in the distance?
Wednesday 18th May - morning
We went for a walk to the lighthouse this morning with our Spanish host children. The sun was shining and we all slept well. We walked along the coastal path up to the light house. The light house was built in 2000 and has 189 steps. We all enjoyed the view.
Tuesday 17th May - afternoon
We spent some time in class with our hosts as they had prepared questions for us to answer and we also asked them questions too. We learnt a lot about the differences and similarities in our lives and compared our interests and lifestyles.
We then had a sport lesson before heading down to the beach for a walk and play. The evening was spent with our host families.
Tuesday 17th May - morning
All the children arrived at school this morning with big smiles and chatting happily to their Spanish host. Everyone was full of stories of their first night and what they had done and eaten.
We walked into Torredembarra and visited the first school ever to be built in the town and were greeted by the Jordi Solé - the Education Councellor. He told us some of the history of the building. We then walked to the town hall and had a look around the inside which are castle remains.
The children enjoyed visiting the market and spending some of their money before returning to school for a traditional lunch.
And so it is our turn to go to Spain after the Spanish visited us last October.
Mrs Booth and Mr Camp left yesterday, Monday 16th May, with 9 pupils from Year 5 and 6. Flying from Luton, they arrived at Barcelona and then took a short journey to Torredembarra. They met their new friends and hosts and went to the beach!
Watch this space for more news about their visit during the week.
Meeting our hosts for the first time...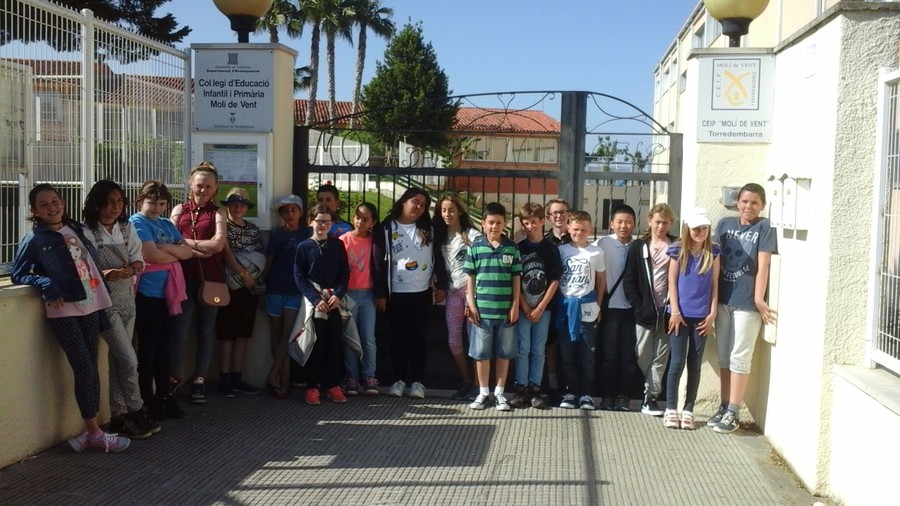 Monday 17th May
All the children were excited to be boarding the plane and beginning their Spanish adventure...
Spanish Exchange Visit October 2015
We were delighted to welcome our friends from Torredemborra, Spain, for another exchange visit. Ten pupils from our school hosted a pupil each and took part in a week of activities.
Their first trip was to Towcester Museum to find out about our local history.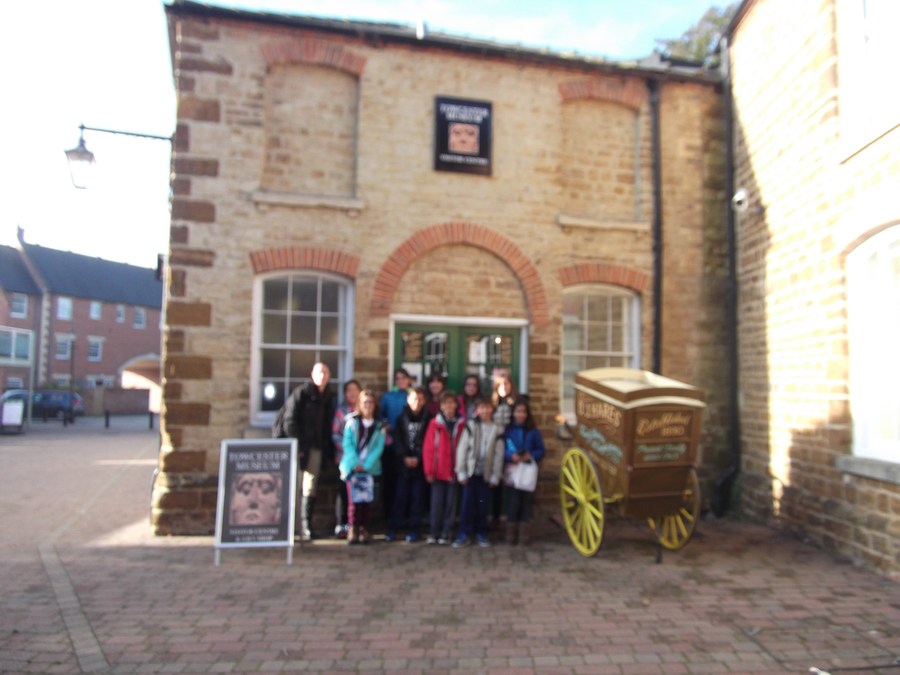 The Spanish pupils and their hosts worked together to prepare a traditional English lunch: Toad in the Hole and apple crumble!
On the Wednesday evening we had an Autumnal barbeque with all of the families and staff. The children enjoyed playing in the playground in the dark.
21st May 2015

Following our lunch, we all went to a P.E. lesson where we learnt some games the Spanish children play, played some games we both knew and taught the Spanish children our playground game: '4 square ace'.
(You need to watch the videos with your head tipped to the side!)
All the children were presented with a Torredembarra school t-shirt at the end of the day and they all say, "We will wear them tomorrow for the flight home!"
They have now gone off happily for their final night with their host families.
21st May 2015
After another morning in class we all sat down for a typical Spanish meal. We tried Tomaquet (bread with tomato juice spread on it), spanish omelettes with either potato or aubergine, Spanish ham, cheese, sausage and an ice cream for pudding!
All the children enjoyed trying the different typical Spanish food and are now about to join in with a P.E. lesson. Our children are going to teach the Spanish children how to play ´4 square ace' as well as learn some Spanish playground games.
20th May 2015
Even though the weather wasn´t so good yesterday the children still decided to dip their toes in the Mediterranean sea and enjoy playing in the sand.
On waking up today we were pleased the sun was shining for our day trip to Tarragona, we visited the museums and the Roman ruins that surround the town.
The children enjoyed a picnic in the park before we visited the amphitheatre. The children were interested to hear that gladiators used to fight with lions and bears!
We returned to school on the bus and the children have now returned home with their families for the evening...they are very tired!
19th May 2015
After arriving at Moli De Vent at 10.30pm, the children were up and back at school by 8.30am! The first lesson was with a year 5 class and the Spanish children had prepared a lot of questions that they asked our children. We took it in turns to answer their questions and asked them questions back. Some of the questions included ¨What is your favourite sport?¨ and ¨Do you have any pets?¨ After the lesson we all walked into the old part of town to visit the Consule building and met a councillor who welcomed us to Torredembarra. We also had a snack of traditional Spanish choco cake - it was delicious!
18th May 2015
We are returning to Spain!
On a very wet Monday, Mrs Booth and Ms Doran will be taking a group of our pupils to Spain to stay with our friends near Tarragona. Watch this space for their updates.
Another Spanish Exchange - October 2014
On Monday 20th October 2014, our Spanish guests arrived from a very warm Barcelona (33 degrees) to a rainy Luton (10 degrees). This is the thid year of exchanges with our Spanish school in Torredembarra near Tarragona.
We had ten pupils and two staff arrive, all of whom were hosted by families at school. I would like to thank all of our host families for making the pupils feel so at home and welcome.
The pupils were with us for the week, and we all had a day at Foxton Locks looking at the canals. The Spanish visitors had time to look around the school, join in with some lessons, visit Towcester and get to know the area.
I am sure that their visit was a great success and we will be planning for the return visit in March 2015 when our pupils will visit Torredembarra and stay with the Spanish families.
This type of exchange is a tremendous opportunity for all our pupils, and I hope that it continues for many future years.
Thank you to all involved in this exchange.
Mr Camp
Here is a photo of the Spanish children receiving their piece of Towcester C of E Primary School uniform in assembly: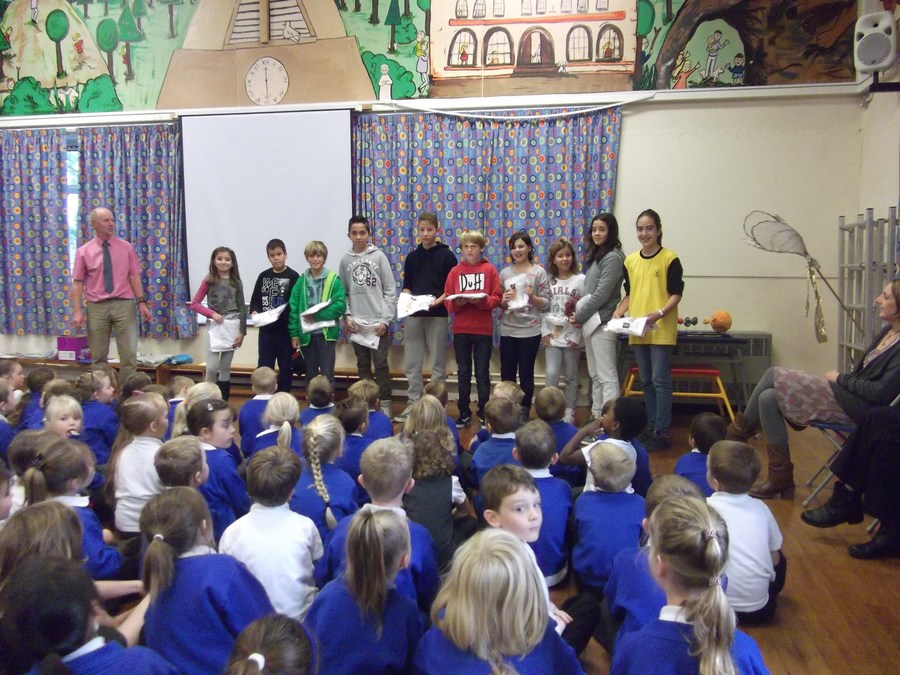 Thursday 2nd April 2014
This morning we went to the shops in Torredembarra buying souvenirs to take home and practising our Spanish speaking skills. It is typical English weather today - rain and more rain! This lunch time we were treated to a typical Catalan fare: calçotada (barbequed spring onions with a sauce), lots of meat with artichokes, baked potatoes, pasta, beans and toast, finally pudding choices were strawberries and cream or a Catalan dish similar to creme brulee. We are now all feeling very full!
Wednesday 2nd April 2014
We have had another fabulously busy day today. We have been exploring the ancient Roman Ruins in the near by town of Tarragona. This included a trip around the museum, a walk around the city walls, lunch in the park and time spent exploring the amphitheatre. What a lot of amazing history! At the end of the day, the children were presented with a Moli de Vent School t-shirt.
Tuesday 1st April 2014 - Afternoon and evening
The children had a great time joining in with the P.E. lesson. After school, we all went for a walk around the port and onto the beach. The beach proved very popular: making sandcastles, jumping the waves and playing volley ball. Finally, before we all went back to our host families, we watched "Dance of the Giants" in the Town hall. We were all very tired but had all had a great day with many more stories to tell.
Tuesday 1st April 2014 - Morning
Today has been a very important day. We have been interviewed by the children in class 5B, we have been given a tour of the Town Hall and attended a presentation ceremony with the Mayor of Torredembarra. Mr Camp recieved a scultpture on behalf of the school. After that, Mr Camp and two children were interviewed by the local radio station, called Ona La Torre . We had a morning tea provided for us of chocolate cake and pineapple juice. We had a quick look around the market before breaking for lunch. This afternoon the children will join in with a P.E. lesson and then spend the evening on the beach.
We have now arrived at school - the weather is hot and sunny. All the children are excited to meet their Spanish friends and have a tour around the school
Monday 31st March 2014
Another trip to Spain is about to begin!
Mr Camp, Ms King and Mrs Booth leave today with four pupils for our second exchange trip with a school in Spain.
Watch this space for updates!
10.46am: Message from Mr Camp
Arrived at the airport and waiting for take off!
2.30pm: Landed safely in Spain and it is sunny!
Escola Moli de Vent - See the Spanish School's Website
Wednesday 12th June 2013
They've left and are on their way!
And then they came back!
Air traffic controllers striking in France meant the flight was cancelled.
Instead the group left first thing on Saturday 15th June. Mr Piggin dropped them off at Luton airport.
More news to follow.........
Saturday and Sunday in Spain
15th and 16th of June 2013
The pupils have arrived safely and met their new friends. We visited the main square in Torredembarra and saw a display by the "Fire Devils".
We went to the beach and walked along the Mediterranean sea.
Then our hosts took the children back to their houses for the evening.
Sunday all the children spent time on the beach with their new friends and families, and had paella for lunch.
Monday 17th of June 2013
The pupils have arrived at school at 8:30am for lessons. The first lesson was an English introduction lesson with year 5 pupils. They asked each other questions in English and Spanish.
The second lesson was P.E., the school has no grass. The pupils played a traditional game "Police and Thieves" and this involved running all over the school.
The 3, 4 and 5 year old pupils sit at the table and have shorter lessons of memory games, pattern work and begining of letter formation. The smaller children wear long school shirts to protect their clothing from messy work.
Monday 17th June 2013
The children visited the historic town of Tarragona and saw the Roman ampitheatre and ruins.
Tuesday 18th June 2013
Today the children learnt some new Spanish words and answered questions from Spanish pupils.
We then went to Torredembarra Town Hall and met the Minister of Education. She gave us a tour of the castle and the first school in Torredembarra.
Mr Camp was interviewed by the local radio station!
Wednesday 19th June 2013
All the pupils have arrived with their bags packed and lots of presents. They have just said goodbye to their new friends with many happy tears as they don't want to leave.
We have had a great time and made some Spanish friends and have been made very welcome by the families, school and community.
Hopefully this will be the start of a long and fruitful friendship with the children and the school. We look forward to hosting our new Spanish friends in October 2013.
Adios!